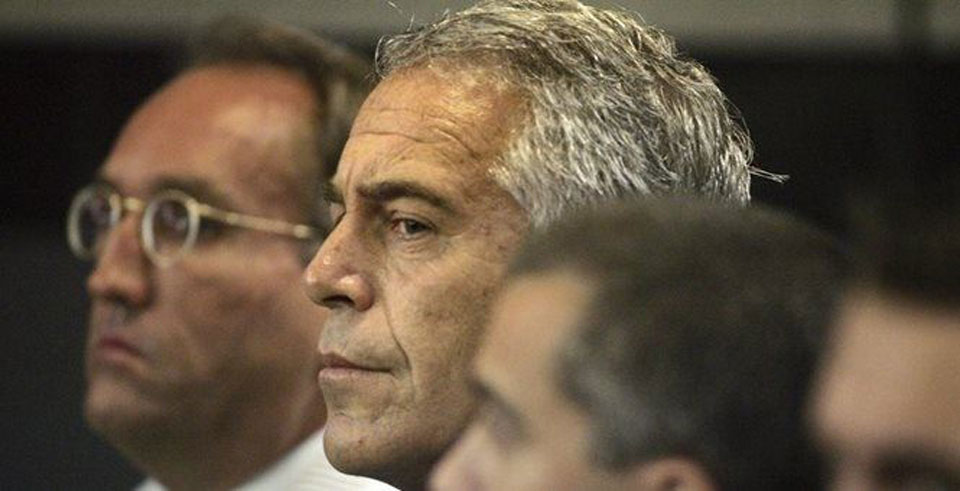 NEW YORK—There are lots of questions and not many answers, so far, about the suicide of serial sexual predator Jeffrey Epstein in the federal Metropolitan Correctional Center in Manhattan on August 10.
And the conspiracy theories about Epstein's death are already starting to swirl.
Epstein, 66, committed suicide in his MCC jail cell, New York's coroner/ medical examiner announced on the morning of August 12. Epstein had been held without bail while awaiting trial on charges about his sexual predation and procurement of underage girls – as young as 14 — in New York and Florida.
Epstein's suicide ends the criminal case against him, which Geoffrey Berman, the U.S. attorney in Manhattan, was preparing, but not civil cases against his multimillion-dollar estate. Or the questions.
"We Need Answers. Lots of Them" tweeted Rep. Alexandria Ocasio-Cortez, D-N.Y., the first-year lawmaker from the Big Apple who represents parts of the city's outer boroughs.
One, though she did not say so, is how much Epstein's clout, wealth and social prominence – all characteristics of the corporate financial class he moved in –let him get away with.
Between his arrest July 8 on those predation and procurement charges and his suicide, Epstein had been under suicide watch at the MCC from July 23-29. The watch then ended.
One question: Why. A former federal Bureau of Prisons psychiatrist, interviewed by Vox, said such watches usually last at most two days, with follow-up checks on inmates. Another answer for the end of the suicide watch from the union local that represents the MCC corrections officers and other workers: Severe short-staffing at the prison.
Short-staffing at all federal prisons, not just the MCC, is an issue the prison staffers' union, the Government Employees, and their Bureau of Prisons sector have complained about for years.
The MCC, AFGE's local president there says, had fewer than 70% of its allotted corrections officers. There and at other prisons, non-officers – including cooks and vocational ed teachers – often must fill in. The remaining officers, all in high-pressure jobs, toil 60-70 hours weekly, the union adds.
Meanwhile, the civil cases will go on against Epstein's multimillion-dollar estate, which includes not just his ultra-expensive Manhattan townhouse and palatial mansion in Palm Beach, but also a private Caribbean island, a southwestern ranch, and at least a dozen private airplanes.
Many of the women, now adults, have indicated through their attorneys they intend to pursue such civil cases. Some are disappointed that Epstein, by suicide, evades prosecution for his crimes. They include Jennifer Araoz, who came forward to testify that Epstein raped her when she was 15.
"This week, we intend to pursue justice for our client, Jennifer Araoz, and hold accountable those who enabled Mr. Epstein's criminal activity," said her attorney, Dan Kaiser in a statement. "Regardless of his untimely death, our case will move forward. Jennifer deserves her day in court."
But an attorney for one of the other women told morning news shows his client now has closure on Epstein's predation of her and is glad no other women will ever have to suffer from his procurement and sexual excesses.
And while Epstein committed suicide to avoid prosecution, his co-conspirators may get picked up now.
The New York indictment of Epstein listed unnamed co-conspirators in his sex-trafficking, procurement and use of the underage girls. He paid victims in cash and coerced some of them to recruit other girls.
But just the day before Epstein killed himself, a New York federal judge unsealed 2,000 pages from a prior civil settlement between one Epstein victim, Virginia Roberts Guiffre, and a top Epstein co-conspirator, British socialite Ghislaine Maxwell.
In those papers, Guiffre stated Epstein forced her into sexual servicing of other prominent men. She named Britain's Prince Andrew – known in the UK as "Randy Andy" – former Sen. George Mitchell of Maine, former New Mexico Gov. Bill Richardson, Harvard law professor Alan Dershowitz, an unnamed foreign prime minister, an unnamed foreign prince, and several unnamed financiers.
All those named deny the charges. Dershowitz says the papers exonerate him; the other three say they never met or even heard of Guiffre.
President Trump, then a prominent New York developer who moved in the same social circles as Epstein, was not a client of Epstein's sexual procurement ring, Guiffre said. But in a separate comment before he ended their friendship, Trump indicated some knowledge of what was going on. "I've known Jeff for 15 years. Terrific guy," Trump told New York 17 years ago. "He's a lot of fun to be with. It is even said that he likes beautiful women as much as I do, and many of them are on the younger side."
Other politicians from both parties, including Trump's personal attorney, former New York City Mayor Rudy Giuliani, and two Democratic presidential hopefuls, Sens. Elizabeth Warren (Mass.) and Kirsten Gillibrand (N.Y.), want to know why the prison's suicide watch on Epstein ended.
Serene Gregg, president of AFGE Local 3148, which represents the MCC staff, gave one answer to Reuters: "If it wasn't Mr. Epstein, it would have been somebody else, because of the conditions at that institution. It wasn't a matter of how it happened or it happening, but it was only a matter of time for it to happen. It was inevitable. Our staff is severely overworked."
Meanwhile, the Justice Department is put in the awkward position of investigating itself. So far, nobody has raised conflict of interest concerns about that.
Attorney General William Barr announced the FBI is probing what happened and so is the agency's Inspector General. The IG is supposed to be an independent official, but the Justice Department's IG is now exploring allegations – first aired by GOP President Donald Trump – of FBI misconduct in the investigation of Hillary Clinton's use of a private e-mail server while she was Secretary of State.
As the investigations start, conspiracy theories are hitting the internet, aided and abetted by Trump. He's retweeting a right-wing fantasy and video — without any evidence in back of it, of course — blaming Epstein's death on Bill and Hillary Clinton.