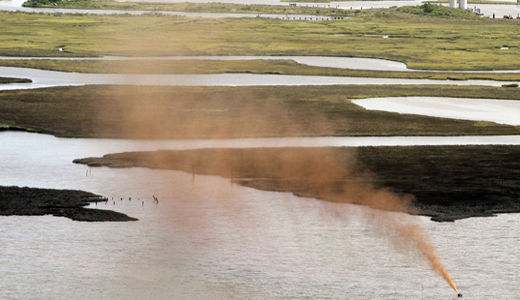 A new oil spill endangered the Louisiana marshes, July 27, a day after BP announced that Tony Hayward was leaving the company's CEO post, effective Oct. 1.
The spill was first reported Tuesday morning after a barge hit a wellhead in the Gulf of Mexico on the border of Louisiana's Plaquemines and Jefferson parishes, just 65 miles south of New Orleans.
Oil gushed from the well, 20 feet into the air, all day today. The well is sais to be also leaking natural gas. There were no official estimates of how much oil is leaking from the well.
A report on WWLTV in the afternoon said the oil was leaking into Bayou St. Denis, that it was not clear who owned the well and that a contractor who handles wild wells was on the way. Cleanup workers were booming up the area by mid-afternoon. Responders included the U.S. Coast Guard, Jefferson Parish police and fire officials and local boats.
Residents have been reporting an oil sheen in Mud Lake, north of Barataria Bay. This is an area that it was hoped could be protected from the BP oil rig disaster.
Mud Lake is part of a network of bayous and lakes north of Barataria Bay, an ecologically important coastal estuary where workers and volunteers had thus far been able to fight off wave after wave of oil spewing from the Deepwater Horizon well.
Officials expressed hope the new spill could be contained before tomorrow.
Evacuations are occurring in the bayou and civilian boats are being kept away.
Councilman Chris Roberts of Jefferson, La. said he had reports of oil in the marshes around his town and that skimmers were already at work trying to contain it. "There's a pretty good amount of oil flowing out there," Roberts said, though the precise amount is not known.
There were no reported injuries when the barge struck the wellhead.
One of the most serious problems connected with the new spill is that it has forced a halt to water traffic leading into Barataria Bay, the area through which oil-fighting equipment was moved inland to avoid last week's Tropical Storm Bonnie. The new spill could hamper efforts to redeploy that equipment to fight the old spill.
"We are now left vulnerable until we can reopen traffic and get resources back out there," Roberts said.
Photo: Oil spews from an abandoned wellhead in Barataria Bay on the coast of Louisiana, July 27. (Patrick Semansky/AP)