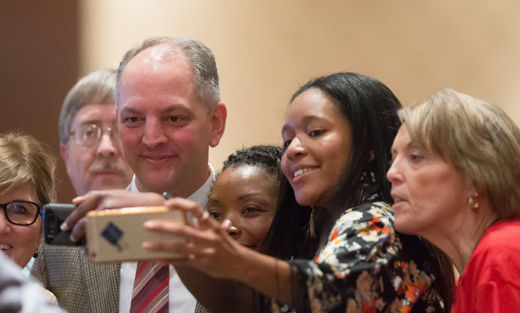 WASHINGTON – According to some pundits, Louisiana voters rejected Senator David Vitter's bid for governor because of his problems with his zipper.
Not so, say many close observers. Vitter lost because voters were sick and tired of Republican right-wingers like him destroying their economic security by giving their state away to huge corporations.
In protest, they voted decisively for John Bel Edwards, a relatively unknown Democratic state representative who promises that Medicaid expansion will be among his top priorities. He's the first Democrat in eight years to be elected governor of any Deep South state.
Of course Edwards reminded voters about Vitter's personal flaws and this played a role in his defeat. In 2007, during his first term as U.S, Senator, Vitter admitted that an allegation dug up by a Louisiana newspaper was true: five years earlier he had patronized a Washington prostitution service.
Vitter then did a mea culpa. Voters forgave him and he was re-elected in 2010.
At the beginning of this year's campaign for governor, the smart money was on Vitter. There was even talk that no Democrat would run against him. Edwards was finally chosen to be the sacrificial lamb.
Early on, however, it became clear that voters might forgive Vitter's personal straying but they would not forgive him for being part of the right-wing GOP gang ruining Louisiana.
Louisianans remembered how Vitter had used the devastation caused by Katrina to kill unions, permanently displace thousands of African Americans who had lived in New Orleans, and to privatize and destroy much of that city's public school system.
Right wingers drained Louisiana's economy
Meanwhile, Vitter's counterpart in Louisiana, Governor Bobby Jindal, had pushed through a 53 percent cut in funding to public colleges and universities between 2008 and 2014.
Moreover, at a time when Louisiana's economy was being hit by a post-Katrina recession, Jindal doubled tax giveaways to corporations from one billion dollars to two billion. As a result, government revenues shrank and Jindal cut public services and benefits.
Also, as a rising star in the national right wing galaxy, Jindal famously refused to set up a state Obamacare insurance exchange and refused to accept any additional federal monies to expand Medicaid.
These right wing shenanigans left Louisiana's economy in a shambles. Residents are now burdened with a $500 million state budget deficient. What's worse, that gap is expected to balloon to $1 billion next year.
Jindal's net approval rating of 20 percent ranks second worst among the nations' governors. Only Kansas' Republican Sam Brownback is more disliked by his constituents.
During the election, Vitter tried to distance himself from Jindal, but to no avail. Voters saw that their policies over the years have been identical.
Not that Vitter and Jindal are buddies. Far from it. Over the years, they have been stabbing each other in the back vying for hegemony over the Louisiana Republican Party.
In fact, there was speculation that Jindal's announcement that he was quitting the U.S. presidential was timed to take media attention away from Vitter, who was trying to revive his campaign by railing against Syrian refugees.
"The Jindal news was also an untimely reminder to voters of just how deeply they loathe their current Republican governor," reported Suzy Khimm in the New Republic magazine.
As for Vitter, not even the support he received from GOP presidential contenders Marco Rubio and Ted Cruz helped. Vitter lost the election by a 12 point margin, and he announced he wouldn't run for re-election to the Senate.
The "breeze of hope"
In his victory speech, Edwards said "… the people [of Louisiana] have chosen hope over scorn. … I did not create this breeze of hope that's rolling across our beautiful and blessed state. But I did catch it.
"This breeze," Edwards continued, "has its roots in the songs of the Louisiana Hayride, the food of our Cajun ancestors, the spirituals of our African-American churches, the faith of our Italian strawberry farmers and the energy of Native Americans and our Hispanic immigrants."
Edwards is widely considered to be staunchly conservative, but his reference to "Hispanic immigrants" might be a signal that he will withdraw Louisiana from the lawsuit brought by 26 governors against President Obama's executive order granting protections to undocumented persons whose children are U.S. citizens.
Most important, Edwards' election is a hopeful sign that governors, especially Deep South governors, will stop preventing their constituents from receiving Medicaid benefits.
According to the New Republic, "In Louisiana, voters rejected the party that had turned down Medicaid expansion. [Even] Vitter didn't campaign against the expansion, insisting that he was open to some version of the option even as he opposed Obamacare.
"That position seems to be gaining traction in the Deep South, where residents have the most to benefit from the Medicaid expansion; Alabama's GOP governor recently suggested that he was considering [expanding Medicaid] as well."
And nationally respected blogger Keith Brekhus wrote in the PoliticusUSA online newspaper that "Edwards' victory will give Louisiana a chance to reverse eight years of damage done by Bobby Jindal.
"The voters have decisively voted to change course in Louisiana."
Photo: Louisiana Gov.-elect John Bel Edwards takes photos with others during the 2014 Louisiana Federation of Teachers convention in Lake Charles. In a sign of the strength of Edwards' ties to the union, the Democrat's first speech since winning the weekend runoff election was Monday at their convention. Rick Hickman | American Press via AP