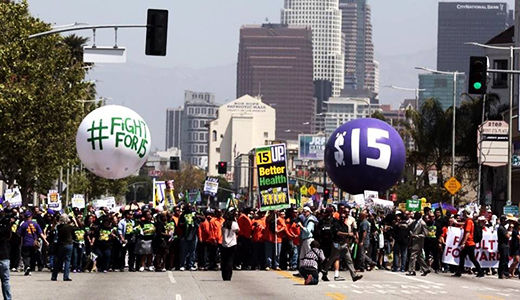 LOS ANGELES – Low-wage workers in over 200 cities, backed by the nation's unions, walked off their jobs or joined protesters yesterday from one end of the nation to the other.
In New York, Los Angeles, Detroit, Chicago, and in St. Louis, to name just a few of the locations, Americans took to the streets in support of low wage workers demanding a minimum wage of $15 in the U.S., more than twice the current federal minimum of $7.25.
By late afternoon at least 60,000 workers were involved in the Fight for $15 protests, according to organizers, with additional protests still underway or planned for the evening.
Picket lines swelled at many McDonald's stores as Walmart workers and members of community organizations joined them, often forcing managers to shut their stores down.
In LA, by 11 a.m., the huge McDonald's store on Figueroa Blvd. & 28th was forced to shut down and police closed off long stretches of the main thoroughfare itself, just south of downtown. Protesters posted a sign that read "People get burned in here" across the shuttered front doors of the outlet.
Already at that morning hour what started two years ago as a walkout by 200 fast food cooks in New York had grown into the largest protest by low wage workers in American history. It has, the people in the streets said, changed the conversation in America to one of how to end the wider-than-ever wage gap.
No longer limited to fast food workers, in city after city home health care workers, Walmart workers, child-care workers, adjunct professors and airport workers walked off the job and joined the protests.
In many locations workers came from abroad – from Brazil, Australia, the United Kingdom and Germany to support their brothers and sisters in the United States.
"It's not just about fast food and not even just about wages," said Patrick Smart, president and CEO of the Southern California Southern Christian Leadership Conference as he joined a picket line at a closed-down McDonald's. "It's a civil rights movement, it's about worker justice and it's about closing the unconscionable gap between rich and poor."
Traditional labor unions were out in force backing the strikers and the demonstrators.
"The UFCW is out here fighting for $15 because we believe everyone, union or non- union deserves a living wage," said Kathy Finn, a director for the union's Local770 which covers LA and much of southern California. "We work for people who have contracts, we work to organize people and provide them with the benefits of a union if that is what they want and we are out here trying to help lift up those who don't have representation. We all rise up but only if we all rise up together," Finn said.
Local 770 has just come off a successful campaign after which workers at seven El Super supermarkets in the LA area have voted to unionize and another where workers at 100 CVS stores have won contracts.
Just before the strikes and protests started today Walmart shut down at least five of its stores, including the Pico Rivera store in Los Angeles.
"They say it was plumbing problems," said Denise Barlage, 56, a nine-year veteran worker at that store. Barlage, who protested and marched yesterday, said "That's what Walmart said but I know better. That Walmart store was the one of the stores where worker organizing has been the most successful."
The Service Employees International Union (SEIU), which represents janitors, security guards, hospital aides, nursing home workers and adjunct professors, was in evidence at the demonstrations across the country yesterday.
SEIU brought truckloads of food, water and soft drinks to distribute to strikers and protesters.
Scott temple, 57, a home care worker and a member of SEIU marched through the streets to the University of Southern California, notorious for paying low wages to food service workers, janitors, adjunct professors and others.
"I have construction worker friends who say they couldn't do the heavy work, the lifting, the wheel chair transfers I do. My body aches and I've had two hernias – all for $9.25 an hour. What really makes me sick, though, , is that the rich take so much and we get so little."
Everywhere across the country demonstrators were confident, however, that they have already made a difference. "Cities are raising the minimum wage without waiting for the Republican Congress and everyone is talking now about the wage gap," said Robert Flores, 23, a special education teacher's aide who marched yesterday.
Photo: Fight for 15 Facebook page