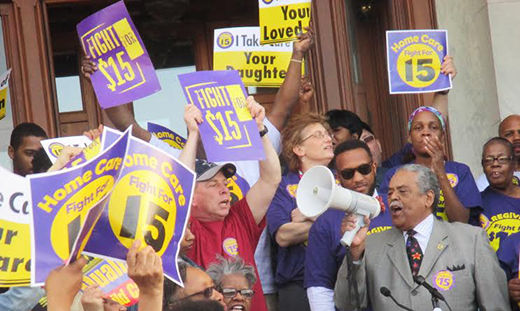 HARTFORD, Conn. – A vibrant crowd of over 1,000 childcare workers, home health aides, fast food workers, adjunct professors and other low wage workers and their supporters demanded living wages as they marched around the state capitol building and encircled it as part of the Fight for $15 international day of action on Apr. 15. Rallies were also held in Stamford, Danbury, and New London.
The beautiful, sunny day put an extra spring in the steps of the protesters who chanted, "What do we want? – 15!, When do we want it – Now!" and "1044," referring to SB1044, the low wage workers bill before the state legislature. The bill would require large employers who pay poverty wages that force workers to rely on public assistance, to contribute to state costs.
The bill, which would raise as much as $250 million per year, is being supported by groups organizing against deep cuts to human needs programs, which are being threatened in the current state budget process.
Labor Committee co-chairs Sen. Ed Gomes and Rep. Peter Tercyak were among the many legislators that joined the rally. Prior to the march that completely encircled the capitol, demonstrators gathered in Bushnell Park at the Workers Memorial in remembrance of those who have fallen on the job. Rep Edwin Vargas gave the charge, reminding the workers assembled that they can win when they stand together and build strong unions.
Strollers were lined up for mothers who brought their children along, complete with signs, "I care for your loved ones."
After circling the Capitol three times, a program of rousing speeches began with fast food workers who had taken part in a sit-in at 8 a.m. at the McDonalds in nearby Manchester. "These courageous workers were willing to be arrested so they could get paid enough to survive!", said Pastor A.J. Johnson of the Urban Hope Refuge Church who led the early morning rally.
The demonstrators spoke among themselves with excitement at news of the rallies and strike actions taking place in cities across the country and around the globe.
As elsewhere, the fight which had begun two years ago by fast food workers and Walmart workers has become a fight for wages for all workers that will enable them to provide for their families.
A study released just before the rally showed that a third of workers in Connecticut earn less than $15 an hour. The minimum to meet the cost of living in this state is over $20 an hour. The state's minimum wage is $9.15 scheduled to reach $10.10 by 2017.
Photo: State Senator Ed Gomes speaking to the Fight for $15 rally on the steps of the Connecticut state capitol. | Art Perlo