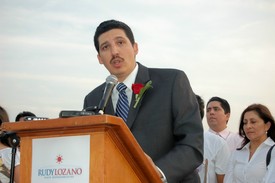 CHICAGO – Surrounded by several hundred young volunteers, community residents and activists, Rudy Lozano Jr. launched his campaign for state representative of the 23rd District.
The announcement was made at the site of the new Little Village High School, symbolic of the many struggles waged by Chicago's Mexican American community and a beacon of hope for the future.
Tuesday, Aug. 4, was the first day to collect signatures to gain ballot access for the Democratic primary that will be held Febuary 2010.
Lozano, 33, is an educator, activist and father of two young girls. He and his family have deep roots in the Little Village community and have been instrumental in shaping a legacy of progressive political independence and justice for working families.
In announcing his candidacy, Lozano said the 23rd district was on the brink of something new and exciting, of "taking back our neighborhood from the bankrupt political leadership running on the fumes of a greedy system that enriches their friends and ignores the rest of us."
Lozano pledged a bold grassroots campaign and to bring fresh leadership to the state legislature as a fighter for working families, small businesses and immigrants, including access to jobs, affordable housing, health care, equitable education funding, day care and a safe community where residents could finally breathe clean air.
If elected, he will join a state legislature frozen in political gridlock and faced with the largest budget deficit in state history, which has resulted in devastating cuts to vital services.
The 23rd District is plagued by deep economic problems. It has the highest home foreclosure rate in the state. Lozano pointed out that his opponent has done nothing to alleviate the suffering of families or the loss of their homes. He pledged to take on the powerful banks and lending institutions profiting from the crisis.
The effects of the economic crisis have also spawned widespread gang violence, which has taken the lives of many young people.
Lozano seeks to unseat state Rep. Daniel Burke, a legislator of 19 years, who hails from one of the most powerful political machines in the state. He is the brother of Alderman Ed Burke, head of the City Council Finance Committee, an ally of Mayor Richard Daley and the most powerful member of council. Ed Burke's wife is a judge on the state's supreme court.
Such a powerful and well-funded opponent might scare off most challengers, but not Lozano. Saying he had nothing to fear, he instead expressed confidence because "we have the people with us, new generations, new leadership, we have the energy necessary to work."
The demographics of the 23rd District have changed radically since Burke was first elected. Today, Latinos make up 75% of registered voters in the district and a common complaint is that Burke, who is white, is never seen in the community and few people know who he is.
Mired in the worst economic and social crisis since the Great Depression, "working families of all backgrounds depend on badly needed social services that protect the foundation of our communities and they need a strong ally in Springfield to fight for reforms that support adequate funding for jobs, economic security and community development," said Lozano.
"Now is the time to provide leadership that listens, understands and fights to empower communities and everyday people. The working families of the 23rd Legislative District have been ignored for too long and Springfield needs a leader who was born into struggle, raised in the community, rooted in principled values and committed to a better sand stronger future for all," he said.
Lozano received the support of several respected labor and community activists. After watching Lozano grow up in the community, Carl Rosen, Midwest regional director of United Electrical Workers (UE), said Lozano was exactly the kind of leadership working families needed in this difficult time.
"We are struggling for a just economy for working families. We need leaders who understand the struggles of the community, who have worked to build unity across racial and ethnic lines. Rudy Lozano is that leader," said Rosen.
Also speaking was Armando Robles, president of UE Local 1110 and leader of the Republic Windows and Doors sit-in that captured national attention last December. He said Lozano had stood with the workers in their struggle and now they will stand with him.
Manuelita Garcia, a long time leader in the community and one of the famous hunger strikers who helped win the battle to build the high school that serves both Little Village and Lawndale communities, said she was very happy to be endorsing Lozano and that he was running. His campaign would inspire the young generations to take up the cause of justice.
Also speaking were immigrant rights leader Emma Lozano, executive director of Centro Sin Fronteras and Alderman Ricardo Munoz.
Lozano is the son of Rudy Lozano, legendary labor and immigrant rights organizer who was instrumental in forging the multi-racial coalition that elected Harold Washington as mayor of Chicago in 1983. Lozano was assassinated after he challenged a machine candidate for alderman and barely lost. Rudy Lozano Jr. said his father and mother, Lupe, have inspired his activism and he intends to carry their vision for social justice forward.