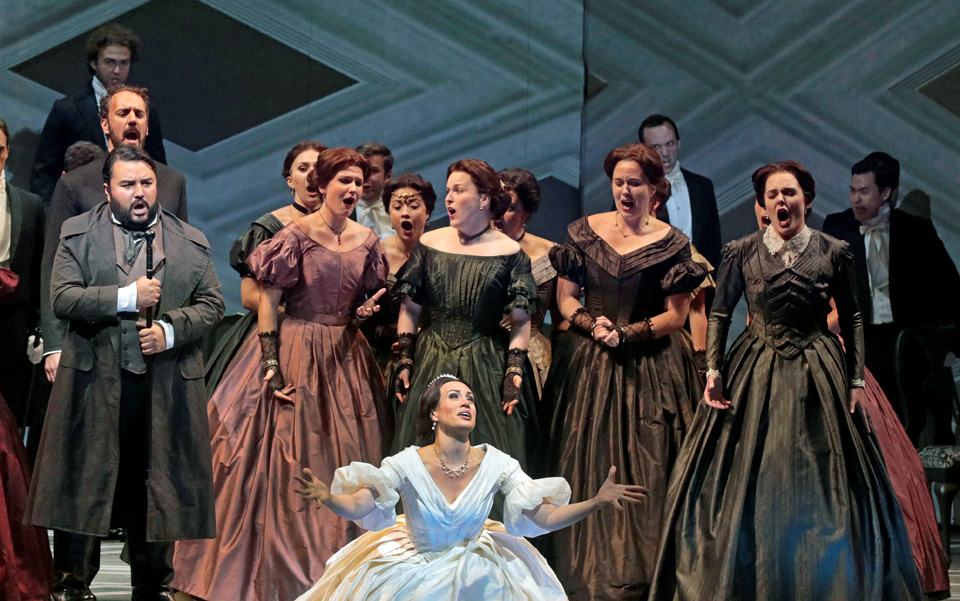 SANTA FE, N.M.—The two 19th-century operas in this year's Santa Fe Opera (SFO) season provide opportunity for some rumination on tried-and-maybe-not-so true, but still dominant ideology surrounding family, love and marriage. Summed up briefly, in an era of patriarchy—which we're still in—ideals of romantic love and monogamous heterosexual marriage are supposed to apply equally to men and women but because of economic inequality, don't in practice. It's the rare man who abides by the code, and the rare woman who doesn't.
Gaetano Donizetti's Lucia di Lammermoor, based on a novel by Sir Walter Scott and set to a libretto by Salvadore Cammarano, premiered at Naples' Teatro San Carlo on September 26, 1835—one century after Handel's Alcina, also offered this SFO season, which adopts a very different erotic agenda. Cammarano, incidentally, ended up writing four libretti for the young Giuseppe Verdi, including most of Il trovatore before he died, age 51, in 1852.
Lucia is a desperate woman trapped by convention between family duty—to marry a wimpy ally of her Ashton clan—and her love for Edgardo, last survivor of the neighboring enemy Ravenswoods. She is conspired against, betrayed, bullied, and blackmailed, finally dying happy but utterly mad. The opera is sometimes considered a Scottish Romeo and Juliet.
"This is an opera about the imagination–about reality becoming so intolerable that the mind retreats into itself—into madness, or into suicide and death," says director Ron Daniels.
Out of almost 80 operas, Lucia is perhaps Donizetti's most performed work, in the repertory of virtually every opera company in the world. The fact that there is no other significant female character in the opera shows how Lucia must fare in a completely male-dominated world. Lucia's aide Alisa, the only other woman Lucia speaks to, counsels her against loving Edgardo—probably good advice, all things considered, but which places her squarely in her boss' camp, not in Lucia's. As the only female voice that counts, Lucia owns the stage whenever she is on it. Conductor Corrado Rovaris both follows and leads her with sensitive attention to breath, and performs admirably in the pit throughout.
A male posse looking for an intruder on the Ashton estate carries war clubs (that from a distance look suspiciously like repurposed golf clubs, but maybe that's where golf clubs originally came from), among the few Scottish references of any kind in the staging, although most world cultures have war clubs. There is nary a tartan in sight!
The palette of their clothing (costumes by Emily Rebholz) runs from browns to grays to blacks for the men, and not so dissimilar for the women. Well, it is a gloomy ghost story after all, a theme that is brought out repeatedly, thanks to Daniels' vision.
Projections of square wood paneling for the ceiling and walls rarely changes except for color and intermittent sky or clouds or forest seen through the openings. This concept, by scenic designer Riccardo Hernandez, frankly exceeds its usefulness after two and a half hours.
The focus is so centered on Lucia that other aspects of the story get short shrift. There's enough about Lucia's ghosts, visions and hallucinations to indicate psychiatric intervention, yet the historical context that Cammarano provides is thin. We learn that Edgardo must leave for France to negotiate Scotland's fate, and we also hear from brother Enrico that the king has died and Mary will ascend the Scottish throne (which sets the opera in 1543). Therefore, only Lucia's marriage to Arturo will save the family name and fortune. An underlying conflict between Catholics and Protestants is implied, and perhaps also a distaste for being subject of a queen. But these possibilities are not spelled out. If the clash between the two families has a politico-religious dimension, apart from the ancient Ashton-Ravenswood feud, it would be helpful to know about it in somewhat more detail. Creative direction might help to fill in these gaps in the story.
Before his departure Edgardo and Lucia declare themselves faithfully committed to each other as wife and husband: In the sight of heaven, they are one, but of course this private ceremony has no legal validity.
The themes of fidelity, fatality, sadness and madness in love and marriage must have resonated deeply with Donizetti, who, like his librettist, also died young, at 50, in 1848. He and his wife Virginia had lost their three children in infancy, and she herself died early, possibly of syphilis acquired from him. From 1845 until his death Donizetti suffered terminal insanity from the dread amatory disease, for which there was no reliable cure.
Zachary Nelson, playing Enrico Lord Ashton, is short of stature but he is obviously a gym rat, built out to impress. He spends the scene with his sister in his private apartment in the castle mostly "bear"-chested, which appears untrue to the standards of the period and to traditions of the opera. Was that director's choice meant to titillate the prurience of the audience (it succeeded, but that does not seem reason alone to do it), or to hint at past incestuous abuse? Is there some back story being suggested that has repulsed Lucia from any decisions Enrico might make regarding her life? If so, the director's intent is unclear. I'm sticking with the titillation.
In any case, Enrico takes advantage of Edgardo's absence to force the hateful marriage to Arturo on her. "I am signing my death warrant," Lucia laments. At the wedding party the men are decked out in tuxedos, projecting a late 19th-century time frame, the ladies in somber-colored gowns like faded rose petals in morbid Victorian mourning wreaths.
Daniels for the most part has his chorus lined up in neat rows, something of a 50-year throwback to the "park-and-bark" operatic stagings of yore. The famous Sextet near the end of Act I is similarly stationary.
In Lucia's well-known 20-minute-long Mad Scene, after she has killed her new husband, she is accompanied in this production by an obbligato glass harmonica in the orchestra, Donizetti's original choice, but not generally observed. Instead the duet with her voice has most often been assigned to the flute. It was revelatory to hear an actual glass harmonica (basically a set of wetted glass bowls, invented by Benjamin Franklin, by the way) and experience its eerie, otherworldly tonalities that recalled the earlier ghost sightings.
One of the very few truly imaginative directorial decisions was to further the ghost story imagery by having Lucia arise from the ground as a vision to greet the dying Edgardo.
Coloratura bel canto roles such as Lucia have run a spectrum of interpretation loosely running between the vocal purity and note precision of a Joan Sutherland and the equally valid passionately articulated emotionalism of a Maria Callas. Brenda Rae trills in the Sutherland camp, but enunciates her lyrics more distinctly (that was the general critique of Sutherland's performances). If you see Rae's name on the roster of an opera coming up near you, she will surely impress.
While on the subject of vocalism, I should say that each of the other principals in this production has a glorious instrument—Mario Chang's brilliant tenor as the doomed Edgardo, Zachary Nelson's powerhouse baritone as the overbearing brother Enrico, and Christian Van Horn's warm mahogany bass as the oily chaplain/consigliere Raimondo.
Marriage with much more mirth
Fast forward almost 40 years to Vienna's Theater an der Wien on April 5, 1874, for the premiere of Johann Strauss II's Die Fledermaus (The Bat), the apex of Viennese operetta, a waltzing escapist comedy of bourgeois manners that has held the stage consistently ever since. In three acts we move in less than 24 hours from the comfortable home of "a man of private means" and his wife and household, to a sparkling, champagne-infused masked ball given by a Russian prince, to a city prison the following groggy morning.
The plot explores both the comic and serious aspects of marriage and fidelity, and comments trenchantly on the era's rigid social distinctions. The rich disport themselves at fancy soirées, while the servant class must wait upon their masters' every demand or use their wiles to join their "superiors" at the festivities. True to comedic tradition, roles are reversed, disguises upturn expectation, and the actors take on the identity of their assigned parts. The chambermaid Adele, who early on prefers to live with "not a soul to give me orders," gets a happy ending. For the others, mutual forgiveness goes a long way, recalling the conclusion of Mozart's Marriage of Figaro. As the cheating, cheated-upon Rosalinda remarks, "A wife must be resourceful to make her man remorseful."
"And as happens in 'one crazy night' stories from Shakespeare's A Midsummer Night's Dream to the 1980s cult classic Sixteen Candles," director Ned Canty explains, "the characters in Die Fledermaus throw themselves into their adventures with gusto, returning to reality the next morning with a renewed appreciation for the life they had all along."
The ball thrown by Prince Orlovsky gives his friends permission to let down their hair in a night of frivolity. Liquor flows, dancing girls are available, the gambling table is open, masks are in place, identities hidden, and inhibitions are checked at the door. Methinks I espied a little queer flirtation scampering among the crowd. It's not quite an orgy, though what happens in the adjacent rooms of the villa is anyone's guess. This was surely not on Strauss' agenda, but I could not help thinking, This is the kind of royal excess and appropriation of the Russian people's wealth that inevitably (as it seems to us now) led to the 1905, and then the 1917 Revolutions.
Allen Moyer's scenic design tended toward the literal: Oversized blondwood domestic furniture in the Eisenstein home for Act I, an elegant ballroom for Prince Orlovsky's palace in Act II, and a jailhouse with cells and desks in an anteroom off the street in Act III. Such a production might have come from any opera house in the U.S. or Europe in the last 50 years. Zack Brown and Christianne Myers created lovely costumes that, too, fit into the overall retro design.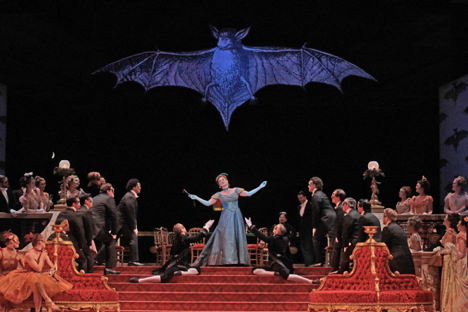 Nicholas Carter conducted the familiar score full of hit tunes with a light touch, playfully teasing the waltz rhythms with delicious abandon. It's a largely routine representation of a popular confection without an especially original point of view. Rosalinda's singing of the sentimental "Czárdás," delivered as "proof" of her identity as a Hungarian countess, is a reminder that while the Austro-Hungarian Empire did not oppress and repress its many constituent ethnic and language groups with anything like the terror of the Russians, nationalism was in the air: In the wake of World War I the empire would finally fall apart.
The original German libretto was by Carl Haffner and Richard Genée; the present translation is by Ruth and Thomas Martin, veterans of serviceable libretto renderings into English, with some freshening-up by the New York-based transgressive actor-writer Charles Ludlam going back to a 1986 SFO production, that seems tame now. Act III, containing little new music but traditionally filled with inebriated staging and lame groaners passing for witty, with-it humor, deflates much of the goodwill for this classic work with its uninspired verbal and physical gags.
Principal singers are very fine: tenor Kurt Streit as the man of means Gabriel von Eisenstein; soprano Devon Guthrie as his wife Rosalinda; soprano Jane Archibald as their chambermaid Adele; baritone Joshua Hopkins as the jokester Dr. Falke; tenor Dimitri Pittas as Rosalinda's old lover, the never quite successful opera singer Alfred; baritone David Govertsen as the jail warden Frank; comic bass Kevin Burdette as the jailer Frosch; and (on Aug. 1), mezzo-soprano Paula Murrihy as Prince Orlovsky (with the incomparable Susan Graham in the remaining performances). A number of these now professional performers are former apprentices in the SFO summer program. The opera runs three hours and fifteen minutes, with two intermissions.
I have the same verdict on both of these productions: Tremendously exciting singing by world-class artists, staging that makes me ask what urgent necessity, beyond ticket sales, the company found in presenting these works now.
Remaining performances of Lucia di Lammermoor are Aug. 12, 16 and 24 at 8:00 pm, sung in Italian. Die Fledermaus will be performed Aug. 14, 19 and 26 at 8:00 pm, in English. Both are new SFO productions and feature captions in English and Spanish. SFO is seven miles north of Santa Fe on U.S. 84/285. Visit www.santafeopera.org or call (505) 986-5900 or (800) 280-4654 for information and tickets.