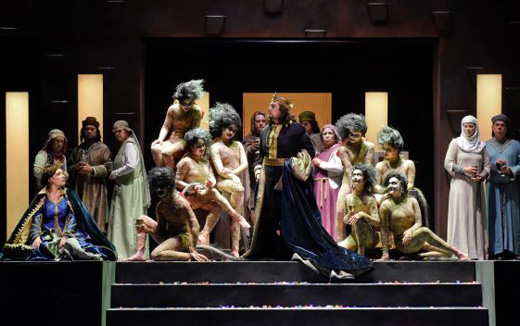 LOS ANGELES – LA Opera's outstanding production of Giuseppe Verdi's operatic version of Macbeth is simply one of its best. In baritone mode, Plácido Domingo portrays the scheming tyrannical title character, whose recklessly over-ambitious wife Lady Macbeth (Russian mezzo-soprano Ekaterina Semenchuk) pushes her hapless husband over the edge in the power couple's relentless quest for the Scottish throne. Although there are armed uprisings, a beheading and assassinations galore, this show does not dwell on the gory.
Verdi's adaptation of William Shakespeare's circa 1606 tragedy opened in Florence in 1847, one year prior to the European revolutions that prompted Marx and Engels to pen The Communist Manifesto. Famous for his patriotic, nationalist sentiments, Verdi was a hero to those who sought the unification of the Italian states into one nation. His concern for an integral Italy may well have led him to a play about the legitimacy of rulership in far-off medieval Scotland. It seems fitting that the current iteration of this drama about an unquenchable thirst for power manifests itself during America's quadrennial presidential race, wherein at least one candidate has repeatedly embraced violent treatment of his opponents.
Marx and Engels wrote "a specter is haunting Europe," and in Verdi's version of the Shakespearean classic as presented here, specters in the form of a coven of witches haunt the stage. The supernatural is especially souped-up in this production: Instead of the Bard's trio of witches there are nine (count 'em, nine!) who prophesy what will befall the dramatis personae and are quite wildly costumed with Julie Taymor-like flair by Suttirat Anne Larlarb, whose credits include Danny Boyle movies, London's 2012 Olympic Opening Ceremony (which scored an Outstanding Art Direction Emmy) and Broadway adaptations of movies and novels. Macbeth's other characters are Larlarb-garbed in what seems like appropriate apparel for Middle Ages Scotland.
These totemic apparitions almost look as if they have scarlet stingrays attached to their backs. The feline fates and phantoms literally climb the walls, and also scribble pentacles and other occult imagery and graffiti on the walls, with a little help from their friend, projection designer Sean Nieuwenhuis. During certain scenes Verdi's score gets downright spooky, too. (Students of theatre history may recall Orson Welles' celebrated 1936 Federal Theatre Project production with an all-Black cast, known as the "Voodoo Macbeth.")
Co-scenic designer Colin McGurk's set is, like the opera's power-mad protagonists, quite ambitious, capturing the ambiance of the corridors of power within a castle, as well as the Scottish heath where heathen enchantresses stir smoldering, boiling cauldrons and are wreathed in more atmospheric fog than a Sherlock Holmes mystery. Lighting designer Matthew Richards also evokes the mood of the moors, including an elaborate, flickering candelabra (for a second I thought I was watching Phantom of the Opera). In terms of sheer stagecraft, this production is among LA Opera's finest, although marred by a cutesy puppetry scene that's too Disneyish, that is to say, pretty Mickey Mouse.
Louis Biancolli and Robert Bagar wrote of Macbeth in The Victor Book of Operas, "In a magnificent chorus Scottish exiles bemoan their country's plight under the usurper's bloody tyranny" (again, remember Verdi's Italian nationalism). Their lamentation of grief, caused by the Macbeths' bloody conniving to capture the crown, is extremely sorrowful – a specter of what the USA will look like six months after Donald MacTrump takes the presidential oath and makes America hate again.
It's no plot spoiler to say, of Francesco Maria Piave and Andrea Maffei's libretto derived from a 400-year-old play, that in the denouement the more enlightened, benevolent wing of the then ruling class triumphs, in order to set things right, a recurring theme in the works of Shakespeare.
Plácido Domingo at 75 retains a commanding presence that belies his years and is quite adept at swordplay. Semenchuk is chilling as the cunning Lady Macbeth: From her guilt-wracked sleepwalking to the incessant badgering of her husband, even as Macbeth sits upon the throne, this drama queen (literally) comes across as the lady in literature's you love to loathe.
As Macduff, Mexican tenor Arturo Chacón-Cruz earned kudos from the ooh-ing and ah-ing public (Angeleno Joshua Guerrero plays the part in October). Roberto Tagliavini (his fellow Italian Ildebrando D'Arcangelo October 13 and 16) acquits himself as the doomed Banquo, as does Josh Wheeker as Malcolm. Serbian helmer Darko Tresnjak admirably directs the large company, with Steve Rankin assisting as fight director in this violent saga about social climbing backstabbers. Chorus director Grant Gershon helps the company give good voice, while James Conlon conducts Verdi's score that ranges from scary to buoyant.
After the final curtain the audience deservedly gave Plácido and company an enthusiastic, sustained standing ovation. The at times spine-tingling opera almost seems a bit early, as this hoodoo Macbeth would be ideal for Halloween – but I see that, not to be outdone, at that witching hour LA Opera will be presenting Matthew Aucoin's new score to F.W. Murnau's 1922 film Nosferatu: A Symphony of Horror at the Theatre at Ace Hotel, October 29 and 31. With this rousing rumination on the naked lust for power, LA Opera's new season is off to a stellar start.
Macbeth is performed Weds., Oct. 5, Sat., October 8, and Thurs., Oct. 13 at 7:30 pm, and Sun., Oct. 16 at 2:00 pm, at L.A. Opera at the Dorothy Chandler Pavilion, 135 N. Grand Ave. For more info: (213) 972-8001; www.laopera.com.
L.A.-based arts reviewer Ed Rampell's interview with Viggo Mortensen is in the October issue of The Progressive Magazine.
Photo: Plácido Domingo (center) as Macbeth and Ekaterina Semenchuk (left) as Lady Macbeth / Karen Almond, LA Opera