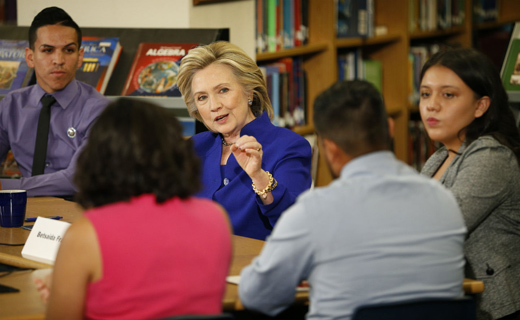 UPPER MARLBORO, Md. (PAI) – Citing overwhelming support from both rank-and-file members and union political activists, Machinists leaders unanimously endorsed former Secretary of State Hillary Clinton for the Democratic presidential nomination.
The August 14 move makes IAM the second union to back Clinton. It also backed her in the 2008 Democratic primaries. Then, it issued a double endorsement, favoring former Gov. Mike Huckabee, R-Ark., in that party's primaries. This time, IAM did not back a Republican.
Earlier in 2015, the Teachers backed Clinton and National Nurses United endorsed her current main challenger, Sen. Bernie Sanders, Ind.-Vt. He is running in Democratic primaries.
"Hillary Clinton's long record of supporting workers' rights stands in stark contrast to her Republican rivals, who seek to ban unions, silence workers, eliminate sensible regulations and give corporations total control over working conditions," said Machinists President Tom Buffenbarger. "The question should not be why are we endorsing Hillary Clinton now, but rather, what took us so long?"
He called Clinton "now the target of unprecedented attacks, financed on a scale never seen before. The time to help is when help is needed most, and we intend to do just that."
Clinton, whom the union calls an honorary member, spoke this year at the IAM's staff conference in New York. And after a late-July closed-door session with the AFL-CIO Executive Council, including Buffenbarger, Clinton said if elected she would push for stronger U.S. labor law as part of a platform to help re-expand the middle class.
"Our members understand what's at stake in this election: The right to vote, the right to join a union and the right to retire with dignity. But it's more than just civil rights and labor rights at risk," Buffenbarger said.
"Evaporation of economic opportunity is a rank obscenity compared to the alarming and growing concentration of wealth in America. It's time for an economy and a president who works for more than just the wealthiest among us."
IAM said it would start its support for Clinton by concentrating on the first two states on the primary calendar, Iowa and New Hampshire, and by repelling the corporate attacks on her.
It also said the survey of 1,700 IAM members shows 48 percent backed Clinton when asked which of the 20 presidential hopefuls – Democratic and Republican – they support. Her ratio over her closest challenger, the survey said, was more than 2-to-1. And her margins over Sanders exceeded 6-to-1. Questions e-mailed about other survey details went unanswered.
The survey, by Fingerhut Granados, showed IAM members, by a 58 percent-19 percent margin, favored a presidential endorsement now. By 2-to-1, they also supported "getting involved in the presidential selection process early," not after the two parties select nominees.
Independents were the exception to that consensus, backing a presidential endorsement now by a 37 percent-33 percent margin, with the rest undecided. The survey did not say how many respondents were Democrats, Republicans and independents.
Among the Democratic respondents, Clinton led Sanders by a 71 percent-11 percent margin, with others – including Vice President Joe Biden, who is pondering whether to join the race – in single digits. The survey release did not include GOP totals.
Survey respondents said that in the face of the concentration of wealth, workers must stick together. Sixty percent agreed "a lot" with that statement and another 22 percent agreed with it "a little." Ten percent disagreed.
Photo: Presidential candidate Hillary Clinton speaks with Dreamers about immigration. While all the Republican candidates have moved to the right on the issue of immigration reform, Clinton pledged to fight for a path to citizenship for the millions of undiocumented in the U.S. | John Locher/A