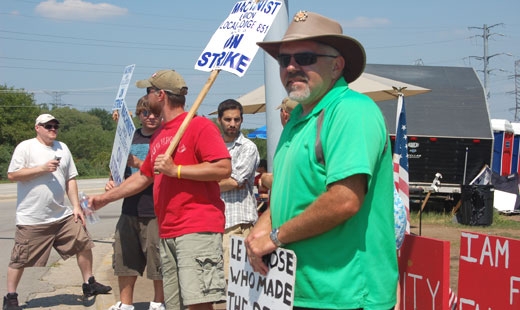 (AFL-CIO Now) – Machinists (IAM) District 8 in Joliet, Ill., and Caterpillar Inc. reached a tentative contract agreement late Tuesday and members are now voting on whether to ratify it. Workers have been on strike against the heavy equipment maker since May 1.
The proposed six-year contract contains many improvements over previous offers, said District 8 Business Representative Steve Jones.
While it does not address every issue for every member, it deserves to be brought to the membership for a vote.
Despite making nearly $5 billion in profits last year and on course to earn even more this year, Caterpillar demanded the nearly 800 workers accept a six-year wage freeze, doubled health care premiums and cuts to pensions. Meanwhile, Caterpillar's chief executive, Douglas Oberhelman, enjoyed a 60 percent pay increase in 2011, to $16.9 million.
While concessions are nothing new, what sets Caterpillar apart is that it is a thriving company, not a struggling corporation trying to stay on its feet. This "Caterpillar Capitalism," as Roger Bybee dubbed it, is part of what happens when a nation, like the United States, does not have an industrial policy.
Striking workers drew support from a range of union and community members, including Illinois Gov. Pat Quinn, who donated $10,000, and SEIU, which donated $25,000 to the union strike fund. Illinois Sen. Dick Durbin (D) was among those visiting workers on the picket line.
Full details of the proposed contract will be released after members are notified.
More information and details of the proposed agreement will be posted on IAM Local 851's website at www.iamll851.com.
Photo: John Bachtell/PW