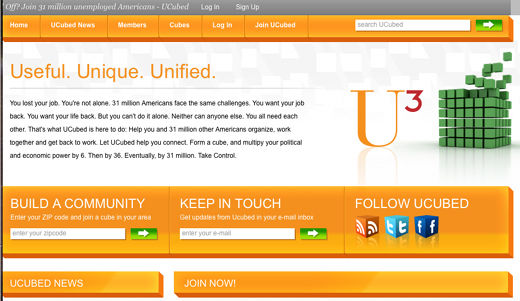 A new website nicknamed UCubed aims to unite over 31 million unemployed Americans to get organized, build power and fight together with the labor movement for jobs and economic recovery.
The website, http://www.unionofunemployed.com/, also known as Ur Union of Unemployed, is a community service project of the International Association of Machinists and Aerospace Workers (IAM). It hopes to reach millions online in an effort to unify and connect the country's unemployed and underemployed in a unique and useful way. Resources on the site include social networking, resume building, job listings, ways to take action on important legislative campaigns and much more.
"Have you lost your job? Well you're not alone, 31 million Americans face the same challenges," says the website. "Do you want your job back? Do you want your life back? But you can't do it alone. Neither can anyone else. You all need each other. That's what UCubed is here to do."
The current economy has harmed us all, says UCubed – salary and hourly, manufacturing and construction, finance and service, union and non-union, college educated and high school dropouts, inner city and suburban residents. Only by working together can we put an end to the current economic turmoil, says the website.
After registering and logging on, the site allows users to connect with others according to your zip code into cubes of six people. UCubed then organizes those cubes into neighborhoods of nine cubes, and then builds them into blocks. Eventually the goal is to build a community of "jobs activists" to support one another and build a power base to fight on behalf of the unemployed and help put people back to work.
"There is strength in numbers," writes IAM International President R. Thomas Buffenbarger in a welcome letter on UCubed. "There is even more strength when those numbers work in unison," he continues.
Buffenbarger notes those struggling given the country's current grave recession will work together on UCubed, each displaying a unique set of skills, talents and experiences that can be shared in a network of mutual support.
As the numbers increase, site users will become a force to pressure the federal government to respond faster and more effectively to the current job crisis, says Buffenbarger.
"The new jobs bill, expansion of unemployment compensation, extension of the COBRA subsidy, food stamp appropriations, tax relief – all are issues that demand immediate action. And both Congress and the White House need to hear from UCubed activists like you every single week," he writes.
Buffenbarger says the website was created because more than 35,000 members of the machinists union have been laid off. Others are working fewer hours each week because their employers simply do not have orders to fill, he adds, and the real recovery, not the false one on Wall Street, still seems years away.
"We desperately want jobs now! Not just for our members, but for all Americans," he writes.
UCubed and the Ur Union of Unemployed is a way to help the jobless become active during those dreary and sleepless nights, says the IAM international president.
"Everywhere we turn we see the personal devastation this grave recession has caused. And we hope UCubed provides a measure of relief – an end to the sense of being all alone, a chance to build something useful and unique, and an opportunity for the unemployed to change things for the better."