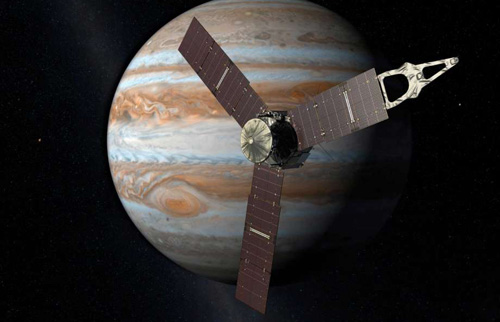 In all the Washington-based uproar over the role of workers and unions, it's sometimes easy to forget the outstanding achievements union workers produce – until you're reminded of them.
That's what the Machinists did when NASA's space probe Juno, after a 5-year voyage, reached Jupiter on Independence Day.
Juno's findings will provide scientists, and the rest of us, with valuable data on how the solar system, and life itself as a result, was formed. That's because the satellite will descend to within several thousand miles of the gas giant planet's surface – if it has one.
And all this was brought to you by union labor, IAM notes.
"Juno was built by Local 44 members at Lockheed Martin in Decatur, Ala., and launched, in 2011, by IAM Local 610 members at United Launch Alliance in Cape Canaveral, Fla.," the union explained.
"The spacecraft will soon become the first to see below Jupiter's dense cover of clouds. Juno will stay in Jupiter's orbit for the next 20 months, collecting data on the gas giant and sending it back to NASA to be studied."
Photo: This artist's rendering provided by NASA and JPL-Caltech shows the Juno spacecraft above the planet Jupiter. | NASA/JPL-Caltech via AP