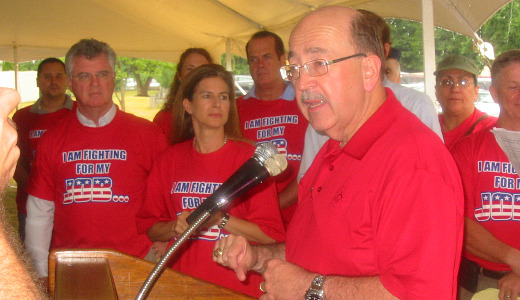 MERIDEN, Conn. – "Brothers and sisters, are you ready to fight?" "Yes!" was the resounding shout in unison by hundreds of Machinists union members and their families gathered for a jobs rally and picnic, wearing red T-shirts bearing the slogan "Fighting for my job and yours."
The event here, just 48 hours after an appeals court victory which stopped Pratt & Whitney from moving jobs out of Connecticut in the middle of the union contract, was also attended by state and national union and political leaders.
"You won big for all workers in this country. The fight starts here in Connecticut," exclaimed International Association of Machinists (IAM) Eastern Territory General Vice President Lynn Tucker. "We will no longer allow jobs to be shipped offshore – we will fight!"
Exactly one year ago, 1,000 workers at Pratt & Whitney's Cheshire plant and its air foil divison in East Hartford received the shocking announcement that their jobs were slated to be moved to Singapore, Japan and Georgia.
"We could have just given up," said Wayne McCarthy, IAM Local Lodge 1746-A president. "But we rallied together and we persevered."
"We're not the problem, we're the solution. We're not going anywhere," he said, referring to upcoming negotiations for their contract which expires on Dec. 5.
"We will accept nothing less than justice for those who toil in our country," reiterated IAM President Thomas Buffenbarger, who flew in from Washington for the rally.
Connecting the contract fight with the coming November elections, Buffenbarger said, "We call each other brothers and sisters. When we go to the polling place in the fall it's not about 'me,' it's about 'we.' That's what makes us effective so we can take on one of the most profitable corporations and win."
He urged those present to look toward each other when they vote in November and choose who will stand by working people.
Over plates piled high with hamburgers, pasta and corn on the cob, seated under tents at the Mountain Mist Outdoor Center, the union members and their families cheered for state Attorney General Richard Blumenthal, candidate for the open U.S. Senate seat being vacated by Chris Dodd.
Blumenthal recalled that when the Machinists' lawsuit was first filed, "it was said you couldn't win because the company was too big and powerful." But, he said, "we had on our side the law and we won. More important is you, the workers. Thank you for standing strong."
Reminding everyone that Blumenthal has been criticized by his Republican opponent for standing with the workers, Jim Parent, IAM chief negotiator, warned, "We better win that fight in November."
Rally emcee Everett Corey, IAM District 26 directing business representative, recognized the Grow Jobs Connecticut organization, funded by the IAM "to keep and grow jobs that manufacture things we need." He announced a project in the planning in Bristol, Conn., which could create 1,300 new manufacturing jobs in solar energy and advanced energy conservation products.
Pratt & Whitney, a division of the profitable United Technologies Corporation (UTC), manufactures and repairs jet engines for commercial and military aircraft.
On July 8, the Second Circuit Court of Appeals upheld a U.S. district court's injunction that barred Pratt from moving work performed in Cheshire and East Hartford out of Connecticut.
The unanimous 23-page decision from the three-judge appeals panel agreed with the district court "that Pratt had not made, and was not making, 'every reasonable effort' to preserve bargaining unit work as required by the CBA [collective bargaining agreement]."
The injunction will remain in effect until the expiration of the union contract. The jobs of hundreds of workers hang in the balance in the upcoming contract negotiations.
"What do we need?" asked Corey at the end of the rally. "Jobs," shouted the workers. "When do we need them?" "Now!"
Photo: IAM President Thomas Buffenbarger addresses the rally for jobs, standing with Connecticut elected officials, July 10 in Meriden, Conn. (PW/Art Perlo)