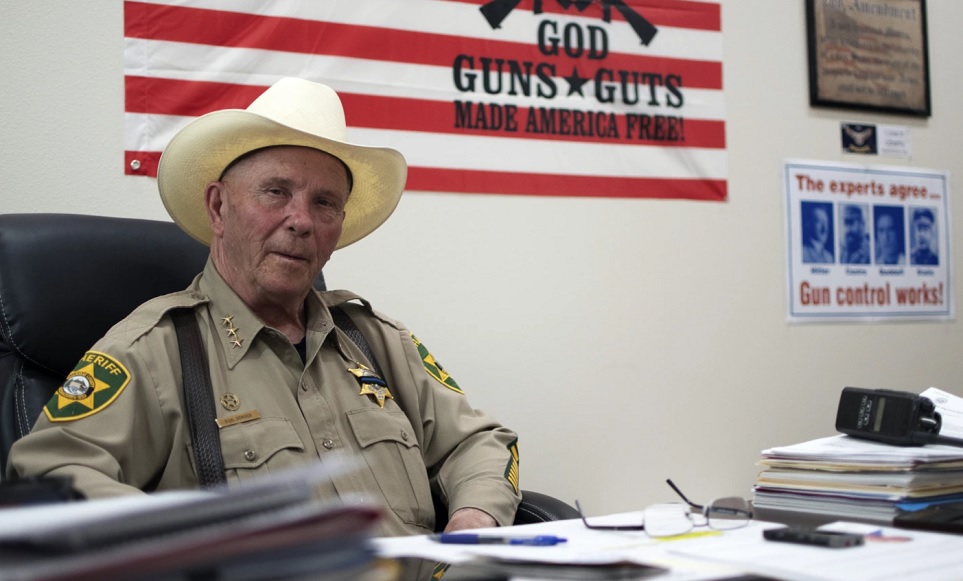 GRAND RAPIDS, Mich.  — Against the background hum of the convention center, Dar Leaf settled into a club chair to explain the sacred mission of America's sheriffs, his bright blue eyes and warm smile belying the intensity of the cause.
"The sheriff is supposed to be protecting the public from evil," the chief law enforcement officer for Barry County, Michigan, said during a break in the National Sheriffs' Association 2023 conference in June. "When your government is evil or out of line, that's what the sheriff is there for, protecting them from that."
Leaf is on the advisory board of the Constitutional Sheriffs and Peace Officers Association, founded in 2011 by former Arizona sheriff Richard Mack. The group, known as CSPOA, teaches that elected sheriffs must "protect their citizens from the overreach of an out-of-control federal government" by refusing to enforce any law they deem unconstitutional or "unjust."
"The safest way to actually achieve that is to have local law enforcement understand that they have no obligation to enforce such laws," Mack said in an interview. "They're not laws at all anyway. If they're unjust laws, they are laws of tyranny."
This project was produced by the Howard Center for Investigative Journalism, in collaboration with the Arizona Center for Investigative Reporting. The Howard Center, based at Arizona State University's Walter Cronkite School of Journalism and Mass Communication, is an initiative of the Scripps Howard Fund in honor of the late news industry executive and pioneer Roy W. Howard. AZCIR is a nonpartisan, nonprofit newsroom that focuses on data-driven investigative journalism. The sheriffs group has railed against gun control laws, COVID-19 mask mandates and public health restrictions, as well as alleged election fraud. It has also quietly spread its ideology across the country, seeking to become more mainstream in part by securing state approval for taxpayer-funded law enforcement training, the Howard Center for Investigative Journalism found.
Over the last five years, the group has hosted trainings, rallies, speeches and meetings in at least 30 states for law enforcement officers, political figures, private organizations and members of the public, according to the Howard Center's seven-month probe, conducted in collaboration with the Arizona Center for Investigative Reporting.
The group has held formal trainings on its "constitutional" curriculum for law enforcement officers in at least 13 of those states. In six states, the training was approved for officers' continuing education credits. The group also has supporters who sit on three state boards in charge of law enforcement training standards.
Legal experts warn that such training — especially when it's approved for state credit — can undermine the democratic processes enshrined in the U.S. Constitution and is part of what Mary McCord, a former federal prosecutor and executive director of the Institute for Constitutional Advocacy and Protection at Georgetown University, called a "broader insurrectionist ideology" that has gripped the nation since the 2020 presidential election.
"They have no authority, not under their state constitutions or implementing statutes to decide what's constitutional and what's not constitutional. That's what courts have the authority to do, not sheriffs," McCord said.
"There's another sort of evil lurking there," McCord added, "because CSPOA is now essentially part of a broader movement in the United States to think it's OK to use political violence if we disagree with some sort of government policy."
At least one state, Texas, canceled credit for the sheriffs' training after determining the course content – which it said included a reference to "this is a war" – was more political than educational. But other states, such as Tennessee, have approved the training, in part because it was hosted by a local law enforcement agency.
Unlike other law enforcement continuing education, such as firearms training, the sheriffs' curriculum is largely a polemic on the alleged constitutional underpinnings of sheriffs' absolute authority to both interpret and refuse to enforce certain laws. One brochure advertising the group's seminars states: "The County Sheriff is the one who can say to the feds, 'Beyond these bounds you shall not pass.'"
Since 2018, the Howard Center-AZCIR investigation found, at least 69 sheriffs nationwide have either been identified as members of the group or publicly supported it, though at least one later disavowed the organization. A 2021 survey of sheriffs by academic researchers working with the nonprofit Marshall Project found that more than 200 of the estimated 500 sheriffs who responded agreed with the group's ideology.
In addition, reporters found, at least a dozen U.S. counties influenced by the sheriffs group have considered "constitutional county" resolutions over the past two years. The resolutions range from a simple reaffirmation of support for the constitutional rights of county residents to empowering local government, including sheriffs, to refuse to enforce state and federal laws they interpret as unconstitutional. Officials in two Nevada counties – Lander and Elko – have become official CSPOA constitutional counties, a step that includes a $2,500 lifetime fee paid directly to the sheriffs group.
Hold immense sway over counties
Nationwide, there are some 3,000 sheriffs, whose salaries are funded by taxpayers. They serve as the chief law enforcement officers in their counties and are the only elected peace officers in the country. They appoint deputy sheriffs and jailers and service the courts in their jurisdictions. Especially in rural areas, sheriffs hold immense sway over what happens in their county.
Amy Cooter, research director at the Middlebury Institute Center on Terrorism, Extremism and Counterterrorism, said many sheriffs join the group from "a misinformed but well-meaning perspective." But, she added, it also allows some sheriffs to "potentially engage in extremism by not enforcing legal, lawful, legitimate orders."
Some states have pushed back against the group's training efforts, and not all sheriffs subscribe to the group's ideology. Many at the National Sheriffs' Association conference distanced themselves from the constitutional sheriffs or claimed not to know what they were about.
"When I took an oath 17 years ago as sheriff, I took the oath to uphold the Constitution, not overstep it," said Troy Wellman, sheriff of Moody County, South Dakota, and a vice president of the National Sheriffs' Association.
And there has been public pushback in some counties led by "constitutional sheriffs." In Klickitat County, Washington, residents alleged Sheriff Bob Songer, a board member of the sheriffs group, engaged in fearmongering and intimidation. He was the target of a formal complaint in 2022 that the state's law enforcement standards agency ultimately dismissed for lack of jurisdiction.
The public-facing image of the sheriffs group, which is led by white men, prominently features the American flag and the experiences of Black civil rights icons who pushed back against unjust laws. But details of its operations are closely held, and its finances are shielded from public scrutiny. It was briefly registered as a nonprofit in Arizona, but internal records indicate it is now a private company.
The group does not release its list of dues-paying members, nor does it publicize information about where or how it conducts trainings. The sympathies of the group's leaders for right-wing, white-nationalist extremist causes, however, are well documented.
Mack was an early board member of the Oath Keepers, the group involved in the Jan. 6 attack on the U.S. Capitol. Although he said he split with the group several years ago when it became a militia, Mack still speaks at Oath Keeper-affiliated rallies.
Leaf was investigated, but not charged, in connection with the Michigan attorney general's investigation into the alleged illegal seizure and breach of vote-counting machines in 2020. He also appeared at an election-denier rally with two men later charged in the conspiracy to kidnap Michigan's Democratic Gov. Gretchen Whitmer.
Michael Peroutka, another sheriffs group board member and former candidate for Maryland's attorney general, was once affiliated with the League of the South, which supports "a free and independent Southern republic." At a 2019 sheriffs' training event, he said, "There is a creator God. Our rights come from him. The purpose of civil government is to secure and defend God-given rights."
Jon Lewis, a research fellow at George Washington University's Program on Extremism, described the sheriffs group as "insidious" and said it had become "mainstream standard-bearers for entrance into more violent forms of extremism."
"Just because it's not as overt in their subversion of the democratic system, just because it's quieter about how it does it and what it's calling for, doesn't make the ideas any less dangerous," said Lewis.
TJ 'Heureux, Adrienne Washington, Albert Serna Jr., Anisa Shabir, Isaac Stone Simonelli, the Howard Center for Investigative Journalism, and Associated Press contributed to this story.
We hope you appreciated this article. At 

People's World

, we believe news and information should be free and accessible to all, but we need your help. Our journalism is free of corporate influence and paywalls because we are totally reader-supported. Only you, our readers and supporters, make this possible. If you enjoy reading 

People's World

 and the stories we bring you, please 

support our work by donating or becoming a monthly sustainer today

. Thank you!