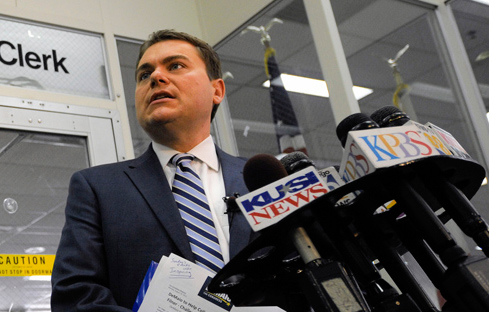 According to information available on election night and in the days immediately following, PW reported in "California bucks national GOP election wave" on Nov. 7, that Republican Carl DeMaio had upset the incumbent Democrat, Rep. Scott Peters, by a lead of only 752 votes.
But by the end of the week and through the weekend, a big batch of mail-in and provisional ballots was counted in California's highly contested 52nd District. Scott Peters has pulled in to an insurmountable lead. The latest margin in this race at PW press time, with only a few thousand more votes to count, is 4,491 votes for Peters. All that door-knocking and phone banking paid off.
Republicans badly wanted to win this historically red district, famous as the home for many retired military: Speaker John Boehner's National Republican Congressional Campaign spent $2.7 million for DeMaio; Karl Rove's American Crossroads spent $700K; and the Koch Brothers' Americans for Prosperity spent $242K. Republican dreams of sending their own "in-House" gay candidate to Congress have shattered.
Photo: Carl DeMaio lost the House race to Scott Peters. AP