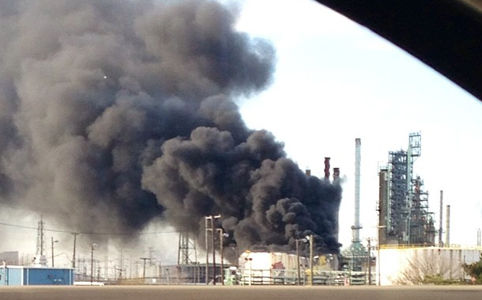 A major explosion occurred on April 27 at the Marathon Detroit Refinery in Detroit, sending a thick plume of black smoke into the sky above and pollution into the air. It also prompted a brief evacuation order for the neighboring town of Melvindale, though that order has since been withdrawn. Worst of all, this disaster is just one more on top of a laundry list of previous oil-related incidents this month. So far, 2013 is proving to be a devastating year in terms of toxic fumes and spills across the U.S.
It is not yet known what sparked the explosion, but it happened when a mixture of hydrogen sulfide and ammonia blew up in a tank during maintenance work. Reportedly, no one was injured or killed. Though this incident was nowhere near as severe as the tragedy that befell West, Texas, the resulting environmental pollution does not bode well for the already economically ravaged city of Detroit. The refinery processes dirty Canadian tarsands oil – the same type that will be flowing through the Keystone XL pipeline if the battle to stop that project fails.
Carcinogens were released into the air as a result of the blast, but it's not yet clear as to how much. Melvindale police department sergeant Michael Welch had told residents that air monitoring equipment indicated that the pollutants were "within acceptable levels," but that might yet change. What should be taken away from this, moreover, is that there really are no 'acceptable levels' with this sort of situation. Indeed, residents reported smelling strong, noxious odors in the area after the incident.
It took the combined efforts of firefighters from three different towns, including Melvindale and Detroit, to put out the fire that broke out after the explosion. Though they put out the flames within two hours, it would have been quicker and easier, said a Detroit firefighter, if that city's fire department had not undergone severe budget cuts and reductions in manpower. And due to cuts in maintenance, there is also a dangerous shortage of equipment. Ironically, on the day of the explosion, emergency manager Kevyn Orr was going to meet with the department's union to discuss the wage and benefit cuts he planned to impose upon them.
The firefighter, whose name was not given, remarked, "We don't have the equipment we need to fight fires as a result of the budget cuts. So the dangers are that much higher. And there haven't been new firefighters hired since 2004, and a lot of guys that are near retirement are going to be pushed out. These cuts mean that incidents like this can cause major problems. If there was another fire in southwest Detroit while this fire at Marathon was happening, it would have swept through the area before other rigs from the city could come to fight it. The city is rolling dice with people's lives."
According to a study by environmental scientists at the University of Michigan, the Marathon refinery was already notoriously toxic prior to this disaster. The study showed that the zip code where the facility resides is the most heavily polluted in Detroit – and Detroit itself is already the most polluted area in all of Michigan. Nearby residents commonly suffer from leukemia, asthma, and multiple types of cancer.
Local resident Malik said, "I was sitting on the porch with my grandson when I heard and felt the explosion. I saw the plume of smoke go up. When the explosion happened, I was really worried. I've lived here since 1955, and I've seen the bad health of this area for a long time. People around here really oppose Marathon." The refinery is "always looming over us, and we have a real fear of living in the shadow of danger, constantly. But they just want to make profits, the people around them be damned."
Photo: Instagram/holamynamesjasmine