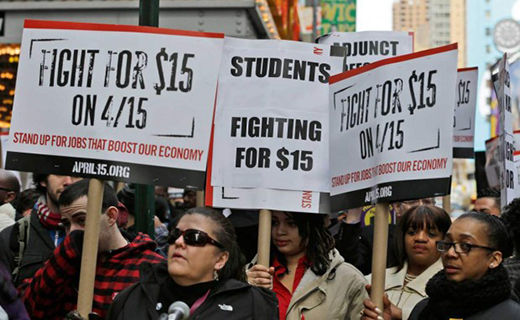 ST. LOUIS – Mary Kay Henry, president of the Service Employees International Union, spoke to a hundred low-wage workers, adjunct faculty, students, and union members gathered on Washington University's campus here Apr. 7 in a build-up for Apr. 15, the planned date for the nation's largest-ever one-day strike by low wage workers.
"We are not going to stop the fight until we tear down the barriers that keep workplace and racial injustices in place," declared Henry, a vocal supporter of the Fight for $15 who has been hosting discussions on college campuses across the country.
She said that as the Fight for 15 continues to grow it becomes clear that working people face similar issues, "whether they have a PhD or GED."
College students, who have recently joined Fight for 15, are engaged, they say,  because they see the types of low-wage jobs available and that their only option is to organize and create good union jobs and an economy that promotes a high quality of life. "We have seen our professors organize and have heard from our friends who are still looking for some kind of job." said Stephanie, a Washington University senior who has applied for 49 jobs – hoping to get just one of them after graduation.
"Often you get a PhD and people ask you: what did it take for you to do that? The short answer is always that I had to read a lot of books. But if you don't mind I'd rather give you the long answer," said Dustin Ivers, adjunct professor and new union member.
"I was taught to read by an early childcare worker. Due to an unfortunate event my family ended up on welfare.  In high school I worked at McDonald's so I could pay for college. In order to support myself in college I worked as a janitor. When I was a graduate student at Washington University I worked for a professor and helped take care of his sick mother as a home health care provider. So what it took to get my PhD are the people sitting next to me. And now that I got my PhD I was able to make enough money to once again qualify for welfare."
These stories were the highlight of the evening and looking around the room one could see the connections being made  among people in the audience – many of them facing similar situations in their own lives.
"I want to teach my son that hard work is good and that hard work pays off. But, I don't want him to work hard and only earn pennies!" LaShunda Moore, a home health care worker and former fast food worker made it clear that her stake in this fight was for her son. "As a mother I don't like knowing that my 17-year-old is working to help Mom out. I should be able to work just one job, get a decent wage, and let my son focus on being a high schooler.
Two years ago, say many fast food workers, they created the Fight for 15 knowing that many people would say, "it's impossible." Today, it has changed the national conversation to one that focuses on income inequality. By joining with Black Lives Matters, many of the workers say, they have created a movement for working people of all colors, classes, and creeds.
"This is a big deal," remarked Henry as she spoke to students and workers after the panel. "They have shown that these are real workers, not paid protestors like Fox would like people to believe."
Photo: April15.org