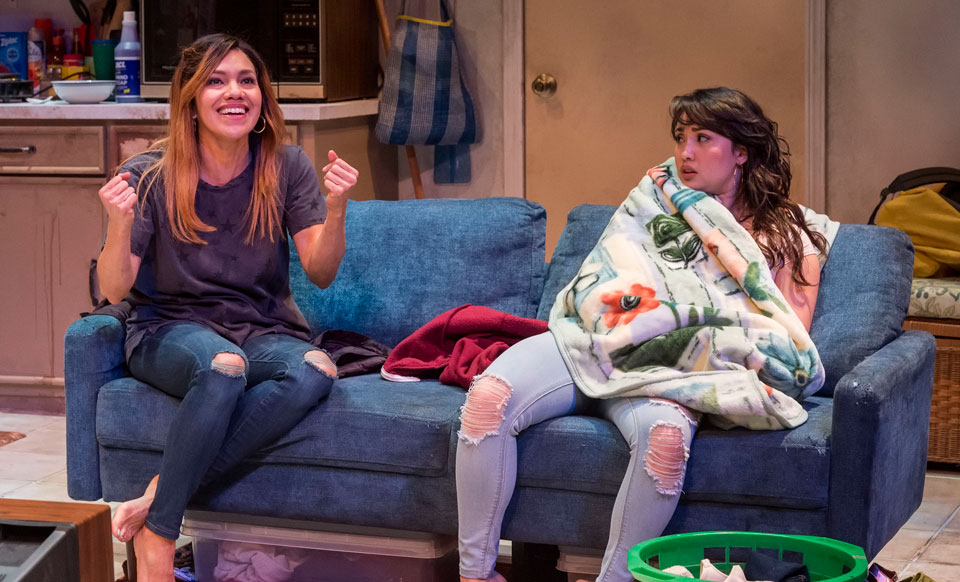 CULVER CITY, Calif. — March 13 marked the first performance at the 317-seat Kirk Douglas Theatre since the last show closed for COVID on February 23, 2020. A grateful audience—vaccinated and masked—came out for the world premiere of Los Angeles native Benjamin Benne's new play Alma, running through April 3. Luis Alfaro, an honored playwright himself, welcomed the crowd in his role of Associate Artistic Director of Center Theatre Group, which also operates the Ahmanson Theatre and the Mark Taper Forum.
Alma features Cheryl Umaña as mother Alma, an undocumented immigrant from Mexico living in La Puente, 20 miles east of downtown Los Angeles in the San Gabriel Valley. She has raised her daughter Angel (Sabrina Fest) as a single mom. In the theater world nowadays, the actors' understudies are prominently mentioned, in the expectation, no doubt, that they may be called upon to step in at the last minute. Bianca Ruiz Brockl and Marilyn Camacho are ready as understudies respectively for Angel and Alma.
The creative team for the world premiere, directed by Juliette Carrillo, is all-Latinx: Tanya Orellana (scenic design), Carolyn Mazuca (costume design), Lonnie Rafael Alcaraz (lighting design), Daniel Corral (sound design and original music), and Edgar Landa (fight director). Casting is by Morales/O'con Casting, and Miriam Mendoza is the production stage manager. The team was chosen to highlight the Latinx talent that's out there and eager to contribute. Alma is produced in cooperation with American Blues Theater in Chicago, which will stage the play later this year; and a staging will also take place at ArtsWest in Seattle.
"Alma" means soul in Spanish, and in this character, the playwright has invested all her immigrant dreams, desires, and aspirations for her 17-year-old daughter soon to graduate from high school. A hard worker all her life, at dishwashing and other very physical jobs that keep her on her feet all day, Alma wants for her daughter a better, more secure future working with her brain, not her hands. Her heart is set on sending Angel off to UC Davis in the fall.
The play is set on the eve of Angel's SAT test, during the interregnum between the 2016 presidential election and the inauguration. The TV blasts the president-elect's fulminations against "illegals" and threats to crack down hard on them. "We don't want them in our country," he bellows. Alma has already sought out legal counsel for advice on how to proceed. Right now, the only authorized road for her to take is to exile herself back to Mexico and apply to come back after ten years, which is not an acceptable solution for such a tightly bonded mother and daughter relationship.
Mother and daughter have had 17 years to build a loving but tough attachment that started off with a stuffed elephant and Mexican nursery songs, and with each successive year of Angel's life, the introduction of one more on a memorized list of deseos—wishes—starting with health, love, carne asada every day and, Number 4 (at the age of four), admittance to UC Davis. In Alma's plans is her daughter becoming a veterinarian with a nice car and home (and unstated, but presumably also some room and support for the "alma mater" in her later years).
The plan quickly unravels when Alma returns home to an empty house. Soon enough, Angel appears, but instead of studying her vocabulary flashcards, she has been out drinking with her girlfriend. Alma tries to wield guilt and nostalgia to persuade Angel to take her future more seriously, and when that fails, she pulls out a chancla (a sandal that looked to me more like a flip-flop) to slap some sense into her daughter.
By the end of the play, we see this is an elaborate, and culturally aware construction to finally accept her daughter's independence whether she likes it or not. The ancient deseos, and the rice and beans, and the chancla, have lost their commanding power. It has been a coming of age story all along—and really, what else would it be? The politically precocious Angel is clearly not a young girl in danger of throwing her life away by rejecting her mom's plan, but she will find her own way, maybe by starting off at a local college. The ending is left uncertain, as the two characters, along with the rest of the country, anxiously await what Donald Trump will bring to the White House and to the U.S.A.
Spanish is sprinkled generously throughout the play, almost but not quite to the point where significant information is conveyed that non-Spanish speakers would severely miss. Both women move energetically: It's a highly verbal play with a number of short poetic and musical excursions, but highly physical at the same time. There is a fight scene involving the chancla (thus the fight director) that is a stunning piece of theatre. Another memorable scene has the electricity failing, as the women burn candles and use flashlights to see where they're going on stage, as stars appear in the firmament. I noticed that this event took place after the sky turned orange, and following one of Donald Trump's rants against people like Alma, and couldn't help thinking, "And the lights went out all over America…."
The play runs for 90 minutes without intermission. The language is piquant and entertaining, the acting (of two overacting character types) superb and non-stop with barely a pause for breath, in fact panic-inducing. Juliette Carrillo's direction is word-and gesture-perfect. There's much repetition—the deseos, the SAT scores, the flashcards, the dietary concerns, the nightmares—and I felt like the playwright had already been there, said that two or three times too many already. At the same time, the arc of the play is simple and direct, without detours, twists, great surprises, or revelations, so while I could be ecstatic about these two mesmerizing talents on stage, I felt less enthusiastic about the material itself which did not soar above predictable expectations.
Tickets are available through CenterTheatreGroup.org, Audience Services at (213) 972-4400, or in person at the Center Theatre Group Box Offices (at the Ahmanson Theatre at The Music Center, 135 N. Grand Avenue in Downtown L.A. 90012 or at the Kirk Douglas Theatre at 9820 Washington Blvd. in Culver City 90232).