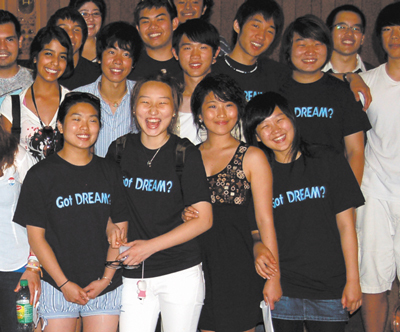 CHICAGO – Most people are familiar with the popular catchphrase, "youth are the future." Youth coined in this saying are dubbed to become the next generation of educated leaders in their communities and their country. Young people who graduate from high school and go onto college are likely to fit this wishful description.
Yet some 65,000 undocumented high school graduates nationwide are forced to opt out of attending college every year. Most cannot attend college, or if they do, receive no financial support from the U.S. government. These are students who have grown up in the U.S. their whole lives, brought here by their hard working immigrant parents so that they can receive a better education. However the reality of going to college if you are undocumented is limited. Many argue it's due to a broken immigration system that continues to deny basic human rights to the estimated 12 million immigrants living and paying taxes in the U.S. today.
Dozens of high school and college students held a rally here at St. Ann's Church June 23 in support of the Dream Act (Development, Relief and Education of Alien Minors Act), which would allow eligible undocumented students to legalize their immigration status by enrolling in college. The bill is currently pending in both chambers of Congress, and if passed and signed into law would ensure that no child in America is denied their dream of having a better life as long as they're willing to work for it. There is talk the Dream Act will be part of a bigger legislative immigration overhaul in the future. But talk is cheap when it comes to young people who want to attend college now.
"I'm an undocumented student about to graduate from high school," said Ivonne, 16, who was born in Mexico and brought to the U.S. as a child with her parents. "Passing the Dream Act will help me pursue an education and become successful," she noted. Ivonne hopes to study culinary arts and medicine in college. "Immigration reform is really important because we are really hard workers and we should be treated with respect and fairness," she said. Ivonne continued, "My parents are not trying to steal anybody's job. They're just trying to work hard in order to support my brother and me. And this issue affects many immigrant communities, not just Latinos," she said.
Chan Kho Kim, 17, is a high school student whose parents are originally from Korea. He is a volunteer and active member with Fighting Youth Shouting Out for Humanity, a youth group with the Korean American Resource and Cultural Center. Kim said each year his youth group chooses a cause to learn about so they can work all year to support it and build unity around it. "So this year we chose the Dream Act because it's important and it affects a lot of people and many of my friends," said Kim. "I'm connected to their cause and can relate to their struggle," he added. "Personally I don't see any negative side to the Dream Act, and I feel only good can come from it. I think most people can only benefit from it," he said.
Jessica G. Perez is the assistant youth minister at St. Ann's and gave a speech about the importance of education and why passing the Dream Act is critical for undocumented students like her.
"Many people enter the U.S. for the 'American Dream,' for my parents this meant a better education," said Perez. "I was born in a country I barely remember and I learned the value of education from my family." Perez said her parents knew no English but instilled in her a strong work ethic and helped her realize that getting an education is a stepping-stone to accomplishing bigger dreams in life. "By getting an education, I will be able to discover these new unique ways and help the community that I love," she said. "I understand that education is the key that opens the doors of my dreams and I take being undocumented as an opportunity rather than a drawback." Perez continued, "Education is the only documentation that you need to succeed and I am determined to make a difference in my life and in that of my community by receiving a post-secondary education."
Speakers at the rally said the recession should not be used as an excuse to put comprehensive immigration reform or the passage of the Dream Act on the back burner. Access to education is a basic civil and human right, and is a multi-racial issue, they said. The Dream Act cannot just remain a dream and must become a reality, they charge.
"We really believe immigrant rights are human rights," said Becky Belcore, executive director of the Korean American Resource and Cultural Center. "Immigrants are a core community that socially, culturally and economically contribute to American society," she said. "This country is historically based on the hard work of immigrants."
Belcore said one in five people in the Asian community here are undocumented. "There are 1.5 million Asian immigrants living in this country," she noted. "The more immigrant communities work together the stronger we will become and events like these especially led by young people energizes the broader movement for unity," she said.
Belcore pointed out supporters of immigrant rights made an impact in President Barack Obama's election. "President Obama even borrowed the historic slogan for the immigrant right's movement, 'Si Se Puede,'" she said. "We are hopeful that Obama will honor his commitments on this important issue and we want to do our part on the ground to mobilize the grass roots to support his efforts."
Pastor Felipe Vaglienty said the church supports immigration reform especially because many of the families there are undocumented. "In our parish two young sisters were valedictorians at their school, back to back, when they graduated," he said. "These are kids who are smart and study hard and their parent's are undocumented. If they can't go to college, it's just not right," he said.
Meanwhile President Obama met with congressional leaders of both parties June 25 to begin laying the political groundwork for sweeping immigration legislation. Obama and Congress should adopt a strong bipartisan commitment to work together on immigration reform in order to move forward, critics charge.
Changes in homeland security, including guidelines that make employers, rather than workers, the target of workplace raids, as well as expanded humanitarian-release rules to keep parents detained on immigration charges from being separated from small children, should be supported, they say.
But more needs to be done and immigration advocates are urging Obama and national lawmakers to act swiftly and substantively in order to address the issue, which has been taken hostage by anti-immigrant forces and divisive rhetoric in the media that blames immigrants for all social and economic ills. Racism and xenophobia, including acts of violence, must not be tolerated and passing immigration reform should be framed and inspired by rationality, humanity and justice, advocates argue.