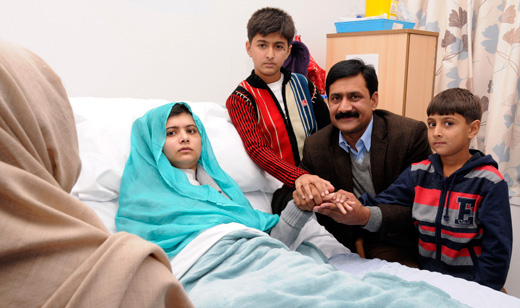 LONDON – Fifteen-year-old Malala Yousafzai, who was shot in the head in October by the Taliban for advocating girls' education in Pakistan, has been discharged from a British hospital after doctors said she was well enough to spend time recovering with her family.
Yousafzai was being treated at Queen Elizabeth Hospital (QEHB) after being transferred from Pakistan following the attack. She was treated by doctors specializing in neurosurgery, trauma and other disciplines in a department of the hospital that has treated hundreds of soldiers wounded in Afghanistan and Iraq.
She will have to undergo cranial reconstructive surgery in late January or early February as part of her long-term recovery, according to Dr Dave Rosser, medical director, University Hospitals Birmingham NHS Foundation Trust,
NewsPakistan quotes Dr Rosser: "A number of QEHB's multi-specialist doctors have been working alongside colleagues from Birmingham Children's Hospital to treat her. The medical team has included clinicians from neurosurgery, imaging, trauma and therapies."
Reuters quotes Dr. Rosser as saying: "Malala is a strong young woman and has worked hard with the people caring for her to make excellent progress in her recovery. Following discussions with Malala and her medical team, we decided that she would benefit from being at home."
Malala Yousafzai has come to symbolize a broadening struggle in Pakistan, against the extremist views the Taliban seeks to enforce there and in neighboring Afghanistan.
Despite her youth, Yousafzai has long been an outspoken advocate of education for girls and young women, in a region where this has often been a sharply contested issue. Her hometown, Mingora, lies in the Swat Valley, in northern Pakistan, an area controlled by the Taliban from 2007 until 2009.
A Taliban spokesperson immediately credited his organization with the attack, saying Yousafzai had become "a symbol of western culture in the area," and vowing the Taliban would try again to kill her if she survived.
Public responses followed quickly.
Just days later, 50 Islamic clerics in the Sunni Ittehad Council issued a religious ruling against the Taliban attack, declaring it "un-Islamic." The Council declared, "Islam doesn't prohibit women from getting education," and accused the attackers of violating Islamic principles.
Ziauddin Yousafzai, Malala's father, headed a public school in Pakistan. Times of India reports that he has been given a job in the Pakistan consulate in Birmingham, England. He has been appointed education attaché at the Consulate, and will be the head of the education section under the Head of Mission. The appointment is for three years, with the option of an extension for a further two years afterwards. Both he and his daughter have had threats made against their lives by the Taliban, since the shooting.
Barbara Russum and Marilyn Bechtel contributed to this story.
Photo: In this undated file handout photo issued by Queen Elizabeth Hospital, Malala Yousafzai is shown in her hospital bed, with her father Ziauddin, accompanied by her two younger brothers Atal, right and Khushal, in Birmingham, England. Queen Elizabeth Hospital Birmingham/AP