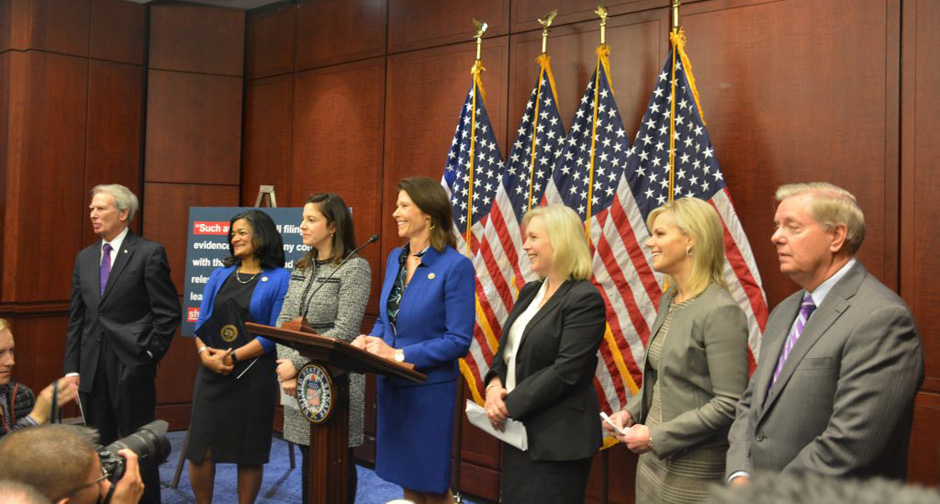 WASHINGTON—It took a little while, but a bipartisan group of lawmakers now aim to eradicate a key element of corporate culture that aids and abets sexual exploitation on the job: Mandatory arbitration, tilted in the boss's favor, with secret settlements to boot.
Getting rid of that scenario, by banning the arbitration in cases of sexual exploitation and harassment, and gender discrimination, is the objective of their legislation, crafted by Rep. Sherri Bustos, D-Ill., and Sens. Lindsay Graham, R-S.C., and Kirsten Gillibrand, D-N.Y.
And with that bipartisan backing, plus the rising tide of outrage from the #MeToo movement among exploited women speaking out, the solons expect their measure to move successfully, even in the GOP-run 115th Congress.
The cover-up aspect of the mandatory arbitration, a device that now exists in the employment contracts of 60 million U.S.  workers – and which companies demand during union negotiations, too – was exposed when former Fox TV anchor Gretchen Carlson sued her ex-boss, Roger Ailes, for sexual harassment and exploitation last year. Fox offered an out-of-court settlement payment.
At the Dec. 6 press conference unveiling the measure, Carlson explained a mandatory arbitration clause in her employment contract forced her to shut up about the deal. She had to quit and sue, instead.
Bustos explained all mandatory arbitration clauses in job contracts are similar: The worker must accept the employer-selected arbitrator and – whatever the decision is – can't talk about it. Her legislation abolishes that scenario in sex and gender-related cases.
Bustos, Gillibrand and Graham spent several months crafting the legislation and staying in touch with Carlson, who made the rounds of congressional offices, lobbying for support. Bustos, an ex-newspaper reporter, said she first got the idea for it earlier this year after reading a Washington Post story about sexual exploitation – and the subsequent mandatory arbitration and secrecy – at Kay Jewelers.
"They had rigged the system and allowed those in senior leadership to prey on women in the workplace," Bustos said. "There was a CEO who would only promote women who would sleep with him. There was an alcohol-fueled managers' meeting, with spouses banned, but with dozens of women, who were ordered to go, and were groped and demeaned and harassed."
When those woman workers complained, they were forced into mandatory arbitration of their claims, often lost and often lost their jobs, too, she said. The mandatory arbitration "took away their rights" and "their stories would never see the light of day."
Her legislation would restore the exploited workers' right to sue, Bustos said – and thus encourage more to speak up and take on the corporate culture.
"There are many good companies" whose executives and managers "would never think of doing the things I told you about," Bustos told the crowded press conference. "Those companies have nothing to fear from this."
"But to those companies whose CEOs and managers think every day at the workplace can be like an episode of Mad Men, we've got a message for you: Stop and stop it now."
Though prominent women, such as Carlson, and white-collar women have spoken out against sexual exploitation on the job, the problem is even worse for women at lower levels – like fast food workers, restaurant servers, reporters and factory workers – who lack the resources to fight back, Bustos said.
They're further throttled by the mandatory arbitration clauses in their job contracts, and the imposition of secrecy.
"We are here to say 'no more.' No more looking the other way when powerful men victimize women. No more excuses for abusers who abuse just because of who they are. No more telling women they have to put up with harassment and stay silent. No more."
Gillibrand, who has led a crusade against sexual harassment and exploitation in the military, said mandatory arbitration means the victims "have to go to a secret meeting with their employer to try to work out some kind of a deal that really only protects the predator."
The women "have to keep quiet and are paid far less than they would be if they could go to court," she said. The legislation would ban the arbitration and let them go to court.
"If a company has a toxic environment, companies shouldn't be allowed to hide it anymore. And sexual predators won't be allowed to climb to the top of the corporate ladder" by hiding their exploitation behind arbitration.
Graham challenged business – he singled out the Chamber of Commerce and the National Federation of Independent Business, a right-wing anti-worker lobby — to get on board. He said it's not only the right thing to do, but good for business. Another lawmaker at the press conference said women might note which companies did not support the legislation, and take appropriate economic action.
Other lawmakers cosponsoring the measure are Reps. Walter Jones, R-N.C., Pramila Jayapal, D-Wash., and Elise Stefanik, R-N.Y.
United Airlines CEO Oscar Munoz only reacted after Sara Nelson, the outspoken president of the Association of Flight Attendants-CWA, penned an op-ed in the Dec. 10 Washington Post on the issue. She challenged airlines' demeaning attitudes towards sexual harassment of flight attendants, most of whom are women.
"The industry never disavowed the marketing schemes featuring short skirts, hot pants and ads that had young women saying things like 'I'm Cheryl, fly me.'…Even today we are called pet names, patted on the rear when a passenger wants our attention, cornered in the back galley and asked about our 'hottest' layover, and subjected to incidents not fit for print." She demanded airline CEOs denounce past practices making flight attendants sex objects.
The Chicago Business Journal reported Dec. 11 Munoz responded with a strong memo to UAL's 87,000 workers, virtually all of whom are unionized with AFA-CWA, the Air Line Pilots and other unions.
"We have a special responsibility" to the flight attendants "to ensure they can do their work in the most positive environment possible," Munoz wrote.  "More important than a change in policies is a change in mindset — one where we listen to one another, seek to understand rather than simply be understood ourselves, and realize the many ways, both subtle and overt, that each of us acts in ways that don't fully make us part of the solution."