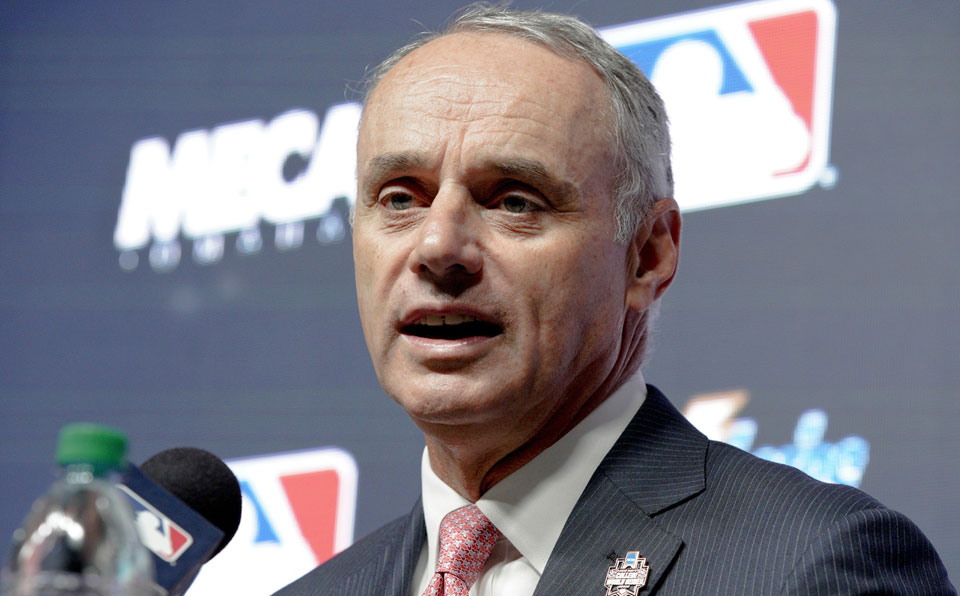 BOSTON (AP)—Baseball Commissioner Rob Manfred doesn't foresee any problems if the World Series winner is invited to visit the White House.
Both World Series teams have minority managers for the first time, and President Donald Trump has had tense relationships with many minority groups.
"I think as an institution, Major League Baseball has always had the greatest respect for the office of the presidency," Manfred said. "That doesn't change, no matter who's there. Often we've had situations where individuals, players, whatever, don't agree with all of the policies of the individual that occupies the office. I think the important thing is respect for the office."
Manfred addressed a number of topics prior to Game 2 of the World Series on Wednesday night, including start times and length of games. Boston's win in the World Series opener took 3 hours, 52 minutes and ended at 12:03 a.m. EDT. Manfred said complaints about World Series start times reflect an East Coast prejudice.
"When you start games at 5 o'clock Eastern, it's the middle of the workday in LA. That's not quite right either," he said. "We're trying to strike a balance and get the point, the window, where we can get the most people all across the country having a meaningful opportunity to watch the game."
Nine-inning games in the league playoffs averaged 3 hours, 35 1/2 minutes, up 6 minutes from the 2017 postseason and more than a half-hour longer than this year's regular season.
"I am always less concerned about it in the postseason," Manfred said, "It is human nature when the stakes go up, things slow down a little bit."
Manfred anticipates a new round of negotiations with players' union head Tony Clark and his members over pace of play and game rules. Management had the right to unilaterally implement a pitch clock before the 2018 season but did not, and it retains the right to install pitch clocks for 2019. MLB did institute a limit on mound trips without pitching changes for 2018.
"I spent a lot of time between the All-Star Game and here talking directly to Tony, trying to map out the things that we'd like to have meaningful conversation about during the offseason, putting him in a position to get prepared to do," Manfred said.
Baseball is monitoring rapid changes to the game caused by analytics, including shorter average outings for starting pitchers — and some teams going entirely with relief pitchers.
"I do think that starting pitchers being on the field less presents yet another challenge for us in terms of marketing the game," he said. "You look historically, right, some of our greatest stars are starters, and if they're out there less, it has a predictable effect."
Tampa Bay used a so-called "opener" instead of a starter in 78 games. Oakland and Milwaukee had bullpen games during the playoffs.
"I do think it can be a useful strategy for clubs in certain types of economic situations," Manfred said. "It's really hard to argue with that based on the early returns. We'll see how the returns look over the long haul."
Dodgers ace Clayton Kershaw expressed concern this week that teams may favor relievers over starters because they are less costly.
"The market's going to answer that question, right? We'll see what happens in the market," Manfred said. "I'm not sure that that trend at this point is persistent enough to have a market effect, but we're going to have another market here in just a few weeks and we'll see what happens."
Strikeouts exceeded hits over a season for the first time in major league history, causing worry that there are too many pitching changes based on matchups that decrease offense.
"I don't spend a lot of time worrying about whether analytics are a good thing or a bad thing, and the reason for that is they are a real thing," Manfred said. "We have them. They're going to continue to use them. There's nothing you can do to stop people from thinking about the game, however the heck it is they want to think about the game. I think what's incumbent upon us and what we try to do is pay attention over the course of the season … think about we've learned during the postseason and see whether we may need to make some change in response to what we're seeing."