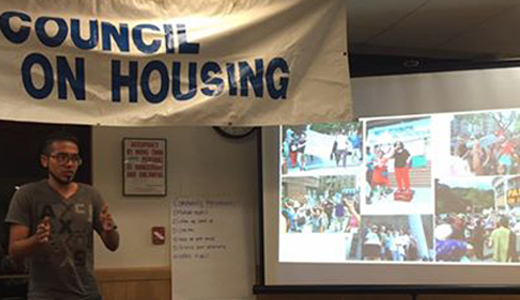 NEW YORK CITY — Following the September 17 explosion that occurred five blocks from the site of a proposed housing development, the world's attention is on Manhattan's Chelsea neighborhood with questions of security at the fore. In the wake of the tragedy, people have been left injured and shaken, especially those in marginalized communities who are frequently automatically targeted as suspects as a result of the violent War on Terror. It is imperative in times such as these to highlight the fact that for working people, security means more than safe streets; it also means fair wages, strong communities, and access to quality housing.
A decision of key importance to the people of New York City will be made by City Councilmembers in the next ten days. It will determine whether Mandatory Inclusionary Housing (MIH) rules are used in the interests of tenants, or whether the new policy will be another tool in the hands of real-estate developers to disrupt working-class communities, especially communities of color.
The real-estate developer Acuity Capital Partners is looking to build on a parking lot in Chelsea. A NY Times article announced Acuity's plans to build a "17-story, 62-unit condominium project on the lot, incorporating an adjacent four-story tenement and five-story loft building, home to Adorama, the venerable camera shop." Acuity, a Chicago-based corporation, approached the New York City Council with an offer to make a voluntary contribution to a housing fund that would go towards building affordable housing units in other parts of the city. In exchange for making this contribution, Acuity would receive a special permit to build new housing without having to follow MIH rules. It would not have to include any affordable housing in the Adorama project.
A flawed affordable housing policy
Mandatory Inclusionary Housing is a zoning tool which, within the limitations of private, for-profit construction, is supposed to ensure that the benefits of urban development are shared. MIH was praised by Mayor Bill de Blasio and many City Councilmembers as "the biggest and most progressive affordable housing plan in the nation." However, because it sets rents that are still too high, it ignited protests from many tenants and community advocates; it passed the city council anyway.
Initially, the plan mandated that 25 percent of new units be affordable for families making $47,000 per year. Many working families earn less than half of that. In response to advocates' organizing, the plan now states that a small percentage of apartments must be made available to families making around $31,000 per year. However, many families in New York City struggle to get by on less than $20,000 per year. Currently, outside of what public housing and rent-stabilized apartments remain in New York City, no housing protections exist for families living below the federal poverty line in New York City, even though the costs of living are higher than anywhere else in the United States.
East New York, where more than one-third of all families make $23,350 a year or less, has been the first neighborhood under the de Blasio administration to be rezoned for increased private development. Some real affordability has been put into effect there as a result of community pressure from groups like the Coalition for Community Advancement, but the housing plan still only makes 10 percent of new housing affordable. 89 percent of its residents are Black and Hispanic, and the city has failed to support the neighborhood for decades.
Community organizing works
In neighborhoods where the city has attempted to rezone, there has been resistance on the part of tenants and local community organizations. In the upper Manhattan neighborhood of Inwood, the tenant organizations Northern Manhattan is Not for Sale/Alto Manhattan No Se Vende and Metropolitan Council on Housing blocked a proposed spot-zoning on Sherman Plaza. On Jerome Avenue in the Bronx, tenants are fighting in conjunction with community organizations such as CASA, Picture the Homeless, Bronx Coalition for a Community Vision and many others against proposed rezonings (a hearing is being held on September 29th). The Flushing rezoning plans have been paused in response to community pressure. Residents of Staten Island have also indicated their fear of the rising rents as a result of the Bay Corridor rezonings, which additionally involve privatization of public lands.
While MIH is severely limited in securing real affordability options for working New Yorkers, it provides many legal options for private real-estate companies seeking to make a profit from housing construction. Among the options that would fall within MIH regulations would be making 30 percent of the new units affordable, on average, to families making around $93,000 a year. Acuity says that even this represents an unreasonable compromise to their own profit margins. The corporation's owners would rather fund new development projects in less affluent neighborhoods which remain especially vulnerable to ongoing gentrification.
Chelsea, a once working-class neighborhood, has in the last three decades experienced several waves of displacement, fueled by landlords and developers in pursuit of profit. What diversity remains in Chelsea is a result of the public housing and a few rent-regulated apartments that still exist. Every new higher rate apartment in any neighborhood creates an incentive for nearby landlords to drive existing tenants out of their rent-regulated units and rake in the same profits as their competitors. The practical effect of MIH, in the way that the city has so far sought to implement it, would be the introduction of luxury apartments into working class neighborhoods.
Resistance on the part of the de Blasio administration and some Councilmembers to apply Mandatory Inclusionary Housing rules to affluent neighborhoods like Chelsea are a troubling indication that MIH is only intended to work one way.
Time is running out to stop the deal
City Councilmember Corey Johnson, who was elected to represent the people of Chelsea, has made it clear he is willing to cut the deal with Acuity. He has tried to say that the MIH is not legally binding in the case of the Adorama Special Permit. However, other elected officials including State Senator Liz Krueger and Manhattan Borough President Gale Brewer have backed the inclusion of affordable housing in the Adorama project.
Brewer wrote recently that allowing the Acuity project to go forward "would set a dangerous precedent, undermining the creation of affordable housing in neighborhoods throughout Manhattan."
Carl Weisbrod, who was appointed by Bill de Blasio as director of the New York City Department of City Planning and as Chairman of the New York City Planning Commission, which handle both the initial and final steps in the review process for new development projects, is also taking Acuity's side.
The Metropolitan Council on Housing (or "Met Council"), a progressive grassroots housing organization, is fighting this deal. The next stage of the fight is over whether the Adorama special permit will pass the City Council.
Met Council is calling on all New Yorkers to call their City Councilmembers and tell them to "Vote, 'No' on the Adorama special permit unless MIH is applied."
All New Yorkers are also being encouraged to email the same "Vote NO" message to Corey Johnson (district3@council.nyc.gov), and a petition (bit.do/MIHforChelsea) has been made to collect messages to Councilmember Johnson and the New York City Council.
Photo: Northern Manhattan is Not for Sale/Alto Manhattan No Se Vende Facebook.