Ondi Timoner's new feature film Mapplethorpe, written by Timoner and Mikko Alanne, in many ways fits the mold of pioneering, misunderstood artist whose struggles to project a new esthetic eventually find success. Yet the drive to secure representation and honesty in the arts is an ongoing issue.
Robert Mapplethorpe (1946-1989) is arguably one of the most important artists of the 20th century. His project served to educate, celebrate and legitimize fresh ways of looking. He is equally famous for his exquisite "portraits" of flowers, endowing his photographs with majesty and mystery, as he is for his erotic imagery. Artists throughout the centuries have depicted flora and erotic subjects, of course: 19th-century French artists and 20th-century German artists immersed themselves in the demimonde, with their courtesans and cabaret ladies. Mapplethorpe focused his lens on his own world of bohemian chic, populated by a new generation of artists and musicians, socialites, film stars, and members of the active New York City S&M underground.
If the female breast has been an esthetic preoccupation for hundreds of years, Mapplethorpe expanded the range of showable eroticism in a way that had never been examined before.
Early childhood imagery in the film shows Mapplethorpe (Matt Smith) as the product of an archconservative Catholic family, always drawing and experimenting technically and formally. His early studies at the Pratt Institute seemed to lead him nowhere, however, until a new friend, Sandy Daley (Tina Benko), put a camera in his hands. "I would have been a painter, but the camera was invented," he quips.
Almost at the same time, he began discovering himself as a sexual being, famously pairing up for an extended friendship and romantic affair with the über-talented poet and musician Patti Smith (Marianne Rendón). In an early premonition of his career, he says to her, "There will be traces of me when I leave the world." Together they moved into a small one-room apartment at the legendary Chelsea Hotel on the south side of West 23rd St., history-laden home to a panoply of artistic iconoclasts. Radical composer and critic Virgil Thomson lived there (I interviewed him there for my Marc Blitzstein biography), and hundreds of other well-known creative types. Interesting perhaps for readers of People's World, the Chelsea stands directly across the street from the New York offices of the Communist Party USA, whose bookstore in those years opened onto the sidewalk.
Smith's memoir Just Kids focuses on her relationship with Mapplethorpe, winning the 2010 National Book Award for Nonfiction.
At one point the budding artist tries to gain entry to the Whitney Museum of American Art a couple of hours before closing time. He places two quarters and a dime on the counter as his entrance fee, but he is 40 cents short. The African-American receptionist—who is watching a clip of Martin Luther King Jr.'s "I Have a Dream" speech—declines Mapplethorpe admission.
The 1970s—the Disco Era—were years of sexual liberation, both for women and LGBTQ folk. Bars, meeting places, social clubs, media outlets, politics, arts, all opened up to new winds of change. What had been repressed and forbidden now found new forms of expression. Psychoactive drugs were part of the picture, too. As with many gay people, Mapplethorpe's journey toward understanding his sexual identity needed time. New York's proliferation of watering holes, bathhouses and sex clubs that catered to the gay community offered the searching artist many opportunities to find his niche. He was especially attracted to the most outré expressions of sexuality in the leather culture, bondage, and S&M scene. He acknowledges, "I have a certain Catholic esthetic," undoubtedly referring to the often gruesome portrayal of martyrdom in Roman Catholic iconography. The film explores the gradual integration of his art and his sexuality, and the slow climb toward recognition.
Another recent film about an artist at that same time and place is Boom for Real: The Late Teenage Years of Jean-Michel Basquiat, except that Basquiat was more drawn to the explosion of street art and graffiti. Like Mapplethorpe, Basquiat would also die young, of fame and excess.
Among the most amusing scenes in the film are those that have him visiting galleries with his work—often run by gay men showing bland, nondescript abstract paintings devoid of social content—and seeing them squirm uncomfortably in the knowledge that Mapplethorpe was onto something esthetically new and challenging, but far too controversial for their patrons. It was not until 1977 that the Holly Solomon Gallery and the Kitchen started exhibiting his work (Solomon is played by Kerry Butler). The function of galleries and well-respected collectors as taste-makers is implicitly evident.
At the same time that Mapplethorpe was reaching the height of his craft, with the help of his brother Edward (Brandon Sklenar) as an assistant, he shared in the self-destructive impulses that threatened to undermine it all—cocaine, LSD, and sexual experimentation. Many artists—and plenty of others—have been self-destructive with absinthe and other alcoholic addictions.
The first public news about a fatal disease affecting gay men in large urban centers came out in 1981. Over the next decade, it would become a virtual holocaust. It's possible that Mapplethorpe was already infected, as was his lover and an early collector of his work, Sam Wagstaff (John Benjamin Hickey). By the mid-1980s, Mapplethorpe says in the film, "My own photos are quickly becoming a gallery of the dead." He tells Sam, who is 50, "I'll never know what it's like to be 50." His chief fear was to die before he became famous.
As his notoriety grew, Mapplethorpe gave himself license to treat other people with less than admirable respect. As his own name had now become known to everyone in the art world and beyond, he demanded that his brother stop using the family name for his photos. Although he did a welcome service, while legitimizing the beauty of the male body and its parts, of including iconically, handsomely built black models (McKinley Belcher III as Milton Moore and Rotimi Paul as Ken Moody), there was also an aspect of exploitation of those bodies as racial exoticization of the erotic. The film does not recoil from examining that.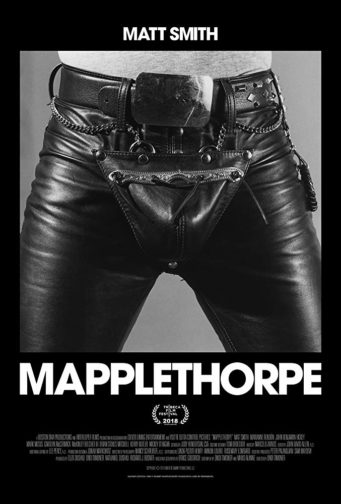 As Mapplethorpe is dying, his old family parish priest Father Stack (Brian Stokes Mitchell) pays him a visit, not to hear his confession but to inform him that his mother is fast declining from emphysema. As he surveys some of the photographer's work in the studio, he is clearly taken with it (perhaps as a subtle way of indicating something about the priest's sexuality), and wonders what it would be like to become one of his former parishioner's subjects—he always remembered Robert as "a rascal"—and Mapplethorpe happily obliges. Stack asks if he believes in God, and if not, what gives him solace. "Beauty, affection," the artist answers, "knowing that my work will outlive me."
The inevitable conclusion we are left with, and it is admitted in the film, is that the artist saw everything as a subject through his lens, even self-portraits showing his wasting from AIDS. That—not to be a nice guy—was his life project. "I can't cheat death," he says, "but I can cheat life."
Ironically, by the time of his final illness, the Whitney Museum gave Mapplethorpe a monumental retrospective. The artist was able to attend in a wheelchair. A traveling exhibition called "Robert Mapplethorpe: The Perfect Moment" later opened in Philadelphia and went on to other cities, becoming, in Cincinnati, a well-known scandal about art censorship and prudishness.
Music in the film reflects the sounds of the time; the composer is Marcelo Zavos. Nancy Schreiber is director of photography. Samuel Goldwyn Films is the distributor. Running time is 102 minutes. Release date is March 1.
Mapplethorpe has already won a number of festival awards (Austin, Key West, Long Beach, Oslo, Atlanta, etc.). For some audiences, the subject matter may still leave them feeling squeamish. Mature viewers will revel in a faithful rendering of what makes an artist tick, what is meant by breaking new inroads into esthetic progress, what it means to be a conscious artist of one's time. Viewer discretion advised. See the trailer here. For an interesting sideline on the artist, see here for a short documentary about Edward Mapplethorpe's eventual reclamation of his name.