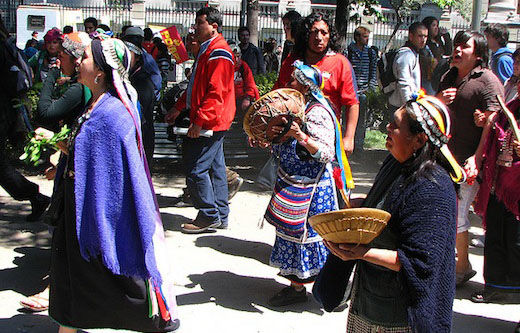 Editor's note: The Mapuche people are the main Native American ethnic group in Chile. They are carrying out a multi-faceted struggle to regain and expand rights lost under the Pinochet dictatorship.
The Indigenous Front Opposition Party, marking the celebration of National Indigenous People's Day, presented a program before the Senate in Santiago called "The Program for Indigenous People for the Future of the Opposition Government," a document that encompasses the views of the indigenous peoples including the demand for inclusion in the presidential debates.
The group also expressed their frustration with the intentions of the government to bring certain legitimacy to the indigenous world, but without real representation for native people.
Domingo Marileo, member of the Indigenous Front and the Communist Party of Chile, emphasized that the union of different militant Mapuches from the opposition parties is nothing like ever seen before and responds to the need for native peoples to be part of a country that listens to them, not that tells them what they need.
Marileo states: "We have a deep discussion about the state we want to build and our roll within it and we will not allow them to tell us 'this is what you need'. We deserve our rights and we are part of a process to establish a country where the Mapuche are heard. This front is an advance from the political parties to build a country with more social justice and that reflects reality in constitutional terms."
Meanwhile, the Mapuche representative from the Party for Democracy, Fermin Levio, clarified that this is only a draft and would require review by the rest of the indigenous population aside from the Mapuche: "This work cannot go forward without recognizing the situation that we have. Our goal and initiative is focused on four to eight years to have a better understanding of the demands of indigenous peoples.
Daniel Neculpán of the Indigenous Socialist Front explained the four central themes of the document which include a new constitution which recognizes a pluri-national state; institutional reforms that allow installation of a ministry of indigenous persons; the end of the anti-terrorism law; and recognition of native languages, political rights, participation of indigenous peoples in government, and the restoration of lands.
Translated from July 2013 El Siglo by Ken Nicholas.
Photo: A contingent of Mapuche women march for rights in Santiago, Chile, in 2007 (MentalNoise/CC)