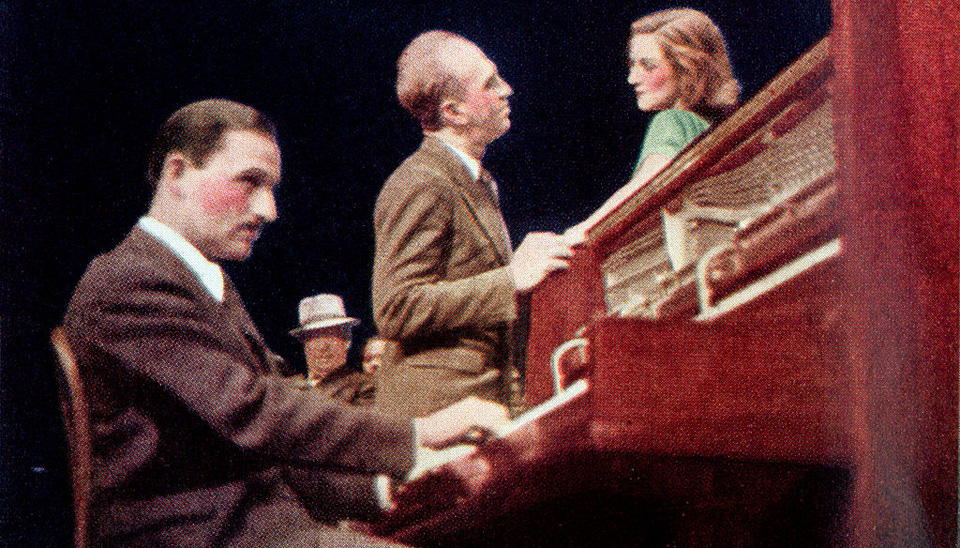 American composer Marc Blitzstein's "play in music" The Cradle Will Rock takes place in Steeltown, U.S.A., on the night of a union drive. In its ten scenes, Blitzstein, who also wrote the libretto and lyrics, satirically skewers one by one all of the professions for having sold out to steel magnate Mister Mister.
Written in 1936 at the suggestion of Bertolt Brecht, the work (sometimes called a musical or opera) was adopted by the Federal Theater Project, part of the Works Progress Administration (WPA), designed by the New Deal to provide jobs for thousands of unemployed. The young Orson Welles directed, and John Houseman produced.
The play was slated to open at New York's Maxine Elliott Theater on June 16, 1937. But in a blatantly politically motivated decision, an announcement from Washington came on June 10: WPA funding was being cut by 30 percent, and the Federal Theater was to open no new shows until July 1, well after the date set for Cradle.
In Chicago, conflict between police and strikers on Memorial Day resulted in a massacre. Eighty-four were hurt and ten killed. Of the ten steel strikers mowed down by the police, seven had been shot in the back. Under those conditions, the federal government believed The Cradle Will Rock might be too incendiary at that moment.
The doors to the theater were locked and the producers had to quickly locate another stage for the opening. Breaking away from the Federal Theater Project, Cradle opened independently in what would become the most electric moment in the nation's theatrical history, a period and an event brilliantly evoked in Tim Robbins' film Cradle Will Rock. The musical has gone on to become a classic of the agitprop era, staged time and time again. At present, unsurprisingly, it is experiencing a new burst of productions. This summer Opera Saratoga is staging it with its original orchestration under John Mauceri's baton, and Baltimore's Iron Crow Theatre will open its new season with it this fall.
What's the gay connection?
Among the professions Blitzstein includes as sell-outs to economic royalism—medicine, academics, the press, the church, etc.—he also includes a scene with Yasha the violinist and Dauber the artist, portrayed as effete parasites, who are both competing for patronage from the corrupt, fascist-minded Mister family. In a kind of vaudeville patter they sing:
And we love Art for Art's sake!
It's smart, for Art's sake,
To part, for Art's sake,
With your heart, for Art's sake
And your mind, for Art's sake—
Be blind, for Art's sake,
And deaf, for Art's sake,
And dumb, for Art's sake,
Until, for Art's sake,
They kill, for Art's sake
All the Art for Art's sake!
Blitzstein himself was homosexual, as were many of his composer contemporaries, such as Aaron Copland, Paul Bowles, Virgil Thomson, Samuel Barber and others. Openly gay characters on Broadway were virtually unheard of in 1937, but through broad inference in the Yasha and Dauber scene, Blitzstein seemed to be saying, "Don't let a sense of inferiority or differentness cloud your class consciousness. Get your priorities straight." The play serves as a warning to the middle class, including artists, not to get stranded on the wrong side of history.
The work ends with the workers voting the union in. For the moment the Mister Misters of the world have suffered a setback.
This was not the first time Blitzstein approached a gay subject. Earlier in his career, in the late 1920s, he set to music a dozen or so poetic texts by Walt Whitman, choosing some of the gay poet's most erotic phrases. Though not widely performed, these songs sometimes elicited a strong revulsion among timid critics and audiences for their bold subject matter.
Later, as well, Blitzstein incorporated into his music scenes that can be interpreted ambiguously. As a Communist Party member (1939-1949), Blitzstein volunteered for the army in World War II to play his part in the war against fascism. Posted in London as a U.S. 8th Army sergeant, he arranged concerts featuring black servicemen singing to audiences including members of the royal family. During that time he wrote an hour-long choral-orchestral work called "The Airborne Symphony," about the human yearning to fly and the success of bombing missions over Nazi Germany. In it he has his male chorus prepare for a sortie by getting dressed up in elaborate battle gear, starting with their "long-handled drawers." When the mission is scrubbed, Blitzstein slows down the tempo and has them disrobe all their clothing and equipment, right down to their "long-handled drawers." Perhaps straight listeners heard nothing in this but a cute little wartime anecdote, but to gay audience members it sounded like a striptease for a chorus of fit and trained hunky men.
His post-war project was to set his friend Lillian Hellman's play The Little Foxes to music. His "Broadway opera" Regina ran for a few weeks in late 1949 and has established itself in the years since in the opera house as a frequent, though not quite a repertory guest. (Opera Theatre of St. Louis has announced it for its 2018 season next spring.) Why does a composer set a well known play to music? Not just to restage the play with songs, but to make a musical statement. In that sense, Regina, set in 1900 Alabama, is about the evolution of American music, particularly the interplay between European traditions and the African-American influence. While Regina is hosting a fancy dinner party and dance, the black servants—who in the opera play in the Angel Band, an early expression of jazz—imitate the flirting and courting they espy through the window. Again, just boys playing around? Or the subtle introduction of a barely noticeable gay subtext?
Commissioned by New York's Interracial Fellowship Chorus in the 1950s for an original choral work, Blitzstein composed This Is the Garden in several movements depicting street life in the city. The number "In Twos" describes a pair of lovers in the big city walking in the park, sitting on benches, lying on the grass, seeing hospitable "lighted windows as they pass." "And when at last they go, they won't go home," for there "it's hard to stay in twos." The composer might have been suggesting an interracial couple whose families will not accept this love, an appropriate theme for this particular chorus. Yet another possibility is clearly coded into the text by his careful omission of any reference to gender. "For lovers feel that they are cheating time, as long as they remain in twos." As Whitman often conceived of his poetry written for future, more understanding readers, so Blitzstein may well have signaled an important part of his own identity to the world in a hidden way.
One of Blitzstein's final projects left incomplete when he died in 1964 at age 58, was the opera he felt would be his triumphant achievement, about the infamous arrest and 1927 execution in Massachusetts of the two Italian-American anarchists Nicola Sacco and Bartolomeo Vanzetti. Little of it was actually composed, although substantial chunks of his libretto survive. While Sacco the shoemaker was a happily married family man, whose widow Rosa outlived him by many decades, Vanzetti the fishmonger was a loner of indeterminate sexual identity. Perhaps he was gay—surely not a reason for Blitzstein to have chosen that important historical subject, but speculatively a final version of the opera might somehow have hinted at it.