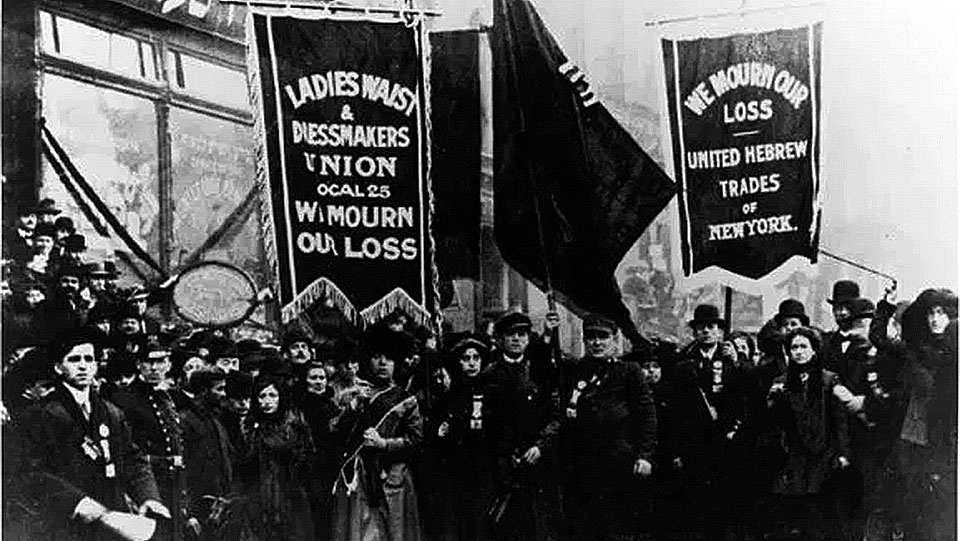 A total of 146 workers – almost all of them immigrant women – are killed in a fire at New York's Triangle Shirtwaist Factory, March 25, 1911, a disaster that would launch a national movement for safer working conditions.
The Triangle Shirtwaist Co., a clothing maker – one of hundreds in lower Manhattan – employed young, mostly Jewish and Italian immigrant women. Almost half were under 20. Women brought their children to the factory's "kindergarten," where the kids would snip thread. Triangle was located on the top three floors of the Asch Building on Greene Street. It was actually one of the "better" sweatshops in the city – thanks to a citywide strike by 20,000 female garment workers 18 months before – but it wasn't unionized.
When the blaze began, there was one exit. Triangle's two owners deliberately padlocked it to prevent theft. There was flammable debris – cuttings and scraps – everywhere. The fire escapes were flimsy and ended far above street level. Stairwells quickly filled with smoke and flames. The elevator stalled, though one woman slid down its cable.
The fire department ladders weren't tall enough to reach them. Hoses were of little use.
The 18-minute blaze left workers with two horrific alternatives: burn to death or jump. Many burned. The rest jumped.
President Franklin Delano Roosevelt's pick for labor secretary, Frances Perkins, was a social worker at the time and witnessed the deaths at Triangle from across the street. She used its lessons to help draft and push through New Deal pro-labor legislation when she became labor secretary.
Triangle Fire and its aftermath, including the acquittal of the company owners of manslaughter charges, led both to the growth of unions – in particular the pioneering International Ladies Garment Workers – and to campaign successfully for reforms to health and safety laws, fire code improvement and enforcement and institution of workers comp. The struggle continues today both in the United States and globally to enforce and improve health and safety regulations.
Garment workers unions had tried to organize Triangle and other garment makers the year before. The citywide strike won raises for the workers, but not unions at Triangle.
"If the union had won, we would have been safe," said strike leader Rose Safran, who survived the fire. "Two of our demands were for adequate fire escapes and for open doors from the factories to the street. But the bosses defeated us and so we didn't get the open doors or the better fire escapes. So our friends are dead."