"Workers don't carry a piano around with them," said the great German Communist composer Hanns Eisler, who wrote many of the most enduring working-class songs of the 1930s, many of them set to texts by his close collaborator Bertolt Brecht. (After WWII, he also wrote the national anthem for the new German Democratic Republic.) His memorable marching songs, like the "Song of the United Front" (Das Einheitsfrontlied) or his "Solidarity Song" (Solidaritätslied) are published with piano accompaniment but were also meant to be singable enough to be carried along by a cappella demonstrators down the broad boulevards of Berlin and other big cities.
Eisler fled to America during the fascist years, as did Brecht, where they continued their collaboration—each also working with other collaborators as well.
Eisler was not the only such émigré composer. There were many, including Kurt Weill, Arnold Schoenberg, Ernst Krenek, Bela Bartok, Erich Wolfgang Korngold, and others.
Among the others was the German Jewish composer Stefan Wolpe (b. Berlin, 1902; d. New York City, 1972). I was long under the impression that Wolpe had composed a few songs in his youth to left-wing texts, such as one published in New York in 1935 in the Workers Songbook 2 called "Ours is the Future" (where his name is spelled Volpe). And that after his youthful gauchisme he more or less reverted to type as a composer of advanced, sometimes 12-tone music that attracted admiration amongst the community of composers but a much more limited public.
But as Wolpe enthusiasts and scholars have always known, and I did not, there actually was a more substantial body of that early left-wing work. In the late 1920s, he hung around with the Novembergruppe, a loose collective of radical artists, some of them drawn to the post- and anti-war Dada movement. He also wrote "anthems for labor unions, fighting songs for agitprop troupes and music for dance and theater companies," to quote the principal Wolpe scholar Austin Clarkson, whose essay and program notes appear in a new, innocuously titled CD called Stefan Wolpe Volume 8: Music for Two Pianos. It would be interesting to have another CD in this series dedicated exclusively to that phase of his career.
This recent release is part of a project dedicated to Wolpe's music on Bridge Records. It's the company's catalog number 9516. It features three major works for four hands, two pianos. The duo, called Quattro Mani ("four hands" in Italian), consists of Steven Beck and Susan Grace.
The three works date from Wolpe's years of exile and resettlement. He began March and Variations (opus 21) in 1932, while still in Germany, and completed it abroad in 1933. Chronologically the next piece (though third on the CD, and receiving here its first recording) is Two Studies on Basic Rows from 1935-36, a difficult 12-tone conceit composed during his sojourn in Palestine from 1934 to 1938 (his fellow exile colleagues there had little use for 12-tone music). The last piece is a two-piano ballet suite, written in New York in 1942, where Wolpe settled in 1938, called The Man from Midian. Biblical scholars will recognize Midian as the homeland of Moses. It is certainly easy enough to understand why in 1942 a Jewish composer might have yearned for a new Moses to lead the way to a promised land. The program booklet features a scene-by-scene résumé of the ballet and includes several photos from the original production.
This appreciation will focus on the March and Variations, which has a specifically political program over the course of its nine movements. He had composed the first six movements while still in Berlin just as the Nazis were taking power. Again, thanks to Austin Clarkson's notes, "During the evening of Feb. 27, 1933, while the Reichstag was burning, Wolpe was a few blocks away at the Kleines Theater Unter den Linden directing the third show of Truppe 31. On March 4 the police banned the Communist-aligned theater company and Wolpe was under threat of arrest as a Communist, modernist composer and Jew."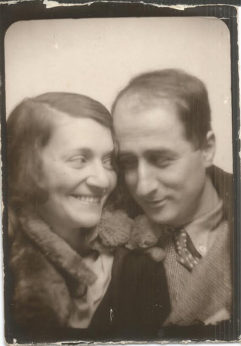 Wolpe escaped to Czechoslovakia, and then to Switzerland. His lover and later wife Irma Schoenberg retrieved his scores from Berlin. "Wolpe composed Variations 7 and 8 in April and in May joined Truppe 31 on a tour of the Soviet Union." There he was impressed by the work of Dmitri Shostakovich and the other Soviet modernists in that period right before Stalin imposed the Socialist Realism esthetic. Back in Switzerland in July, the composer completed the Soviet-influenced Variation 9 and dedicated the score to Irma Schoenberg. The Soviets published some of Wolpe's revolutionary songs, which is likely how they came to the attention of the editors of the Workers Songbook in New York.
The world premiere of March and Variations took place at the Moscow Conservatory in 1935 (details on performers not provided by Clarkson). It also received performances in Jerusalem and Haifa, and then, after Wolpe's arrival in America in December 1938, at New York's Museum of Modern Art on Feb. 11, 1940. The League of Composers sponsored a program there, "An Evening in Honor of European Composers Now Living in the United States."
As a follower of the Weimar-era philosophy of Gebrauchsmusik, or music for use, not just for art's sake, Wolpe attached a programmatic agenda to his set of variations. He insisted that the purpose of music "was to spur people to action" (Clarkson), or in his own words, expressed in a 1933 letter: "the onrushing energy of the music leads the listener, educates him, drives him, and ultimately changes him."
Later, outside of and away from the milieu in which Wolpe originally composed this work, the composer would refer to it as a kind of hero's journey, but this was not how he first conceived it. Clarkson analyzes the narrative in this way:
"The variations unfold as scenes from the so-called Revolutionary Scenario, modeled on pageants performed at festivals of post-revolutionary Russia: (1) Pastoral idyll, (2) Awakening of protest and revolutionary consciousness, (3) Struggle between forces of revolution and reaction, (4) Funeral march for fallen comrades, and (5) Celebration of the victory of socialism."
The almost 20-minute-long March and Variations opens with a unison statement of the theme, which would appear to be an original one by Wolpe, "symphonic in scope" (Clarkson) albeit (to me) not sounding much like a march. Now I am no musicologist, though I am often drawn to write about music and its place in society, but I would nevertheless argue that Wolpe actually had a different theme in mind that comes back over and over again in more recognizable form than his own stated theme. That theme that I believe is inherent to this work, though never mentioned by Austin Clarkson, is the opening melodic statement of the Brecht-Eisler "Solidarity Song" (Solidaritätslied), set to the words "Forward! and let's remember" (in the Eric Bentley translation in The Brecht-Eisler Song Book), or "Vorwärts! und nicht vergessen" in the original German. The powerful two opening notes describe a descending minor third.
The "Solidarity Song" was written in 1930 and then appeared in the feature film Kuhle Wampe (Who Owns the World?, released in the U.S. as Whither Germany?) in 1932, the year Wolpe began writing his two-piano variations. The film treats unemployment, homelessness and left-wing politics in the Weimar Republic. In the circles in which Wolpe moved there is absolutely no way he could not have known this very popular workers' song.
The first American recording of this song was made in 1935, involving radical musicians and composers in New York at the time, including Marc Blitzstein, Lan Adomian, a left-wing choral group called The New Singers, soloists Mordecai Bauman and Felix Groveman, and the refugee Hanns Eisler himself on piano on some numbers.
When I first popped the CD into my player I was fully expecting Wolpe's modernist, verging on atonal style, and truthfully was not thinking of reviewing this album for People's World. But "Vorwärts! und nicht vergessen" kept coming back, insistently, manically, inescapably. And having learned more about the early years of the composer, I am convinced I am not wrong about this; this cannot be coincidental.
Wolpe's composition may not have been known to the American composer Frederic Rzewski, who similarly takes classic revolutionary and workers' songs and composes magnificent sets of variations on them—among them the magisterial The People United Will Never Be Defeated!, Winnsboro Cotton Mill Blues, Which Side Are You On?, the Yiddish lament Mayn Yingele, and many more. But clearly, the Wolpe is a forerunner to Rzewski both politically and musically.
Brecht's lyric to "Solidarity Song," again in Eric Bentley's singable translation, goes like this:
Forward! and let's remember
What our strength always was and shall be.
In famine or in plenty
Forward! and let's remember:
It's solidarity!
Peoples of the earth, rise up now
For this earth is now your due:
It shall be the great provider
And it shall provide for you.
Forward! And ask the question
What our strength concretely is worth
In famine and in plenty:
Whose tomorrow is tomorrow
And whose earth is the earth?
And our various lords and masters
Welcome our disunity
For as long as they divide us
Lords and masters they shall be.
Black and white and brown and yellow,
End the rule of sword and gun!
For when once you raise your voices
All the peoples shall be one.
(Bentley's version omits a verse or two, including one about proletarians of the world, unite!)
A rendition of Das Solidaritätslied with the famous German anti-fascist singer Ernst Busch and chorus can be heard here. A quick internet search will uncover several other versions as well.
To read the program notes read by the composer on the occasion of the U.S. premiere performed by Irma Wolpe and Edward Steuermann on February 11, l940, at The Museum of Modern Art, New York, see here.