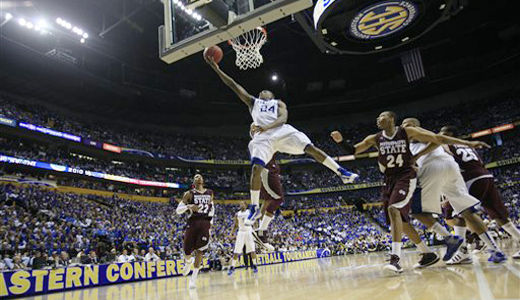 Nationwide excitement among college basketball fans builds as the 2010 March Madness tournament is scheduled to begin Thursday, March 18. Sixty-four of the best National Collegiate Athletic Association men's and women's basketball teams will compete to make it to the Final Four next month.
Even President Obama has joined the "madness" predicting Kansas, Kansas State, Kentucky and Villanova in the finals. He's predicting Connecticut, Notre Dame, Stanford and Tennessee in the women's tournament.
There's nothing more entertaining than healthy basketball rivalry and cheering for the nation's best collegiate teams.
However Derrick Z. Jackson, writing for the Boston Globe, says it's disturbing when the graduation success rates of players belonging to the best teams are worsening.
For example, top-power Kentucky made the Division 1 tournament with a graduation success rate of only 18 percent for its black athletes and 31 percent overall.
"This program single-handedly betrays the NCAA as toothless on the exploitation of athletes," Jackson says. Kentucky's graduation rate scorecard for its black players for the last six years is: 18, 17, 9, 17, 17, and zero. Over the last ten years, its black player graduation rate has never risen above 29 percent and its overall graduation rate passed 50 percent only once, in 2001.
"Yet, who do we see hawking March Madness on Direct TV? Why none other than Kentucky's $32 million coach, John Calipari."
Jackson says the NCAA should ban the likes of Maryland, Texas, Nevada Las Vegas, and Kentucky because the concept of "student-athlete" is beyond repair. "At these schools, the athletes are semi-pros who should be paid."
Maryland is in the tournament with a zero graduation rate for its black athletes, and 8 percent overall. Texas and Nevada Las Vegas are also in the tournament with both colleges not reaching over 22 percent when it comes to graduation rates among blacks. The University of California at Berkeley has a campus graduation rate of 85 percent, including 62 percent for black students. But the graduation success rate for both black and white players is zero, notes Jackson.
"Until the NCAA demands studies of another sort and starts banning programs that do not heed the demand, March Madness will remain a national indictment of how we let college sports drive us stark riving mad," writes Jackson.
Meanwhile an annual report by The Institute for Diversity and Ethics in Sport at the University of Central Florida finds the disparity between graduation rates for white and black players on NCAA tournament-bound men's basketball teams grew this year. The report shows 45 teams graduated 70 percent or more of their white players, and only 20 teams graduated at least 70 percent of their black players.
Players on teams headed to the NCAA women's tournament however are graduating at a higher rate than the men. The graduation gap between white and black players is smaller for women than it is for men. There were 19 women's teams that had a 100 percent graduation rate compared to six men's teams. And 51 women's teams graduated at least 70 percent of their players compared to 29 men's teams.
The NCAA says 56 percent of black basketball players now graduate from Division 1 teams. White players have an 81 percent graduation rate.
Critics contend the NCAA is a multi-million dollar industry that can care less about the players or their academic success and instead cares more about the industry's increasing monster profits. Others argue the college players need an association similar to the professional leagues so that their rights are protected on and off the courts, especially when it comes to health care and compensation.
Kentucky guard Eric Bledsoe (24) scores against Mississippi State in the championship game at the NCAA college basketball Southeastern Conference tournament on March 14. Wade Payne/AP