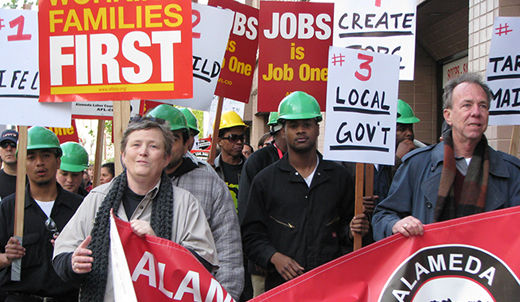 OAKLAND, Calif. – "They got bailed out, we got sold out!" was the chant as over 150 trade unionists and community allies marched through downtown Oakland April 5, pausing at banks along the route to let their message soak in.
As the action organized by the Alameda Labor Council opened outside the local offices of financial giant Morgan Stanley, labor and community speakers demanded the giant national banks bailed out with taxpayer funds now invest in local communities to create good jobs, and halt the home foreclosures devastating families and neighborhoods throughout the country.
Fremont Vice Mayor and bankruptcy attorney Bob Wieckowski told how massive spending two years ago by the banking industry defeated a bankruptcy reform "that would have helped me help 300 people keep their homes." He called on the crowd to "stick together and make sure we have one voice that we are no longer going to stand for the kind of bailouts that have occurred" and that ordinary people and their communities will get needed help.
Wieckowski also vowed to keep working to make sure Fremont's now-shuttered New United Motor Manufacturing Inc. (NUMMI) auto assembly plant reopens as a manufacturing facility, and to make it possible for the displaced workers "to remain in our community, to send their kids to school, pay for their homes and contribute to the wealth of the Bay Area."
Among those for whom the economic crisis has very personal meaning were Bertha Borrayo of the Association of Californians for Community Empowerment (ACCE) and Jessica Lehman of Community Resources for Independent Living.
Speaking in Spanish, Borrayo said her husband's 10-month layoff from his longtime job had left the family facing foreclosure. "Thanks to God he is back at work now," she said, "but we had to stop making our house payments. I work very hard cleaning houses but the money I make isn't enough to make our house payments. Now what we are asking is to stop foreclosures."
Lehman, a wheelchair user, highlighted the potential impact on jobs, as well as on recipients of services, of Republican Governor Arnold Schwarzenegger's massive proposed cuts in human services. "California families depend on child care, to be able to work," she said. "People with disabilities rely on In-Home Supportive Services to pay for our attendants, so we can get out of bed and get to work." Noting that these programs "employ thousands of people," Lehman warned that the governor's IHSS cuts would increase the state's unemployment rate, already at 12.5 percent, "by a whole 1 percent."
Charles Simmons, a cement mason and instructor at Oakland's Cypress Mandela Training Center for building trades workers, participated with several students from the center, highly visible in their green hard hats. "Something needs to happen because these young people will not have a shot if we don't start getting jobs here in Oakland," he told the crowd.
As the march wound past Citibank and Wells Fargo, Berkeley City Councilmember Kriss Worthington observed that banks would make much more money if they worked with homeowners to stop foreclosures instead of forcing people from their homes.
The action highlighted the AFL-CIO's five point jobs plan, which calls for extending jobless benefits and other aid to unemployed workers, rebuilding schools and infrastructure using green technology and energy efficiency, helping state and local governments maintain vital services, creating good jobs in distressed communities, and putting TARP funds to work for Main Street.
Photo: Marilyn Bechtel