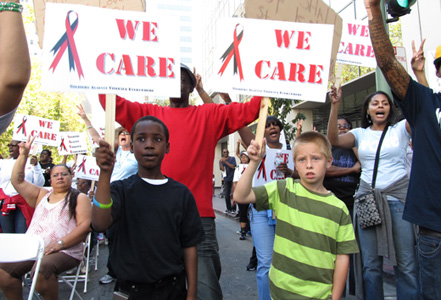 OAKLAND, Calif. – Hundreds of city residents poured into the city center from throughout Oakland Sept. 22 to call on city leaders to take immediate steps to end gun violence that has cost some 85 lives in the city so far this year, and to pledge to work together to turn the crisis around.
Columns of multiracial, largely African American demonstrators marched from five locations in far-flung areas of the city where many of the homicides have taken place, converging near City Hall. Along the way they chanted, "Put up your peace signs, put down your piece!" and "What do we want? Peace! When do we want it? Now!"
The action, initiated by Soldiers against Violence Everywhere and the west Oakland congregation, True Vine Ministries, drew participation from religious and community groups throughout the city. Christian, Muslim and Jewish religious leaders offered invocations. Members of many congregations brought their banners. Around the edges, community organizations tabled with information on available services.
At the heart of the program was presentation of a resolution calling on city elected officials and other leaders to make it a top priority to cut gun violence by half within three years. The officials were called on to help grow jobs in the city by cutting down on bureaucratic obstacles to new small businesses. The Oakland Police Department, which has drawn sharp criticism for past practices, was urged to work in a creative way with the community, to incorporate principles of restorative justice and to step up safety measures near schools.
City leaders including Mayor Jean Quan, City Council members, other elected officials and representatives of the Oakland Police Department pledged support and expressed their determination to work with the community to reach their shared objectives.
Marching from north Oakland was School Board member Jumoke Hinton Hodge, whose district includes areas in west Oakland hard hit by violence. "Today's march is a symbol," she said. "It only has meaning if we work to activate others." Hinton Hodge also called attention to the role of rallies and related activities in activating the healing process.
Also marching was Marjorie Lovejoy, a retired office worker and longtime Oakland resident. "We need marches in east and west Oakland, too, where most of the violence is taking place," she said. "If people see us there, and know we care, it gives them an incentive to join in."
Layloni Marshall, a home care worker and mother of three who hopes to start studies soon for a Master of Social Work degree, emphasized the importance of voting in the November election. "If we let the Republicans into office," she said, "They will take away the programs that are helping young people keep a decent quality of life. Things will be 10 times worse than they are now – no after-school programs, no mentoring. People will find a way, but it won't be a good way."
Marshall added, "I've lived in Oakland for years. Kids are being killed every day. This march brings people from all parts of the city together and we can pass the word along to others."
Photo: (PW/Marilyn Bechtel)