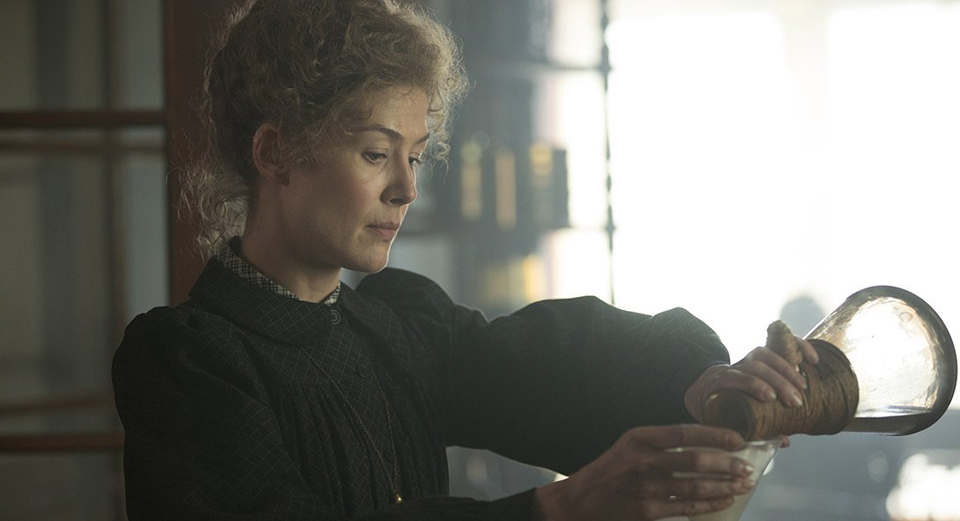 This is the fifth installment of coverage of this year's TIFF, and the second to cover the festival's focus on women in film.
TORONTO—She's the only woman who won the Nobel Prize in two scientific fields—physics and chemistry. And now she's the subject of the first biopic by Iranian-born director, Marjane Satrapi, known for her award-winning animated history doc, Persepolis. The famed Polish-French physicist Marie Curie's story is told in Radioactive, which covers the period from her arrival in France in 1891 to her death in 1934 from radiation exposure. It was a significant film for the Toronto International Film Festival that is making major efforts to feature women directors and women's stories. The perfect subject, Marie Curie, was determined to fight the science establishment that not only rejected women but held back important scientific research that didn't fit their criteria.
Curie was a genius known for discovering radioactivity (a term she coined) and two new elements—polonium (named after her native country) and radium. The film presents a lively and intelligent depiction of her time in France, meeting her future husband, Pierre (who shared her first Nobel Prize), and eventually setting up a private research lab with him. She was a brilliant woman who refused to succumb to spirituality (Pierre would take her to séances) or any relationships that would hinder her work.
The first half of the film deals with the budding romance between her and Pierre. Later, it is Pierre who is nominated for the Nobel Prize but refuses it unless Marie is also included. She feels slighted but is hurt even more when he goes alone to pick up the award, while she is sick at home watching their two daughters. When she receives her second Nobel Prize, after Pierre's death, she travels to Stockholm alone and gets a standing ovation from many of the women in the audience.
In addition to following the personal life of Curie, the powerful underlying theme of the film is the dichotomy between her vision and hopes for a bright future for humanity and the real destructive threat from nuclear bombs, radioactivity, and the misuse of her discoveries. The visuals travel from past to future scenes of Chernobyl, Hiroshima, Fukushima, even including scenes from earlier movies about nuclear war. The story ambulates between whether her discoveries were good or harmful. But it's unfair to imply it's simply the scientist's fault. In those days, researchers were unbought by big business, and money played less of a role in science, with no major funding by corporations to make a profit.
However, Curie felt guilty for its use in war. After her husband died in a tragic road accident, she decided along with her daughter, who was a nurse, to start a campaign for portable Xray machines to help in World War I. The machines traveled in the front lines to prevent unnecessary amputations and saved the lives of many soldiers.
Satrapi focuses on Curie's fight against exploitation and gender inequality. And her animation ideas, carried over from Persepolis, play a major role providing colorful and educational animated scenes about atoms and how they work, amplifying our understanding of Curie's profound discoveries.
Another film focusing on the story of a well-known woman—but entirely different from Marie Curie!—is the 2019 American Woman (not to be confused with the 2018 film by the same name) about the famed revolutionary Patty Hearst. Kidnapped by the radical Symbionese Liberation Army (SLA), it was always debated whether Hearst played along to save her life or actually became a radical who robbed banks and assisted in killings. It's based on the 2003 novel by Susan Choi, a finalist for the Pulitzer Prize. Called "a thoughtful, meditative interrogation of…history and politics, of power and racism, and finally, of radicalism," the story certainly takes liberties since it is only based on actual events and facts. It actually centers around the 25-year-old former radical Jenny Shimada, who volunteers to care for three fugitives on the run. One happens to be Hearst. But it is more a study of how young idealists become radicals and eventually self-destruct under the weight of isolation, contradictions and ultimately personal human failings. Directed by Semi Chellas in her directorial debut, and featuring strong women actors, Hong Chau as Jenny and Sarah Gadon as Patty, the film illuminates yet again the talents of women in the film world.
The matriarch
And to end with the matriarch of women directors, we come to the final offering from the great French artist Agnès Varda, who died earlier this year at the age of 90. The profound finale, Varda by Agnès, is a resplendently visual summation of the work of one of the world's greatest film auteurs, a love poem in celluloid (well, maybe digital digits) by a woman determined to follow her own path, to focus on stories of real people, real places, people going through hard times, always with compassion and understanding. Her films were infused with humanism, a defense of feminism and progressive social values. Her final work is lovingly filmed and assembled as if knowing her life was coming to an end. She spans her life reflecting on the films made with her equally renowned husband, Jacques Demy, her decades of filmmaking, photography, art installations and relationships with well-known personalities in the film world, Chris Marker and Jean Luc Godard, to name only two.
Her previous creative accomplishment, Faces Places, is probably one her best films, pairing the work of two great artists, herself and young photographer/paster JR, following their uplifting and scenic travels through the villages of France, meeting strangers who quickly become lifelong friends. The greatest compliment to a creative and committed artist is to say that by watching only a few minutes of a film you can easily identify who directed it. "Suffused with the people, places, and things she loved—Jacques Demy, cats, colors, beaches, heart-shaped potatoes—this wonderfully idiosyncratic work of imaginative autobiography is a warmly human, touchingly bittersweet parting gift from one of cinema's most luminous talents."
Like free stuff? So do we. Here at People's World, we believe strongly in the mission of keeping the labor and democratic movements informed so they are prepared for the struggle. But we need your help. While our content is free for readers (something we are proud of) it takes money — a lot of it — to produce and cover the stories you see in our pages. Only you, our readers and supporters, can keep us going. Only you can make sure we keep the news that matters free of paywalls and advertisements. If you enjoy reading People's World and the stories we bring you, support our work by becoming a $5 monthly sustainer today.