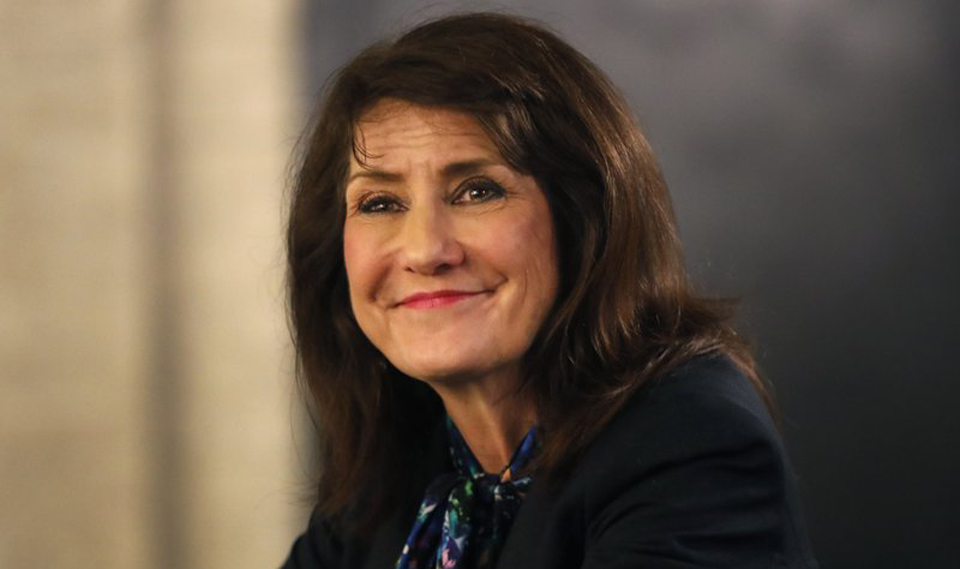 CHICAGO – The political winds of change blew through Illinois on March 17 when Marie Newman defeated incumbent Rep. Dan Lipinski in the 3rd Congressional District Democratic Primary. Newman won 47% to 44%.
Newman's victory put an abrupt end to the 40-year lock the Lipinski family has had on the seat and struck a blow against one remaining stronghold of the corrupt Chicago political machine. Dan Lipinski has held the position for 16 years. It was handed to him by his father, Bill, who had held it for 22 years before that.
Some in the mass media wanted to frame Newman's victory as a repudiation of the Democratic Party leadership and a triumph of the "left." But this is a misreading of what happened. Newman pushed back against this interpretation in an interview with the New York Times on March 19.
"Everyone likes to talk about the party in terms of two or three wings. I think there's probably 50 wings. We've always been a mosaic, and where we all connect is around working families and workers," she said. "In reality, it's about what the district wants and needs. And if it happens to be that all of the perspectives in the party are embracing my platform, I am thrilled."
"For me, everything is about alignment. You have to be in alignment with your district," Newman told the Times.
It has been clear for many years that Lipinski was out of step with voters in the district and shifts taking place in the Democratic Party. He is widely considered the most conservative Democrat in Congress and had the reputation as a do-nothing representative on major issues facing his constituents.
The 3rd CD is changing both politically and demographically. The district, which covers the Southwest side of Chicago and surrounding suburbs, have been growing more diverse racially. In particular, the Latinx population has increased.
Lipinski has held onto the seat based on name recognition, the lingering power of the old machine, and the influence of the right wing of the Catholic Church. Many Lipinski voters supported him based on his anti-abortion stance and fears of the growing immigrant population.
In addition to opposing abortion and LGBTQ rights, Lipinski voted twice against Obamacare, supports Social Security privatization and the Trump administration policies on immigration. The latter made him toxic to Latino voters.
Stunningly, Lipinski voted against the emergency coronavirus funding bill passed by the Democratic House March 14 on the eve of the Illinois primary. In contrast, Newman supports universal health care.  She held a rally in support of Medicare for All as the coronavirus pandemic erupted to dramatize the far reaching public health policies needed to confront the peril facing millions.
Senators Bernie Sanders and Elizabeth Warren supported Newman, and so did Senators Cory Booker (D-NJ), and Kirsten Gillibrand (D-NY). Chicago Mayor Lori Lightfoot, six other members of Congress, including Rep. Jan Schakowsky (D-Ill.) and Alexandria Ocasio Cortes (D-NY), also backed her.
Newman's support was rooted in an emerging grassroots coalition of progressive groups and activists in the district called Coalition for Change IL 3.
She boasted an army of volunteers from an array of organizations that included Indivisible chapters, the Sunrise Movement, Sierra Club, the People's Lobby, NARAL, MoveOn, Planned Parenthood, Our Revolution, Justice Democrats, and several unions including National Nurses United, Amalgamated Transit Union, International Association of Firefighters, Unite Here Local 1, and Illinois Federation of Teachers.
Labor activists across the city were dismayed that the Illinois Federation of Labor held to its traditional policy of endorsing incumbents like Lipinski who have generally supported some of labor's agenda. This election, they said, highlighted the need to set a higher standard for labor's support. "How can you say someone is pro labor when they keep stabbing working families in the back with Republican positions on health care, women's rights and immigrant rights?" one leader told People's World. In an unusual move, the Chicago Federation of Labor had voted to stay neutral in the race. Nevertheless, the State Federation's actions superseded those of the city Fed, but included no financial support for the campaign, one official noted.
Newman is one of many women to emerge as leaders and run for office in response to the election of Trump. She participated in actions to protect immigrant and Muslim communities against hate crimes. The district includes a sizeable number of immigrants, Muslims, and Arab American families.
The daughter of a union airline mechanic, Newman grew up in the district. She is a public relations consultant and founded a nationwide organization, "Team Up to Stop Bullying," in response to bullying experienced by her son. She also has been a leader of Mom's Demand Action, an advocate for LGBTQ rights, immigration reform with a path to citizenship, and the Green New Deal.
"Marie is fearless. She is not scared of the machine," said Jose Torres, an aldermanic candidate in 2019 against Ald. Ed Burke, corrupt leader of the machine on the Southwest side. "When everything is on the line, when our children are being held down in the cages, and when you see the deep sadness of the people of Illinois, it's wonderful we have a champion like Marie."
Newman was making her second run against Lipinski. She came up short in 2018, vulnerable to vote-stealing by the entrenched machine alongside an insufficient grassroots voter mobilization in precincts covering parts of Chicago. But Newman drew the bitter lessons and was prepared this time.
The campaign mobilized in every corner of the district, including neighborhoods, considered the heart of Lipinski's turf. The campaign hosted 318 meets and greets, knocked on 100,000 doors, made 200,000 phone calls, and mailed out 50,000 postcards.
Even though there was a record early vote, the coronavirus pandemic resulted in a lower-than-expected election day turnout across the state. The Newman campaign had suspended door-to-door canvassing days earlier but didn't stand down. It turned its army of volunteers to phone banking to boost turnout.
In other major people's victories, incumbent Cook County State's Attorney Kim Foxx beat back a concerted challenge by the right-wing and fascist elements to win the Democratic primary. Foxx received a massive vote from African American and Latinx voters. She had been targeted by the Fraternal Order of Police ever since she defeated disgraced former State's Attorney Anita Alvarez, who had consistently covered up brutality and criminal behavior by police officers. The criminal behavior included a massive coverup of the murder of LaQuan McDonald, which sparked a protest movement that ultimately ousted her.
SEIU Healthcare leader Lakesia Collins will become the union local's first member to be elected a state representative. Collins joined the union as a nursing home worker. Emma Tai, executive director of United Working Families, said, " Lakesia will join our team of UWF incumbents in Springfield who are fighting for guaranteed housing, healthcare, and public education for all: State Rep. Aaron Ortiz, State Rep. Theresa Mah, State Rep. Delia Ramirez, State Rep. Will Guzzardi, State Sen. Robert Peters, and State Sen. Celina Villanueva."
As expected, former Vice President Joe Biden won the Democratic presidential primary over Bernie Sanders by a wide margin, 59% to 36%.
Roberta Wood contributed to this article.