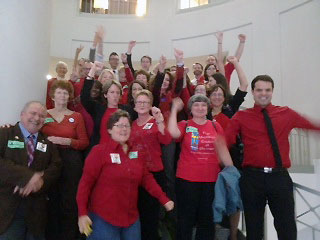 ORLANDO, FL – At the Dec. 12 meeting of the Orlando City Commission, leaders voted unanimously to pass a Domestic Partner Registry. The City of Orlando registry will be the first of its kind in the Central Florida area, with supporters hoping the registry will soon be adopted by Orange County.
According to a statement released by Joe Saunders of Equality Florida, the Domestic Partner Registry, which will go into effect on January 12, 2012, "will allow any unmarried couple who lives, works or visits Orlando [to] gain the right to make medical decisions for an incapacitated partner, be notified in a life threatening emergency, visit a partner in a health-care facility and participate in the education of a partner's children."
"This is such an important step in our fight for equality and we're proud to have worked with some of the most dynamic leaders in the City of Orlando," said Joe Saunders. "For over a year, Equality Florida has been working with activists from the Orlando Anti-Discrimination Ordinance Committee to lay out the social and business arguments for this important policy."
The City Council Chambers where filled with a sea of red-shirted supporters. Randy Stephens, one of the many supporters present and Executive Director the GLBT Community Center of Central Florida said that the registry will "provide a sense of security that in a catastrophic situation (health crises, incarceration, funeral arrangement) or school emergencies, unmarried straight and gay couples have the ability to handle these situations as any normal family would handle them. Basically it is expanding the definition of family, and hospitals, funeral homes, criminal institutions and schools must recognize you as such, extending you the same privileges as other family members."
Leaders from the faith community also made up the sea of red supporters. "As a member of the clergy," said Rev. Kathy Schmitz of the First Unitarian Church of Orlando, "when I accompany individuals, couples, and families through life's major events, whether joyful or tragic, I am not concerned with questions of gender or sexual orientations. I am concerned with their love, their commitment, and their humanity. I applaud the Orlando City Council for taking this important step to mitigate the expense, stress, and distress of our lesbian and gay couples and their families during times of crisis."
Rev. Schmitz went on to say that "this public recognition is important for young people struggling with issues of sexuality and too often bullied or harassed. This step tells them that there is a place for them in our society and our community. I believe that in creating the Domestic Partnership Registry, the Orlando City Council will save lives."
Equality activists will continue their push for an Orange County wide Domestic Partner Registry this week.
Photo: Equality Florida