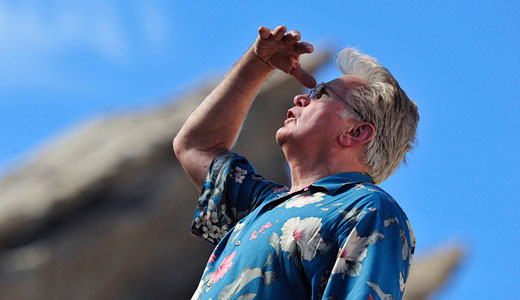 Actor Martin Sheen credits the Occupy Wall Street movement with changing the debate in the country and creating a new framework for this year's election.
Speaking in Canada at a progressive "We Day" youth event Sheen said, "I cannot begin to tell you how encouraging and refreshing the Occupy movement is to us old-timers, because it came about from a totally new, unconnected generation to us. It came of its own volition, dealing with its own issues. This message that, 'we are divided in a lot of very fundamental ways. There's the 1 percent and the 99.' That is on the agenda now. That cannot be erased."
The former West Wing TV head of state and long-time progressive activist once again expressed disappointment with critics of President Obama's first term in office. "The actor pointed his finger squarely at Republicans for Obama's problems," reported the Huffington Post, "arguing that they have been an unprecedentedly obstructionist Congress, especially since the 2010 mid-term elections."
Pointing at some on the left Sheen said, ""People say he ought to start getting mad and start yelling at these people. He didn't get here by showing an angry man; this is a very important job. The whole world is watching every move, listening to every nuance that he breathes in public."
Sheen earlier expressed similar frustrations with some sections of the Democratic camp. Last fall Sheen, appearing on Joy Behar's Headline News to promote his new film The Way said, "Steady, steady: You're talking about a very special man." He continued, "I don't think he's getting a lot of help. He's done a great job."
The president has garnered considerable support in the acting and theater community. His poll ratings continue to improve along with the economy. In the important battleground state of Ohio, Obama is beating Romney 53 percent to 43 percent. He bests Santorum 53 percent to 42 percent according to a PolticoGWU/Battleground States poll.
Photo: lwpkommunikacio // CC 2.0