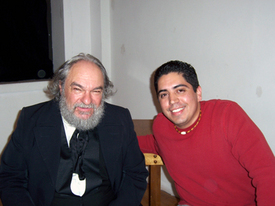 CHICAGO — The spirit of Karl Marx was revived here in a one-man play called "Marx in Soho" that ran June 8-10 at the Acme Art Works center. The mini-run was a benefit for the Near Northwest Arts Council, a nonprofit organization.
As people trickled in, one could hear the normal chatter of folks catching up with each other's lives, in good company, on a Friday evening.
"Did you see the Al Gore movie yet?" one woman asked her friend before the play began.
Laura Weathered, director of the center, welcomed everyone to the space, saying this would be a "very intimate show," and that "Karl Marx is going to invite you to have tea with him afterward" for a group discussion.
The play was written by historian Howard Zinn and directed by Michael Fox Kennedy, and featured Jerry Levy as Marx.
As the play begins, Marx appears from the back and tells the audience, "People say Marx is dead, well I am, and I am not — now that's dialectics for you."
"You could spread the word," he announces, "Marx is back!"
The play is comical, personal and witty, not to mention humorously sarcastic, portraying Marx as a stubborn intellectual, revolutionary troublemaker, father and husband.
At one point, Marx tells the audience, laughing out loud, "I am not a Marxist!"
The play also highlights the important role and companionship of Jenny, Marx's wife, who was his "unsparing, honest and greatest critic."
Jenny is remembered as telling Marx to "come down to earth" and to simplify very complex ideas so as to "write to address the workers."
Marx mentions that Jenny was a far better human being than he could ever be.
During the play the audience learns about the death, one by one, of three of Marx's children, and what a heavy toll these losses took on him.
Marx addresses the failures of capitalism and the role of the working class, as well as his thoughts about "the dictatorship of the proletariat" and his relationship with Bakunin, an anarchist leader.
"Poverty, that is capitalism," says Marx in the play. "Capitalism has produced great wonders, but it prepares its own death."
"Everybody needs food, medicine, fresh air, trees, grass, some hours of work. Every human being deserves it, the root of the problem is us, get up and act," says Marx.
For more information about the play go to www.levyarts.com.
TOWN HALL May 2 – Confronting the COVID Economy: Women Fight Back