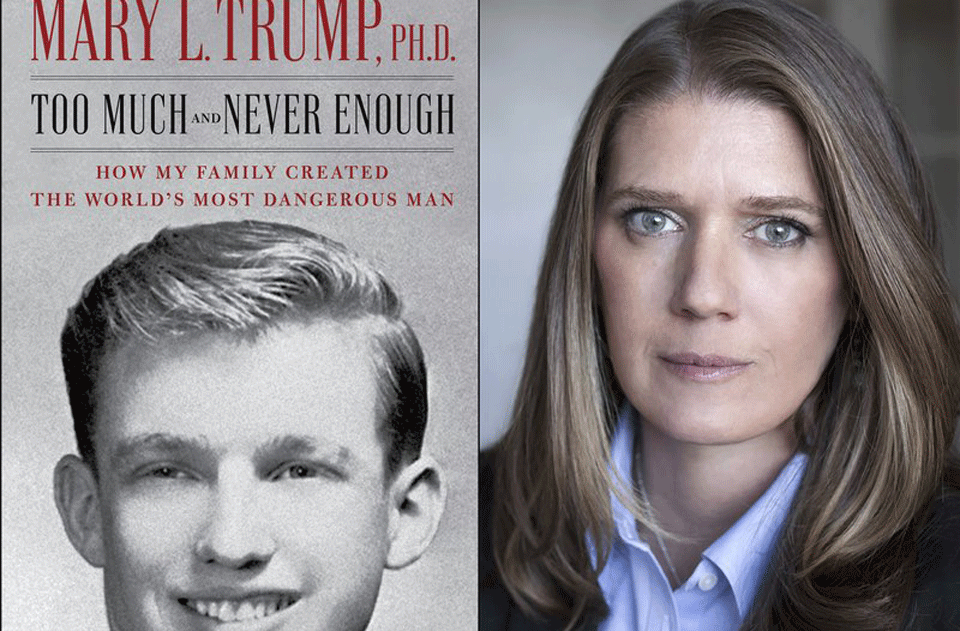 WASHINGTON—Donald Trump's upbringing, especially his constant need to prove his toughness to his father Fred Sr., alive or dead, forged Trump's bullying and racism, his niece, Mary, says.
"Most of what I was trying to do" in her new book about Trump and how he became the way he is "was to give people a picture of some of the symptomology" of the president, says Mary, now a retired clinical psychologist. "His behaviors are often complex and self-defeating."
But while others infer the source of those traits of the GOP president, now on prominent exhibit every day in the Oval Office, she knows: The family dining room table.
Trump's traits are recounted from Mary Trump's own retentive memory and backed by family papers and talks with family members and Trump's childhood and college friends, she said in a Washington Post televised interview on July 27.
The half-hour discussion with Post political reporter Robert Costa is one of a series the paper hosts with political leaders, authors, think-tank specialists, race relations analysts, and even an occasional union leader.
Mary Trump agreed to the discussion to elaborate on her book, "Too Much and Never Enough: How My Family Created the World's Most Dangerous Man." Donald Trump sued, unsuccessfully, to stop publication. In the week since its release, it's already sold 1.35 million copies in hardback and online, and it's in its 17th printing.
The picture Mary Trump, daughter of Donald Trump's late older brother, Fred Jr., paints is not pretty. But it's also familiar to anyone who has closely watched the president over the three and a half years of his reign.
Donald Trump has a picture of his father and her grandfather, Fred Sr., in the office, as "a reminder of how to behave," Mary Trump said. "He has to need to prove to be tough, to be a killer" and "not to be weak and not to apologize."
"'Strong', 'the best', 'tough' were the words we heard all the time," around that table, Mary Trump said. But there were other words, too—of hate.
"Racist language was commonplace" and nobody was brave enough to challenge it, Mary Trump said. "The same could be said of anti-Semitic slurs and misogyny."
Those traits, too, appear in the Oval Office's Donald Trump, although his racism first publicly reared its head when federal Housing and Urban Development Department officials forced Donald and Fred Sr., then jointly running the family real estate business, into yielding to charges they discriminated against Blacks in renting apartments in their New York City developments. Fred Trump Sr. died in 1999.
They also appeared when Donald Trump, in full-page newspaper ads in New York's tabloids, demanded the death penalty for the "Central Park Five," Black and Latino teenagers accused and later convicted—falsely—of raping a white woman jogger in 1989. Mary Trump did not discuss either the HUD case or the teens with Costa.
Donald Trump was so rebellious and headstrong that his parents sent him to the New York Military Academy, a tough, rigid, expensive private school, Mary recounted. There, Trump learned one other trait now on display in the White House: "People with the power get to make the rules, no matter how they got that power."
Trump Sr. gravitated to his second son, Donald, after his first, Fred Jr.—Mary's father—severely disappointed his dad, or worse. Rather than running the family real estate development firm which made the Trumps their millions, Fred Jr., became an Air Force and then a civilian pilot for TWA.
But his father's pressure to conform was so great that Fred Jr. buckled, becoming an alcoholic, losing his pilot's license as a result, being hospitalized and dying in 1981 at the early age of 42 from a heart attack, says Mary, now 55. "Digging into it was awful," she said of the need to discover her father's past.
Trump himself does not drink alcohol and cites the fate of his brother as the reason. He does have one liquid habit Mary mentioned: Diet Coke. "He drinks a dozen a day, and that's not healthy for anybody," she says,
Though Donald Trump has been a political big giver for years—to both parties—and palled around with politicians, including both Bill and Hillary Clinton, national politics virtually never raised its head in the Fred Trump Sr. household, Mary Trump said.
"My grandfather had absolutely no interest in anything outside the things that impacted his business: Deals in the works, deals to get tax rebates, New York politics, New York real estate" were the topics, she said.
Though Mary did not say so, the title of Donald Trump's book, ghost-written by an author who now denounces him, too, is The Art of the Deal.