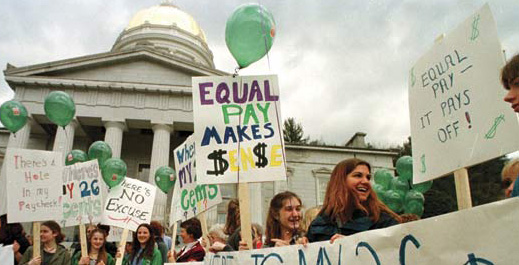 ANNAPOLIS, Md. (PAI) – With strong support from working women and their allies, the overwhelmingly Democratic Maryland legislature enacted, and GOP Gov. Larry Hogan signed a tough equal pay law.
The Maryland affiliate of the Working Families Party, which pushed for the law, praised the solons' action, saying it would particularly help working poor and working women, especially minority-group women.
The Maryland equal pay law outlaws pay discrimination on the basis of sex or – and this is new – gender identity. It also closes loopholes employers now use to justify pay inequity. Ever since the original federal equal pay law, in 1962, firms have used those loopholes nationwide to keep women's pay far below that of men in equal jobs.
Maryland's Equal Pay for Equal Work Act covers employees who work for the same employer at workplaces in the same county and who "perform work of comparable character or work in the same operation, in the same business, or of the same type." Even an anti-worker law firm concedes it "covers more than just pay disparities.
It also goes after the employers' tactics of creating the "Mommy track," shunting women into less-favorable jobs with fewer opportunities because the women might take time out to raise and have children.
The Maryland law not only bans placing firms from placing employees into "less favorable career tracks" or positions, but also bans them from "failing to provide information about promotions or advancement," and "limiting or depriving" employees of employment opportunities because of sex or gender identity.
Additionally, employers may not forbid employees from "inquiring about, discussing, or disclosing" their wages or the wages of other employees. And workers will be able more easily to sue firms that fire or discriminate them for doing so. Those protections are key parts of updated federal equal pay legislation that congressional Republicans have stifled for a decade.
As an example, advocates say, the new Maryland law states if you work in a supermarket and the only real way to become a manager is to work the closing shift, but you never put women on the closing shift because you think it's too dangerous, you either must give women the chance to work that shift or change promotion criteria.
Maryland's wage gap is 14.5 cents per dollar, meaning the median income for a female Maryland worker ($50,211) is that percentage below the median for a man ($58,746). Medians for Hispanic ($37,466) and African-American ($47,081) women are lower. The national median – the point where half earn more and half earn less – for women is 79 cents per man's dollar.
"If you're making minimum wage, if you're making $30,000 a year, you don't have two years and lawyers' fees to go after your employer for treating you badly," said Charly Carter, executive director of the Maryland Working Families Party.
Photo: Tony Talbot/AP