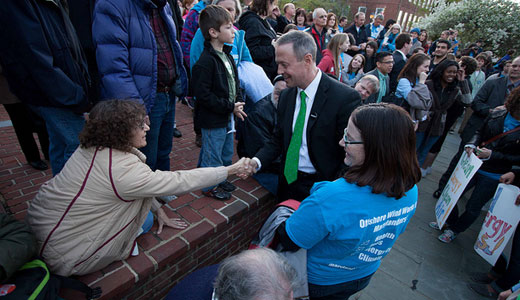 WASHINGTON – Staking out a stand that says restoring the middle class should be the first objective of government, Gov. Martin O'Malley, D-Md., laid out a comprehensive platform, building on accomplishments he touted in his state, to do so.
In a May 30 speech to the Center for American Progress, a progressive think tank, O'Malley said his platform includes increased emphasis on and aid to education, retooling job training programs to emphasize skills important to high-tech industry, a new commitment to infrastructure, and civil rights moves, including the right of gay, lesbian and transgender couples to legal and marriage equality.
His comments came as the center released its own 100-point program for state-sponsored ideas to restore the middle class – a program O'Malley endorsed and discussed. The program and his platform share many of the same recommendations.
But neither the center nor O'Malley openly advocated the right to organize and O'Malley did not mention it when asked about "bottom-up" actions government could take to empower workers for themselves.
The O'Malley speech is important because the two-term governor is considering whether to throw his hat in the ring for the 2016 Democratic presidential nomination. The former Baltimore mayor's speech made it quite clear that if he does so, he will run on his record, including gay marriage, joint labor-business economic development and the state's high standing in job creation, education and entrepreneurship.
He also said he inherited a $1.7 billion "structural deficit" from GOP Gov. Robert Ehrlich, and that it has now been almost wiped out.
Unions view O'Malley as generally pro-labor, even though he admitted in the speech that he had to cut the state workforce after Maryland, like the rest of the nation, lost revenue when the Great Recession began in 2008. Despite that loss, Maryland has plowed more money into schools and infrastructure, he said. And he signed measures allowing unionization among groups of Maryland state workers.
O'Malley's labor support was reflected in an enthusiastic introduction from Hector Figueroa, president of Service Employees 32BJ, the 125,000-member property service workers union whose locals stretch from Connecticut to Virginia.
In his speech, O'Malley hit the following points, among others:
When the recession hit, governors nationwide faced two choices. One was to cut their way out by slashing taxes on the wealthy, laying off teachers, police and fire fighters and cutting programs. "GOP governors tried that," and he said it hasn't worked.
The other was to invest in education, infrastructure and workforce development, trying to put people to work and raising incomes. He declared Maryland has done that and cited the results in terms of job creation and that Maryland leads the nation in median income.
"There is no progress without jobs, and there are no jobs without fiscal responsibility. So we targeted our limited resources to programs that actually worked" to create jobs, he declared. That in turn brought in more revenues, he said.
Maryland accepted the Affordable Care Act – the Obama administration's health care law, O'Malley noted, before other states did. O'Malley said it provides predictability for workers, businesses, and citizens. While he did not say so, many GOP governors, or in some cases GOP-run legislatures, have adamantly refused to adapt to the law.
Infrastructure development needs a private-public partnership to create jobs, O'Malley said, such as the partnership he set up in 2009 to modernize the Port of Baltimore. That construction, which created 57,000 jobs, widened and deepened the port so it can handle the super-large ocean transports expected after the Panama Canal is widened and deepened. Handling the ships also will inject more revenue into the state economy.
The governor said workplace laws must be adjusted to changes in society. In response to a question, citing the paid family leave law that Connecticut just approved, O'Malley said he would be willing to consider that and other changes to accommodate changed social conditions. The center's report issues the same call in a range of areas.
Human rights includes the rights of immigrants, the governor said. O'Malley touted both the same-sex marriage law and the statewide Dream Act, legalizing young people without papers. He pushed both through the overwhelmingly Democratic legislature. Foes petitioned both to referendums, but the referendums to overturn the two statutes lost.
The 30-year decline of the middle class "was due to trickle down politics, and my party deserves part of the blame," O'Malley said. "That's because Democrats agreed to, or were unable to defeat, the pro-corporate agenda of trickle-down economics. Their culpability is in going along with some of the falsehoods: Tax cuts create jobs, tax cuts create bridges," O'Malley said. But he laid most of the blame for the decline on Republicans, starting with the late President Ronald Reagan.
"It was followed by the disastrous presidency of George W. Bush, and President Obama's been digging out of that hole ever since," O'Malley said.
Photo: Gov. O'Malley (center) talks with workers in Maryland. Josh Lopez/Flickr (CC)