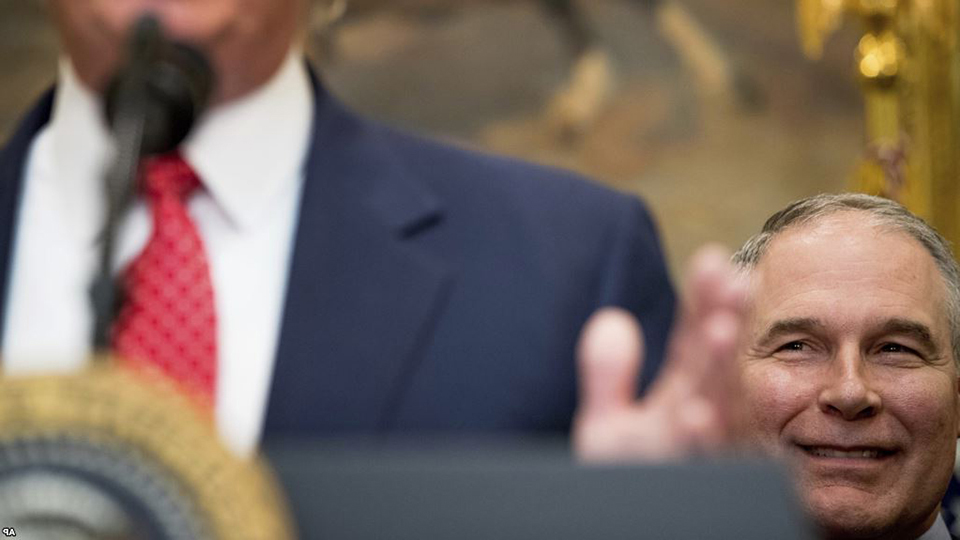 ANNAPOLIS, Md.– Scott Pruitt, the radical right-wing Trump Environmental Protection Agency chief, made his name as a GOP Oklahoma Attorney General by suing the agency he now heads over anything and everything, especially anti-pollution rules he hates. Now he's about to get the tables turned on him, by Maryland environmental chief Ben Grumbles.
That's because in late July, Grumbles, an appointee of Republican Gov. Larry Hogan, sent to Pruitt Maryland's "notice of intent to sue" the EPA for failing to enforce the Clean Air Act — and specifically its standards designed to prevent coal-fired power plants in one state from emitting gases, particularly nitrogen oxide (NOx), that foul the air in a downwind state.
Grumbles, his state's environmental secretary, says Maryland has done everything EPA required to cut nitrogen oxide emissions from its own power plants that produce ozone, the gas that degrades the atmosphere, produces smog, and leads to global warming. It's also cut NOx emissions from other sources, such as car exhaust.
But Maryland still flunks federal NOx standards because EPA failed to force 36 coal-fired power plants in Ohio, Pennsylvania, Indiana, West Virginia and Kentucky to cut their NOx emissions under what agency regulations call its "good neighbor policy."
Prevailing winds carry those plants' emissions downwind into and over Maryland, befouling its air and keeping the state from reaching its goals for reducing ozone in its atmosphere, his letter explains.
EPA is supposed to push states by writing rules to prevent that. Under Pruitt, it's stalling. So Maryland is planning to sue.
"Ground-level ozone, or smog, has been one of Maryland's most pervasive and challenging air pollution problems. About 70 percent of Maryland's ozone problem originates from emissions in upwind states. Parts of some downwind states, including Maryland, would remain in violation of federal air quality standards even if they eliminated all of the pollution generated within their borders," a state fact sheet says.
The problem of wind-aided pollution from one state — or another country — degrading the environment in another state downwind is not unique, nor is it recent.
In the 1980s, U.S. senators from northeastern states, led by the late Daniel Patrick Moynihan, D-N.Y., waged a long and ultimately successful battle to get EPA to regulate the pollutants that caused acid rain. That pollution, too, came from midwestern coal-fired power plants.
And a study by University of Washington atmospheric chemistry professor Dan Jaffe showed a 29 percent increase in ozone drifting from China and southeast Asia over Washington and Oregon, from 1984-2008. The reason: Emissions from coal-fired power plants fueling those booming economies.
Even before Pruitt took over, EPA was having problems enforcing the good neighbor policy, Maryland says. As a result, last Nov. 16, its department petitioned the EPA to enforce the policy against the upwind states and power plants.
The goal for all the states is to submit plans to EPA cut NOx emissions during summer ozone season from 75 parts per billion to 70 parts per billion — and to implement long-term plans to keep NOx emissions down.
Maryland's petition last year said those five upwind states weren't forcing their power plants to run emissions clean-up technology during the summer ozone season. Grumbles' letter to Pruitt says they still aren't acting, nor is EPA.
"Data shows these power plants have stopped running their pollution controls effectively. A requirement to run those controls throughout the summer 'ozone season' is identical to what Maryland's largest coal-fired power plants must do under regulations implemented last year by the Hogan administration," the fact sheet notes.
"Section 126 of the federal Clean Air Act gives a state the authority to ask EPA to find that specific sources of air pollution in other states are significantly contributing to non-attainment or interfering with maintenance of federal air quality standards in the petitioning state. The Clean Air Act allows 60 days for EPA to respond to these types of petitions."
EPA's response has been to stall. When the 60 days were up, on Jan. 3, EPA gave itself another six months to reply. That time expired July 15 — with no answer. Five days later, Grumbles wrote to Pruitt that unless EPA starts enforcing the law, Maryland will sue.
"To date, EPA has not taken action on Maryland's Section 126 petition, nor has EPA held or scheduled a public hearing" on the downwind emissions and Maryland's petition, "despite its legal obligation to do so," his letter says.
"Consequently, Maryland is writing to provide notice that it intends to file suit against the administrator (Pruitt) and the EPA for failing to perform a non-discretionary" — legalese for "required" — "duty under the Clean Air Act to act on Maryland's petition," it says just before the close.
EPA and Pruitt still haven't responded to Maryland's July 20 letter. If they don't, the letter concludes, in so many words, that Maryland will see EPA in federal court in Baltimore.