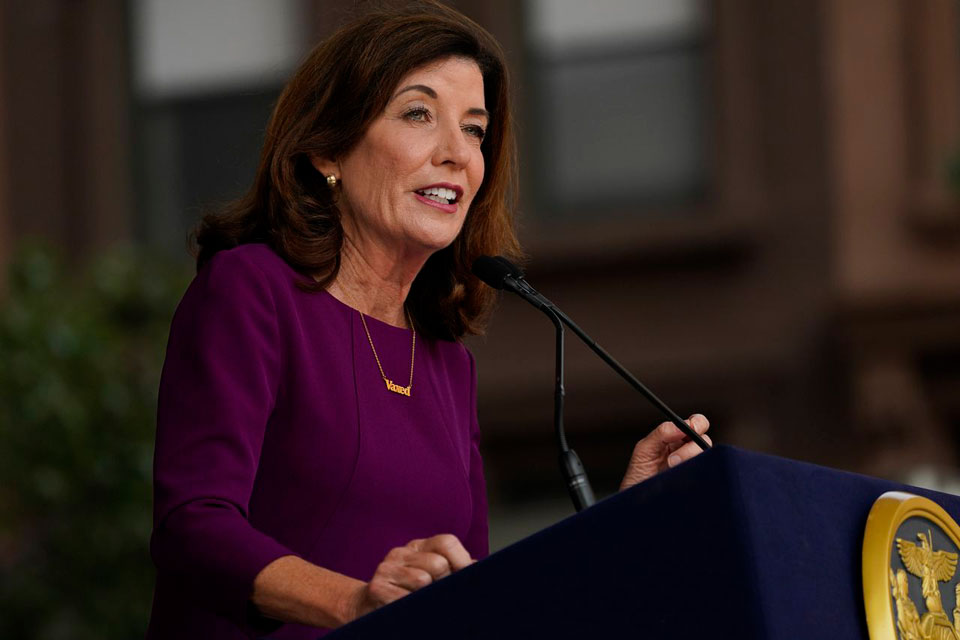 WASHINGTON—To paraphrase Hamlet: "To mask or not to mask, that is the question."
That certainly was the question airline, bus and subway workers, unions, and passengers—not to mention carriers and politicians—faced after Donald Trump-named U.S. District Judge Kathryn Mizelle in Tampa, Fla., issued a nationwide ban on the federal Center for Disease Control's extension of the federal mandate for anti-coronavirus masks.
Ruling for a self-described doctors group, the Health Freedom Defense Fund, Judge Mizelle, a former top Supreme Court aide to right-wing Justice Clarence Thomas, said the CDC illegally "exceeded its authority" to protect public health.
The Biden administration's Justice Department, on CDC's recommendation, decided to appeal Judge Mizelle's ban but didn't say if it would demand a delay in her order's implementation pending a higher court hearing.
Past precedent, the judge declared, shows the law CDC used was applied "only to quarantining infected individuals." And CDC also didn't follow federal notice-and-comment rules, either. So the judge tossed the mask mandate.
The anti-federal mask mandate case isn't the doctors group's first. It's previously sued to overturn a vaccine mandate by Gov. Kate Brown, D-Ore., mask mandates from the L.A. United School District and the Phoenix schools, and Biden's mask mandates for U.S. workers and contractors, among others. Most of those cases are still pending.
Confusion immediately reigned
National Public Radio broadcast the reaction on an Alaska Airlines plane when the pilot made the announcement in mid-flight: Massive cheers.
Mass transit system operators, given the choice, split. Gov. Kathy Hochul, D-N.Y., ordered workers and riders on New York City's Metropolitan Transportation Authority, which is, in reality, a state agency, to keep masks on. So did Boston's "T."
"Do your part to keep your neighbors safe. Get vaccinated, get tested, stay home if you feel sick, and wear a mask in settings where required, like on public transit and in health care facilities," Hochul tweeted, citing Health Department recommendations.
But Washington, D.C., Mayor Muriel Bowser, who not coincidentally seeks re-election to a third four-year term, said masks could come off at the D.C. Metro's subway and buses, despite a rise in cases due to the spread of the latest coronavirus variant, BA-2. Metro agreed.
And Gov. J.B. Pritzker, D-Ill., whose RTA board controls the Chicago area's mass transit, said to go ahead and lose the masks. He's seeking re-election, too.
Union leaders were just as split. That included Association of Flight Attendants-CWA President Sara Nelson, a flight attendant for United Airlines. Her 50,000-member union reported April 21 that 85% of 5,000 Flight Attendants surveyed reported confrontations, or worse, with unruly passengers, often over wearing masks.
"We had a mixed bag of opinions about this all through our union, so we didn't take a position on extending the mask mandate," Nelson told MSNBC. "But what I will tell you is that it's always difficult when decisions are made and policies are changed at a moment's notice.
"We only do this"—beat the pandemic's community spread—"by coming with the spirit that we're all in this together, that we should be looking out for each other and that we have clear, consistent communications so people know what to expect: What the rules are, what the recommendations are if there are no rules, and what the consequences are if you don't follow the rules.
"That is very, very important, and we are in this space right now where this is not clear, that has not been clearly communicated, and that leads to a rise in conflict that we, as front line workers, have been experiencing over the last year and a half."
In his prepared statement, speaking for his union of bus and subway drivers, mechanics, and other mass transit workers, Amalgamated Transit Union President John Costa noted the split among transit agencies, too.
"While many agencies have lifted the mask mandate, not all have done so, and the CDC still recommends wearing masks on public transit and indoor settings to stop the spread of Covid," the official name for the coronavirus. "We encourage our members and riders to check the latest updates from their transit agencies while any new policies are implemented.
"We can also not ignore the fact the mask mandate required our members to deal with unruly passengers who refused to comply with the mandate as we continue to urge transit agencies to protect our members on the job," Costa noted.
In her formal statement, separate from the TV interview, AFA-CWA's Nelson summed up reminders to passengers, in words that could apply to bus, subway, and commuter rail riders and workers, too:
"We urge everyone to practice patience, remain calm, and continue to follow crewmember instructions. And we remind passengers it is legally required" to do so "and that disruptive behavior has serious consequences as it puts everyone at risk. Our workspace is your travel space. So let's get where we're going, together."