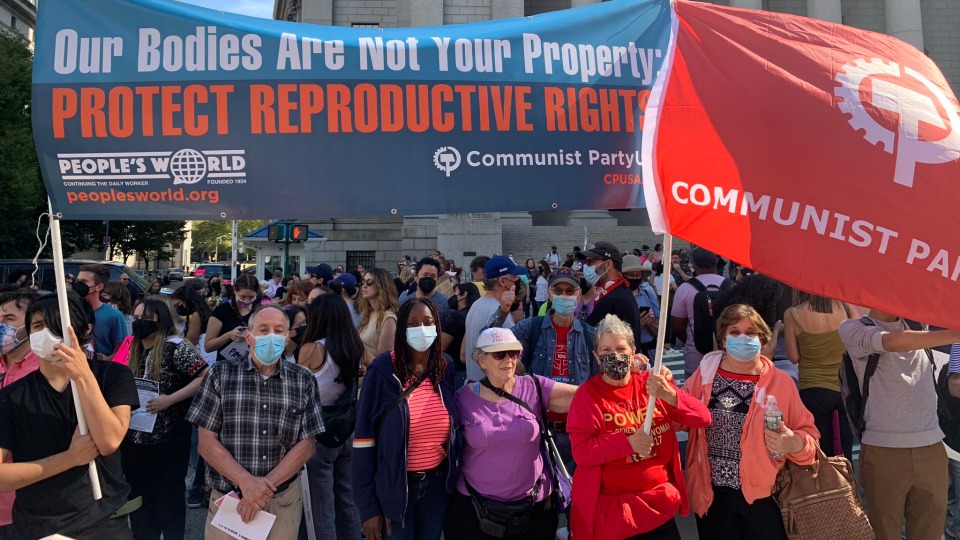 WASHINGTON—Katherine Conklin of suburban Virginia marched in Washington on Oct. 2, to support reproductive choice, along with tens of thousands of other women and men there, and hundreds of thousands in more than 600 marches nationwide. But she had a special reason.
"Ask me about my daughter who lives in effin' Texas," her sign read.
Conklin and the other crusaders were all there united by one cause: United for the right to choose an abortion, and to push back, powerfully against right-wingers—Texans in particular, Republicans in general, plus the U.S. Supreme Court's GOP-named majority—who would take it away.
More than 90 groups sponsored the marches, which stretched across the U.S. from Honolulu to Miami to Fairbanks, Alaska, to Portland, Maine. An enormous parade of pro-choice advocates, including members of the Communist Party carrying a banner, descended on D.C. Another huge crowd marched through the Loop to Daley Plaza, across from Chicago's City Hall. A third crowd ringed the city courthouse in San Antonio. "I love someone who has had an abortion," many signs read.
Besides the sponsoring groups, thousands of marchers were like Conklin. "Always pro-choice. Always pro-science. Always a voter. Forever a Mom," the front of her sign read. The other side asked readers to ask about her daughter.
Conklin explained to People's World that her daughter, Elise, 5-1/2 months pregnant in 2020, was carrying a fetus "with no chance of survival" because its bladder outlet to the placenta was obstructed. The fetus was literally being poisoned by urine buildup. Had Texas forced Elise to carry it to term, it would have died and her life could have been in danger, too.
Under the Supreme Court's Roe v Wade pro-choice ruling of 1973, Elise could seek and get an abortion. With a long drive to a clinic in San Antonio, she made it, with 24 hours to spare before she hit the sixth month of pregnancy, when abortions could be banned even under that decision. Under Texas's new abortion ban, SB8, Elise would have been forced to go through the whole dangerous pregnancy.
The right-wing GOP-gerrymandered Texas legislature passed SB8, right-wing GOP Gov. Greg Abbott signed it, and the right-wing U.S. Supreme Court majority upheld it.
SB8 bans abortion after six weeks of pregnancy, a time when most women don't even realize they're pregnant. Texas gives $10,000 bounties to private "enforcers" who sue women, their doctors, their nurses, their spouses, or others who drive them to clinics, their lawyers, or anyone else who helps them.  And 25 more Republican-ruled states have similar abortion bans on the books or pending.
To top the danger, the justices will hear a case from Mississippi, which bans all abortions after 15 weeks of pregnancy, on Dec. 1. That state's sole abortion clinic, the Jackson Women's Health Center, is challenging the law, and the case is widely viewed as the court's chance to overturn Roe.
"Abortion is health care. Basic health care. Essential health care. Health care that cannot wait," Planned Parenthood President Alexis McGill Johnson, the keynote speaker in D.C., declared. She also reminded the crowd, and the country, that 80% of the U.S. supports reproductive rights.
"But across the country, that care is under attack," Johnson said, with Texas leading the charge. Texan women have had to drive hundreds of miles out of state to gain access to visit clinics.
"1,028 miles. One way. From Houston, Texas to Aurora, Colo.," Johnson said of one case. "Three state lines. Crossing from Texas to Arkansas. Arkansas to Missouri. Missouri to Illinois. Six hours. One way. That patient drove alone—because she was afraid that if she asked someone for help, they might get sued," Johnson said of another case since SB8 took effect.
"And those are the people who can travel. What about the rest?" Johnson continued, meaning abortion bans primarily hit women who are poor, women of color, or both. "We've seen nearly 600 restrictions introduced in Forty. Seven. States," she said, drawing out the numbers for emphasis. "No matter where you live, this fight is at your doorstep."
"For too many people, abortion is already out of reach. As our Reproductive Justice partners"—one of the sponsoring groups—"remind us: A right without access is meaningless." It also should be up to the woman and her doctor, alone, marchers, signs and speakers repeated.
"Abortion is always a personal decision," Unitarian Universalist Rev. Debra Haffner told People's World during the D.C. march. "The woman must be afforded the moral agency to make the decision about her future."
"We want people to know we're capable of deciding what is best for us," Doris Dixon, the Planned Parenthood director for Texas's Gulf Coast, told the D.C. crowd.
That's not the case in Texas. Hand-lettered signs, in Houston, D.C., and elsewhere denounced its lawmakers as "The Texas Taliban," citing the new Afghan government's repression of women. Others read: "Texas: Where a virus has reproductive rights and women don't"—a reference to Abbott's ban on anti-coronavirus measures such as wearing masks and keeping physical distances from others.
It is no coincidence, marchers pointed out, that the same GOP-dominated states that have either passed or are considering abortion bans are those states whose politicians also refuse to implement measures to control the virus, which has now killed at least 701,192 people since the pandemic began. That's equivalent to killing the whole city of Boston and 9,000 people in its suburbs.
"GOP: If you were so concerned about life, you would be vaccinated," one D.C. sign read.
Many of the marchers, signs, and speeches also warned Republican politicians, and the justices, that they'll remember the repression next November—when it comes time to vote. Johnson's political reminder was implicit. The others were blunter.
"As Dr. King said, 'The arc of the moral universe is long, but it bends toward justice.' And sometimes we need to jump up and hang on the arc. We need to bend it ourselves. That's exactly what we're going to do. And we won't let go until we're all free," she said.
"Our humanity and dignity are not up for debate. And every time they overreach—we fight back.
"Look y'all––I know this moment is dark. But that's why we're here," she said. "Movements exist because of darkness. It's our job to imagine the light even when we can't see it. It's our job to turn pain into purpose, pain into promise, pain into power. The power to determine what happens to our bodies, our lives, our futures."
"Republican candidates all over the country in closely contested districts are cursing Greg Abbott today," former federal prosecutor Ron Filipowski tweeted from San Antonio, accompanying his video overhead shot of the march there.
"Already had to fight like crazy in the '60s and '70s. I can't believe we are here again," Paula Hendry tweeted from the Chicago march.
"I'm a first-generation Texan," declared Cristela Alonzo, who emceed the D.C. program from a giant stage downtown before marchers there headed down Pennsylvania Avenue for the Supreme Court, a mile and a half away.
"I stand here confused, because lawmakers are working on doing the exact opposite" of her migrant mother's teaching to her that the U.S. lets women think for themselves. "They're crafting legislation that not only takes away our choices, but takes away our lives."
RELATED STORIES:

> Coalition fights Texas voter repression law the moment it's signed

> Supreme Court lets Texas kill Roe v. Wade and abortion rights