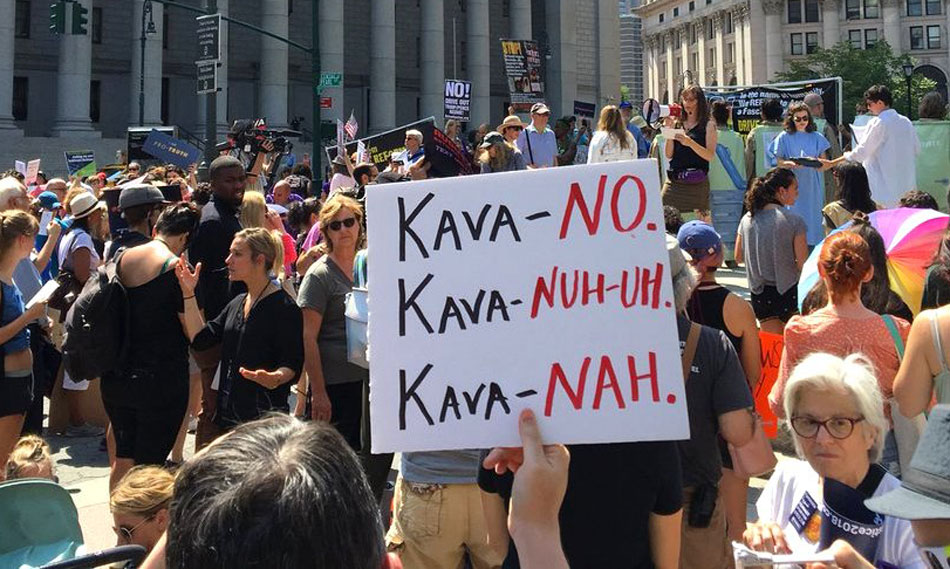 ALEXANDRIA, Va.—"Kava-NO!" "Kava-NO!"
That chant rang out over the streets of downtown Alexandria, Va., in one of the hundreds of rallies nationwide on August 26 against putting right-wing federal appellate judge Brett Kavanaugh on the U.S. Supreme Court.
Other rallies – including in Chicago, Cleveland, the Twin Cities, Kansas City, New York City and Los Angeles — ranged from Honolulu (two) to Fairbanks, Alaska, to Lewiston, Maine, to Miami.
All had the same theme: Reject Kavanaugh. Many voiced the same reasons: His stands against reproductive rights, for excessive presidential power – with lack of accountability – and against worker rights, immigrants, civil rights, women's rights and LGBTQ rights.
"We have to get out here and save our democracy!" Tilly Blanding, a retired Service Employees member and former social worker in nearby Fairfax County, told the Alexandria crowd of more than 200 people. Singing – briefly – that "We're taking it to the streets," she added: "We're letting our collective voices be heard against the unjust voices" emanating from the White House, Congress and the court if Kavanaugh is confirmed.
"Kavanaugh has a proven record of siding with the corporate community against working people, against women, against people of color, against immigrants and against LGBTQ people," Blanding added. "So go into your communities. Start talking to those people who normally don't vote to make them understand what's going on.
"Talk to your neighbors. Talk to your friends. Each one must reach one."
The demonstrators, organized by Planned Parenthood, the National Abortion Rights Action League and other groups – including several big unions – in the Unite for Justice coalition, all want senators to defeat anti-worker GOP President Donald Trump's High Court nominee, who would solidify the court's right-wing majority. The Senate's ruling Republicans hold a 50-49 majority, with one vacant GOP seat in Arizona.
Kavanaugh's record and statements justify senatorial rejection of his elevation to the nation's top judicial tribunal, speakers and rally participants said. So does his expansive view of presidential power – and of the president's ability to stay above the law – participants told People's World.
The rallies were part of continuous planned protests against the judge, with speakers broadcasting a phone number – (202) 684-2473 – participants can use to call their senators from now through Labor Day and beyond. Confirmation hearings for Kavanaugh are scheduled to start September 4.
If he makes it to the High Court, Kavanaugh "is an existential threat to every woman and every worker in the nation," another speaker in Alexandria said.
While Kavanaugh's positions against reproductive choice drove much of the crowd, choice wasn't the only concern about the controversial judge.
"It should be clear that we expect and demand protections from those who pollute our democracy, and from other branches of government run amok – state legislatures against racial minorities and or a chief executive who does not respect the law," said another speaker, Virginia State Sen. Adam Ebbin, D-Alexandria, who is gay.
"Kavanaugh is a threat to your privacy, to my privacy," Ebbin added. Other state lawmakers, including African-Americans and Latinas, chimed in.
"I think his (Kavanaugh's) position that the decision to release Nixon's tapes" – which proved that president's approval of the Watergate cover-up – might have been 'incorrectly decided,' is a dangerous expansion of presidential power," said attendee Scott Storms of San Diego.
"I object to Kavanaugh because I don't think Trump should be allowed to appoint a justice to the Supreme Court who could rule on his (Trump's) own case – and it seems like an inevitability his case will reach there," said retired attorney Robin Goree of Falls Church, Va. Her umbrella against the noonday sun had another linkage to Trump. "Where are Trump's taxes?" it asked.
"Our government is so illegitimate they (senators) shouldn't have even been allowed to confirm Gorsuch," said another long-distance traveler to the Virginia rally, Mack Johnson of Seattle. Trump nominated, and the Senate confirmed, federal appellate judge Neil Gorsuch, also a right-winger, to the High Court last year.
"Because he (Kavanaugh) doesn't feel it is constitutional to indict a sitting president, that makes it feel like a cabal," the retired Washington Education Association member and North Mason High School social studies and history teacher added.
Unions backing the national demonstrations included the Teachers (AFT), AFSCME, the Service Employees (SEIU), Jobs With Justice, the National Education Association, the National Domestic Workers Alliance and the Working Families Party.
Other backers included the Progressive Change Campaign Committee, People for the American Way, the Color of Change, Friends of the Earth, the Leadership Conference for Civil and Human Rights, Our Revolution and the Feminist Majority.
Notably absent from the list of supporters: The Democratic Party and its campaign committees.  Also notably absent from the list of Democratic senators who have already announced their opposition to Kavanaugh: Virginia Democrats Tim Kaine – Hillary Clinton's 2016 running mate – and Mark Warner.
Congressional vote counters assume all but four Democrats, plus both independents, will definitely oppose Kavanaugh. Still, speakers urged the crowd to call anti-Kavanaugh senators, too, "to let them know we've got their backs." The radical right is mounting a multi-million-dollar ad campaign for Kavanaugh, with ads running even in states with known anti-Kavanaugh Democrats, such as Illinois.
The four Democrats facing pressure from both sides are Joe Donnelly (Ind.), Joe Manchin (W. Va.), Claire McCaskill (Mo.) and Heidi Heitkamp (N.D.). All seek re-election in states Trump handily won in 2016. So do pro-choice Republicans Susan Collins (Maine) and Lisa Murkowski (Alaska).
Public opinion is split on Kavanaugh. One speaker stated, incorrectly, that 72 percent of U.S. women oppose putting Kavanaugh on the court, according to a recent poll, he did not name.
The poll, Aug. 9-12 for CNN, showed 28 percent of women favor Kavanaugh, while 46 percent oppose him and the rest are undecided. Men favored Kavanaugh 47-35 percent. Overall, 37 percent of those questioned back Kavanaugh and 40 percent don't, a difference within the poll's margin of error.
Registered voters were 40 percent for and 41 percent against Kavanaugh, again within the margin of error. Democrats were 12 percent for and 67 percent against, independents were tied at 38 percent and Republicans favored him 74-7 percent.