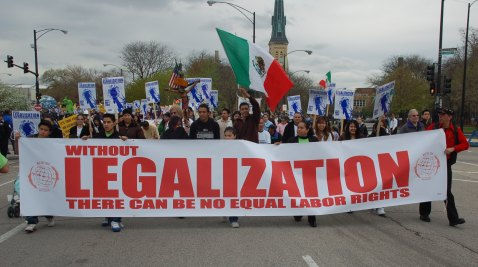 Although the Democratic Party lost the Massachusetts Senate seat in the state's special election Tuesday, immigrant rights leaders say the outcome should not dampen the prospects for passing immigration reform this year.
National Latino civil rights advocates, labor leaders and immigrant rights supporters held a phone press conference the day after the election, emphasizing that passing comprehensive immigration reform remains a bipartisan effort despite the results on Tuesday.
Speakers on the call said that what happened in Massachusetts clearly reflects that voters want real solutions on the country's economy and an agenda that represents change. Outreach to the Latino community and its electorate was especially weak in Massachusetts and Coakley's campaign lacked energy, they added.
"Voters sent a clear signal to Washington Tuesday," said Ali Noorani, chair of Reform Immigration for America, a national coalition of more than 600 faith-based, labor, business, progressive and immigrant rights groups. "What voters want are results on the economy, on health care and on immigration."
Tuesday's race did not involve the immigration issue and this is clearly something people want addressed, said Noorani. In 2006 and 2008 voters sided with candidates that supported change, he noted.
Janet Murguia, president and CEO of the National Council of La Raza, agreed, "We did not see a highly energized campaign and Coakley's outreach to the Latino electorate was very low."
Coakley did very little to engage the Latino community, said Murguia.
Murguia, Noorani and others pointed out that immigration reform remains a critical component in helping to fix the struggling economy.
"Health care is very important right now," said Murguia. "But as attention moves to the economy and jobs, I don't see how you can successfully revive the current economy without addressing immigration reform."
Noorani said the issue remains and always has been a bipartisan one.
Murguia continued, "It is in both political parties' interests to pass legislation on immigration reform especially if they seek Latino votes, because in our community this is a top priority."
Eliseo Medina, international executive vice president of the Service Employees International Union, said the labor movement is fully committed to helping pass immigration reform this year.
"We lost one vote in the Senate on Tuesday but we will not stop," Medina said. He said unions across the country are prepared to help lobby and secure the votes needed in Congress to pass immigration legislation.
"Immigration reform makes sense for all of America and all workers," said Medina. Passing comprehensive immigration reform is not a matter of "if," he said. "It's a matter of 'when.'"
The current system is broken, he said. It doesn't work for businesses or for employees. People want it fixed because it's a win-win for everyone, he said.
Craig Regelbrugge, co-chair of the Agriculture Coalition for Immigration Reform, said employers and the business community seek reform.
Our shrinking economy and job base could be fixed if immigration reform was addressed in a timely fashion, he said. "Immigration reform will substantially grow the economy and from an employer's perspective, we're in it to win it."
Frank Sharry, executive director of America's Voice, said one reason why immigration reform is so viable is that national polls indicate strong bipartisan support for it including from independent voters.
"People are tired of the government talking about the problems without presenting concrete solutions to them," said Sharry. "Nationwide support for immigration reform is strong and broad."
Running away from this issue is the problem, said Sharry. "What we need is congressional lawmakers to create the momentum to get it done."
Those on the call reiterated that immigration, unlike other issues on the congressional agenda, is unique because it has a history of being a bipartisan one. Passing legislation in favor of immigration reform never hinged on securing 60 Democratic votes in the Senate, they said.
Republicans, they said, need to alter their downward trajectory among Latino voters for the 2010 and 2012 elections, and the subject of immigration reform presents a golden opportunity for them to do so.
Comprehensive immigration reform will add $1.5 trillion to the U.S. economy, they said, which would drive up wages for all workers and support nearly a million jobs.
Photo: PW/Pepe Lozano