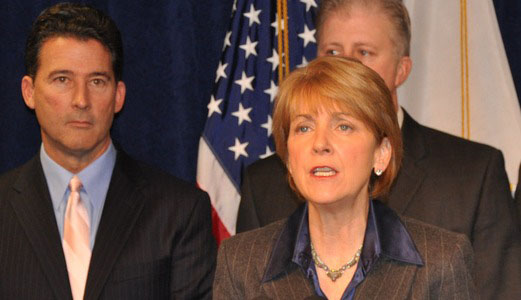 Massachusetts is one of only five states without a law aimed at ending human trafficking, but a bill introduced Jan. 20 into both the Massachusetts Senate and House of Representatives aims to change that. The proposed law sponsored by Attorney General Martha Coakley, and supported a coalition of legislators, police chiefs and personnel, labor unions and advocacy groups.
While most Americans consider actual slavery to be a thing of the past, both sexual slavery and forced labor are multi-million dollar industries, made possible by the trafficking of persons. Human trafficking is, according to Coakley, the second largest – and fastest growing – illegal industry in the world. An estimated 27 million people are trafficked annually, bringing pimps and other exploiters about $32 billion per year.
The bill, said Robert J. Haynes, president of the Massachusetts AFL-CIO, "emphatically reinforces that mistreatment, abuse and exploitation of any worker in any field is among the worst kinds of crime."
The conditions of people controlled by traffickers are horrific. "They are being tortured," said Audrey Porter of My Life My Choice. "They are being held in basements, forced to take pictures with the promise of a better life. In this area, it's usually the kids that are in the system, a lot of inner-city children, the poor kids, with the promise of 'I'll make you a star.'"
Porter was herself a victim of trafficking. She told a press conference the day the bill was filed, "I was introduced to the Combat Zone [formerly a Boston "red light district"] by a guy that I thought was my boyfriend at a very early age. Ended up not getting out until age 30. Some of the experiences I had were rapes, beatings."
Suffolk County District Attorney Daniel Conley detailed the case of Ryan Dunton, a pimp from Avon, Mass. Conley described how Dunton lured young girls, took their money and cellphones and forced them into prostitution. Because there is no anti-trafficking law on the books, Dunton was able to get off with a slap on the wrist.
Now, Porter said, instead of women and girls picking up johns on the streets, they are advertised only. District Attorney Donley noted that Dunton used Craig's List, as well as the weekly Boston Phoenix, to advertise his sex slaves.
Weekly "alternative" newspapers like The Village Voice and The Boston Phoenix have been received international condemnation for allowing sex traffickers to advertise in their "adult section," and Coakley's office held a hearing in Oct. 2010, to learn more about how Craig's List and other websites helped modern-day slave traders.
Still, said Conley, Suffolk County, does the best it can for the victims in the absence of trafficking laws. "Our policy," he said, "is to terminate criminal charges against juveniles who are arrested and charged with sex for a fee. We refer these young girls, and to a lesser but very real extent, young boys, to social service agencies. … We focus our enforcement efforts on the pimps who exploit these children."
While Congress passed strong anti-trafficking measures, said Commonwealth Sen. Mark Montigny, D-New Bedford, the lack of a local law makes prosecution of "johns," those who pick up trafficked women, and suppliers extremely difficult. The result, he added, is that victims are often prosecuted while the pimps go free.
Trafficking is extremely profitable. The bill's backers pointed out that when someone sells a gun or drugs, the profit is made and the product is used up. When someone sends out a sex slave, a profit is obtained, but they also still have illegal custody of the victim. Consequently, noted a supporter of the bill, gangs are becoming more and more involved in trafficking.
The bill would list trafficking as a specific crime, and would create penalties of up to 20 years in prison for those who traffic persons for sexual exploitation and 15 years for trafficking for forced labor. A second offense would bring a mandatory 10-year sentence. Those who exploit persons under 18 would receive harsher penalties.
Also, the proposed law would allow Massachusetts to seize the funds of convicted traffickers in order to pay victims restitution.
Montigny stressed that, to really end the problem of trafficking, attitude changes were necessary so that victims could be seen not as prostitutes but as "whole persons," and added, "If you look at every runaway on the streets as simply some delinquent child that made bad choices, then they continue to be exploited and, ultimately, in many cases, they die."
The senator added that this means that those arrested should be treated the same way as they are in Suffolk County. Instead of being fined or thrown in jail, they should be referred to social service agencies, they should be ensured adequate housing – and they should not be deported.
"Many of these people, if they cooperate and help put these people in jail, will be executed if they are shipped back home," he said, adding that, on a recent trip to Asia, Cambodian acquaintances argued that lax laws in the U.S. and the rest of the western world actually contributed to much of the crime in Cambodia. Belarus, the former Soviet republic, which plays a role in leading the global fight against trafficking, has argued that there needs to be more coordinated policing done between "countries of origin" of trafficked persons and "countries of destination."
The U.S., said Porter, falls into both categories. While people are brought here in servitude from around the world, the misery is no different for someone brought from the "backwoods of Maine to New York City, where they know no one."
Coakley and others argued that it was equally important to crack down on the johns who have sex with the trafficked women, supplying the pimps with their profit. She announced that she would help to form an inter-agency task force specifically aimed at ending trafficking, and that her office would form an Attorney General Strike Force.
Photo: Massachusetts Attorney General's office.