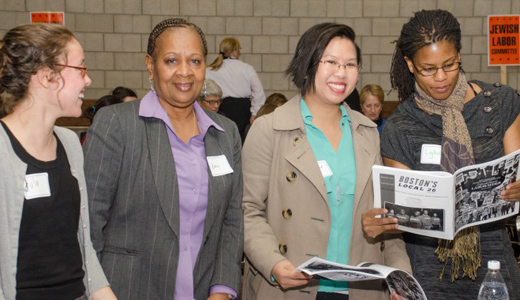 With bipartisan support, the Massachusetts legislature passed and GOP Gov. Charlie Baker signed the most comprehensive state equal pay for equal work law in the U.S., on August 1.
The state AFL-CIO, the New England Jewish Labor Committee, 9to5 and Jobs With Justice were among the large coalition that pushed the law. It would, for the first time, bar employers from demanding past salary figures from job applicants and screening applicants based on past pay. Both demands and screening hurt female job applicants.
Instead, the employer must present salary figures, which the job-seeker could accept or reject. The new law takes effect at the start of 2018.
That's not all. The new law also "seeks to help eliminate the gender wage gap in Massachusetts by providing a more comprehensive definition of comparable work" than just exactly equal jobs, its sponsoring coalition says.
And it orders firms to let workers "discuss salaries without the threat of retaliation and eliminates the practice of requiring salary history on job applications," said its leading backers, the Equal Pay Coalition and the Massachusetts Commission on the Status of Women.
Massachusetts becomes the latest state to enact a pay equity law, since the GOP-run U.S. Congress has pigeonholed similar equal pay legislation for at least a decade. A 1962 federal pay equity law has been weakened by court restrictions in the ensuing years.
The median pay for a working woman in Massachusetts is 81 cents for every dollar in median pay for a working man, slightly above the national ratio of 79 cents per dollar. The median is the point where half the workforce is above and half below.
The national ratios for union workers are 92 cents in median pay for every unionized working woman for every dollar for an unionized working man – and each of them earn more than $200 a week more than their non-union colleagues.
The new Massachusetts law defines "comparable work" – the standard for equal pay – "as solely meaning work that is substantially similar in content and requiring substantially similar skill, effort and responsibility and performed under similar working conditions."
It also bans "discrimination on the basis of gender in the payment of wages for comparable work unless the variation is based upon seniority, a bona fide merit system, a bona fide system which measures earnings by quantity or quality of production or sales, geographic location, or education, training, or experience to the extent such factors are reasonably related to the particular job in question and consistent with business necessity."
Employers guilty of breaking the new law will have to fork over unpaid wages, an equal amount in damages and pay the harmed worker's attorney's fees. And "each discriminatory paycheck shall be deemed a violation of the law."
Photo: New England Jewish Labor Committee.