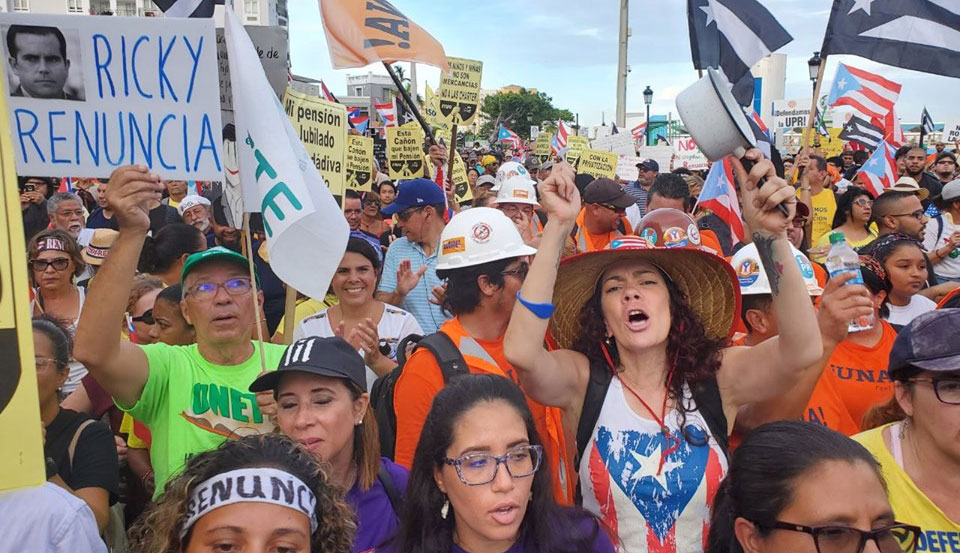 SAN JUAN, Puerto Rico—In the most massive protest ever held in Puerto Rico, starting early Monday morning caravans of thousands of trucks, cranes, freighters, and other transportation workers jam-packed the major highways as they made their way to join what is expected to reach as high as a million protesters in a march and general strike across the island. The country's major highway, Las Américas, and others are paralyzed as the caravan approaches San Juan. Contingents representing all major organizations, unions, and political and civil action groups swelled the streets of San Juan in a moving show of unity to demand the resignation of Gov. Ricardo Rosselló.
Hundreds of thousands of protestors marched through the streets of San Juan, waving flags, chanting and carrying signs and banners calling for an end to the corruption, sexism, misogyny, and crushing austerity that have symbolized the Rosselló administration and intensified especially since Hurricane Maria decimated the island nearly two years ago. Demonstrations have taken place day and night for the past two weeks, triggered when the Puerto Rican Center for Investigative Journalism published contents of messages between the governor and inner circle staffers with misogynist and homophobic language. In the messages, the governor also joked about the deaths that occurred in the wake of the hurricane, for which his later apologies and announcement that he would not seek re-election did not placate the popular outrage and demands that he resign.
The Federation of Puerto Rican Teachers marched behind a banner that read "Ricky Renuncia y Llévate La Junta"—Ricky Resign and Take the Junta with You—referring to the demand to remove the U.S.-imposed Fiscal Control Board. That entity was installed in 2016 to manage the island's crushing debt and to impose severe austerity measures that cut salaries, pensions, public services, and close schools and hospitals.
Sister rallies and marches have taken place in cities throughout the United States. "Struggle Yes, Defeat No," chanted protesters in New York City's Foley Square and Columbus Circle, echoing the calls for the governor's resignation and an end to the Fiscal Control Board. They shouted "Where is Ricky?—He's Selling Off the Island" in protest to the privatization schemes that have characterized the colonialist U.S. corporate policies.
Tens of thousands of protesters have marched through San Juan on a daily basis for nearly two weeks in the groundswell of opposition to the current administration, the widespread corruption, lack of respect, and affronts to democracy.
Crowds increased up to 50,000 last Wednesday and topped 500,000 this week, according to estimates reported by the Puerto Rican Center for Investigative Journalism. At the same time, mounting evidence of rampant corruption continues to surface, including millions of dollars spent on no-bid government contracts, like the widely publicized contracts linked to hurricane recovery extending back to last year. Puerto Rico's Education Secretary, recently placed under indictment for mishandling of millions of dollars in education funds, had closed hundreds of schools while handing out lucrative deals to U.S. companies. Daily protests by parents and the teachers' union which had been maintained at the Capitol for weeks led to her resignation several weeks ago.
Mayor of San Juan Carmen Yulín Cruz condemned the use of teargas by police last week and offered municipal offices to demonstrators for protection from further attacks. "This will continue until he resigns and the legislature names a substitute governor who does not even represent their own party," she said.
The Workers Central Union declared, "Today we show the indignation of a people. We the honest people are in greater numbers and we are not afraid. With a unified voice, we demand that Rosselló resign."