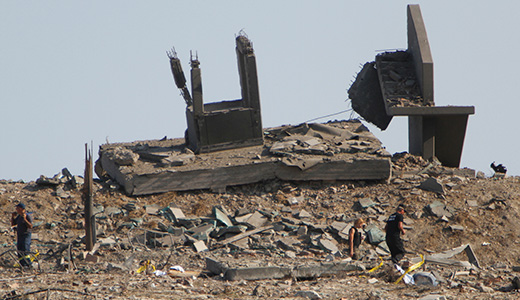 A massive explosion took place at the Evangelos Florakis naval base on the island of Cyprus, July 11. The base is located on the southern coast of Cyprus, on the Mediterranean Sea. At last count the blast left at least 12 dead and one seriously injured.
It is said to have been one of the largest non-nuclear explosions in history. The effects of the blast were felt up to 10 kilometers away and caused extensive damage to the adjacent Vasillikos power generating facility. The Vasillikos facility is the most important power installation on the island.
Contributing to the devastating power of the blast was a large cache of munitions which were stored at the base. These munitions were seized, at the behest of the U.S., from a ship that was en route from Iran to Syria in 2009.
Quickly following the explosion the government took emergency measures to address the nation's power demands, including the purchase of electrical power from the Turkish occupied area in the north and the installation of auxiliary generators supplied by other European Union nations. However, despite these interim measures, it is feared that the incident will result in long-term damage to the Cypriot economy.
Cypriot President Dimitris Christofias has ordered an investigation into the causes of the incident and has appointed an independent investigator to head up this effort.
Photo: Police and investigators search near a guard post destroyed as a result of the explosion near the Evangelos Florakis naval base in Cyprus, July 11. (AP/Petros Karadjias)