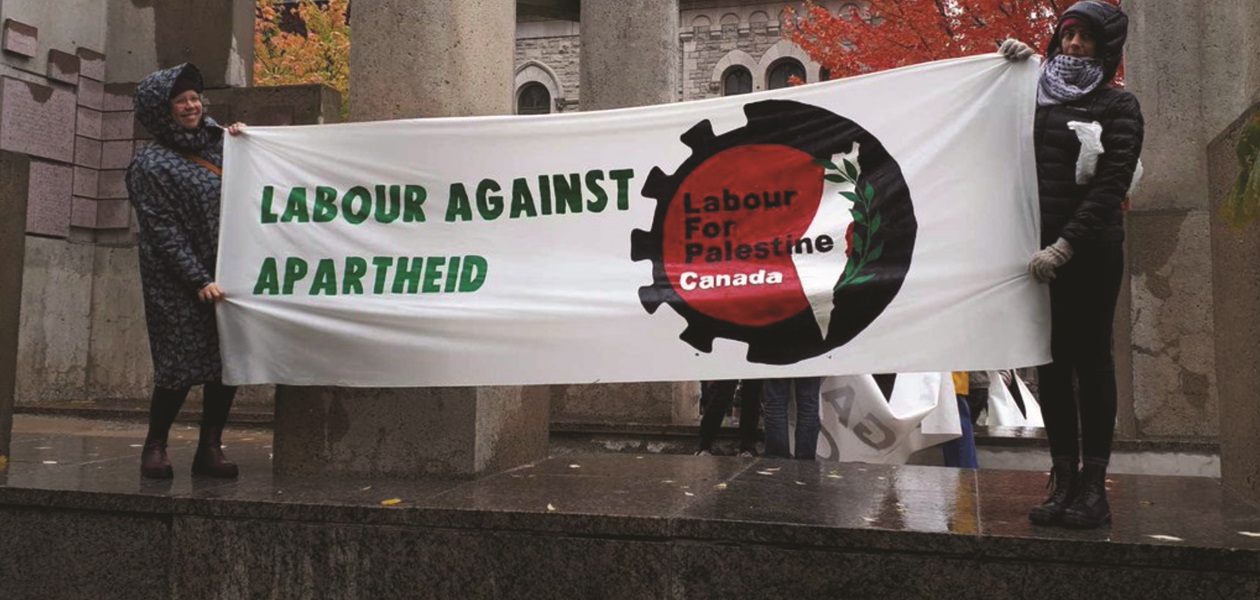 TORONTO—A giant coalition of over 50 pan-Canadian labor, civil society, peace, and justice organizations have signed a joint statement demanding that the federal government led by Prime Minister Justin Trudeau call for an immediate ceasefire of all hostilities in Gaza.
Going even further, the country's largest trade union—the Canadian Union of Public Employees (CUPE)—is demanding that the government immediately halt all arms sales to Israel.
"The people of Quebec and Canada watch in horror as the violence between Israel and Palestine escalates to what now appears to be becoming an all-out war," opens the joint "Ceasfire Now/ Cessez Le Feu" statement issued on Oct. 21.
It says the Trudeau government must push its ally, Israeli Prime Minister Benjamin Netanyahu, to end the inhuman blockade of Gaza, restore water and electricity to the besieged territory, and allow life-saving humanitarian aid to flow.
The list of signatories to the statement, growing by the day since it was first issued, includes Arab, Jewish, Christian, and secular organizations. Trade union federations and labor groups make up a significant chunk of backers, as well.
"Our members are proud to join with this powerhouse coalition of civil society groups to demand an end to the bloodshed now," Corey Balsam, national coordinator of Independent Jewish Voices told the media Monday. "Canada cannot remain silent, nor support the indiscriminate bombing in Gaza. We must prioritize the sanctity of human life and call for a ceasefire immediately."
"There is no justification for war crimes," said Dania Majid, a Palestinian member of the Arab Canadian Lawyers Association. Referring to Netanyahu's aerial bombardment of Gaza and the pending ground assault, Majid said, "The Canadian government's failure to call for an immediate ceasefire is giving Israel cover for a genocide in Gaza."
The statement unequivocally condemns "the targeting of innocent Palestinian and Israeli civilians," and says all hostages must be safely returned and that the "root cause" of the violence must be addressed: "Israel's decades-long occupation of Palestinian territory."
The Ontario branch of CUPE is a signatory to the statement, along with the Canadian Union of Postal Workers (CUPW), Unifor, the Public Service Alliance of Canada, the Asian Canadian Labor Alliance-Ontario, the Canadian Freelance Union, the National Union of Public and General Employees, and other labor groups.
CUPE National, in a separate emergency resolution passed at its convention in Quebec City on Oct. 24, declared that it "stands with Palestine." The far-reaching position statement demands that the Canadian government not only call for a ceasefire, but also immediately terminate all arms sales to Israel, end diplomatic immunity for its officials, and fully condemn the blockade of Gaza.
Furthermore, the union pledged to launch a campaign to educate its members about the "history of Israel's occupation and colonization of Palestine" as well as "Canada's complicity" in it. The membership will be encouraged to take action to "support a just peace."
The resolution followed a CUPE statement issued earlier in the current war, on Oct. 10, that urged a ceasefire, "the enforcement of international law," and encouraged Trudeau to work toward a "peaceful resolution that upholds the rights to life and freedom of Palestinians and Israelis." It also reiterated its longstanding recognition that lasting peace can only come with the withdrawal of the Israeli state from the occupied Palestinian territories.
The Canadian Labour Congress (CLC), equivalent to the AFL-CIO in the U.S., has not signed onto the Ceasefire Now coalition statement as of press time and has generally remained quiet throughout Israel's latest war on Gaza, which exploded following the Hamas attacks of Oct. 7
So far, the CLC has only posted a link on its website to a declaration issued by the International Trade Union Confederation calling for an immediate ceasefire and pushing governments to work for the realization of a "two-state solution." Its officers have so far issued no public statements of their own.
The Ontario Federation of Labour, provincial section of the CLC, is calling for a ceasefire, an end to Israel's blockade, and warns of a "sharp spike in anti-Arab and anti-Palestinian racism, Islamophobia, and anti-Semitism."
The OFL recalled the labor movement's "long tradition of speaking out against war" and pledged its "solidarity to all peace-loving people who are building the movement we need to end the violence."
We hope you appreciated this article. At 

People's World

, we believe news and information should be free and accessible to all, but we need your help. Our journalism is free of corporate influence and paywalls because we are totally reader-supported. Only you, our readers and supporters, make this possible. If you enjoy reading 

People's World

 and the stories we bring you, please 

support our work by donating or becoming a monthly sustainer today

. Thank you!