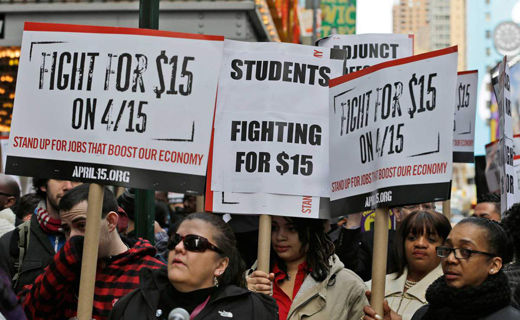 LOS ANGELES, Calif. – Fight for 15 and low wage workers throughout the county are gearing up for the April 15 national demonstration demanding a raise in the minimum wage. In Los Angeles, the LA Raise the Wage coalition continues to put pressure on city officials to raise the minimum wage so that workers and family members can have some aspect of dignity and productive livelihood in Los Angeles.
LA Raise the Wage has demonstrated at city council hearings in the community (Watts/South LA) and at the Los Angeles City Hall hearings on the minimum wage. These city council hearings are taking place over the next two weeks throughout the city. LA Raise the Wage is demanding an increase to $15.25.
Last week over 500 workers attend the hearing in the Los Angeles City Hall chambers. LA Raise the Wage is planning to keep up the pressure and will be attending all the hearings, along with hundreds of fast food and restaurant workers, car wash workers, homecare workers, and other low-wage workers. LA Raise the Wage is a broad coalition of labor, community, business, clergy and academics. It has requested that supporters sign a pledge and petition to further the Fight for $15, including attending and participating in the Apr.15 national demonstration.
Jacqueline Potter works for Walmart in Los Angeles. She makes a minimum wage while working full time. She has a six year-old son. After paying her bills – rent, utilities, and car payment – she has little to spend on food and other necessary items for her son. Walmart has moved closer to providing a livable wage, but it was not based on corporate responsibility of doing the right thing. Community pressure created the change in how Walmart views wages, pressure that will continue up to and on the day of action, which itself will be just one of many actions to come.
Jessie Herrera works for McDonald's. He works full time, however he would like to someday go to college. With his current pay he will have to work another job just to get by. His college dream has taken a backseat to his need to survive day to day while making a minimum wage.
What has been the corporate response? McDonald's, Taco Bell, and Dunkin' Donuts are talking instead about testing all-day breakfast menus for big growth in new profits for the fast food industry. Millions of dollars on PR campaigns have been spent to take their message to the air waves. In addition new industry feel-good messages are being created to portray the fast food industry as responsible community corporate partners.
The community response, backed fully by the labor movement, are saying that their response will be to "rise up" on Apr. 15.
Photo: Seth Wenig/AP